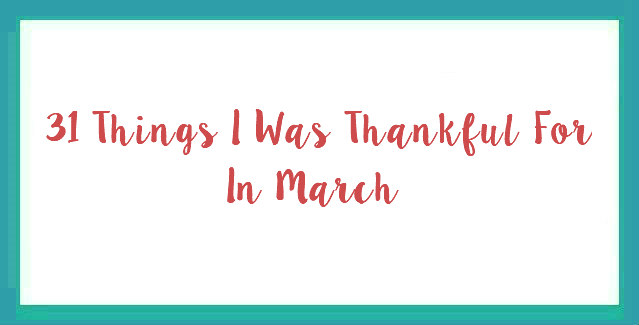 This month, I'm sharing my list of things I'm thankful for earlier than usual. Last month, my post was late and everything seemed outdated! As we know, March was the month where everything changed. I have still tried to keep up with my gratitude tracking and there are still things to be thankful for! They may not be exactly in order of when they happened, but there were 31 days in March, so here are the 31 things I was thankful for between March 1st and 31st.
1. Zachary got new shoes, and he was able to tie them even though he'd never learned in the past. I attended a game night.
2. Dave was traveling and we completed one day without him.
3. I felt good at the gym and was happy I was maintaining my weight.
4. Staying home by choice.
5. I love when my kids' appointments fit in one after the other to keep my days productive.
6. Gabbie got 1st place at her dance competition.
7. Zachary got to go to a bowling party.
8. We attended a Purim party.
9. We got Gabbie signed up for school next year.
10. We celebrated Purim.
11. Things were changing but it felt okay for us…
12. A day that will live in my mind as the day everything changed. We decided not to send Zachary away for the weekend and it was a good choice.
13. Although Gabbie's trip was not canceled, they decided to come back and that was a good choice too.
14. It was our first day of home quarantine. We had a family game of Life.
15. We did a huge food stock up at Costco. Well, Dave did. The rest of us stayed home.
16. Simon gets a Chromebook from school, which is a huge help with online schooling.
17. I went to school to pick up everyone's schoolwork and I almost left without taking for the older kids. I am so glad I realized I needed to check for their things before I left school!
18. My last trip out was to take Gabbie to the orthodontist. It was her idea to make her appointment sooner and it turned out it was their last day in the office at that point. They had it well arranged for distancing and she went in by herself as well.
19. Katherine Center's newest book was read now on NetGalley!
20. We have had ants in the house and luckily our exterminator left me with extra ant bait so I was able to fix the issue without him coming back.
21. Being able to get outside.
22. Dave is able to work from home and I'm so thankful I'm a stay at home mom.
23. I don't have to drive anyone anywhere or do carpool.
24. Taking family walks and watching This Is Us with Gabbie.
25. I'm so glad my kids have actual classes online, rather than me having to homeschool them myself.
26. I don't need to make lunches for the kids to bring to school (though I do prepare their lunches at lunchtime!).
27. Dave has made my eggs for breakfast whenever I want him to.
28. When Dave takes the kids on long walks, I actually get some alone time.
29. The kids went on a bike ride and I got more alone time.
30. Many things have been made free, like a Scribd 30 day trial and unlimited Candy Crush lives for one week.
31. I found a workout program on YouTube that I like – Heather Robertson is her name!
There is still what to be thankful for in a time of crisis. What are you thankful for today?