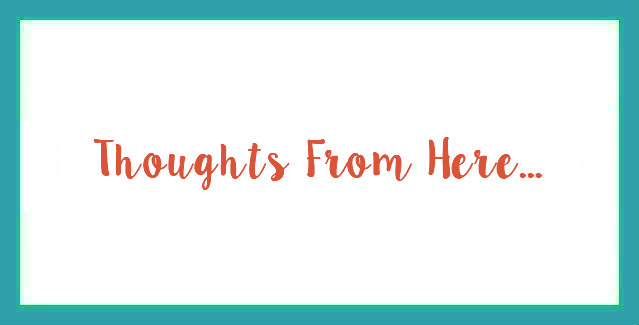 If we could be together now, these are some of the things I might talk to you about…
– I write my posts the day before I post them and this isn't usually an issue. On Friday though, things that I wrote about on Thursday were already out of date and that was with the changes I made to my post throughout the day Thursday!
– None of us can remember when we first heard about Coronavirus (can you?) but we certainly can remember when our lives changed because of it.
– I felt a little separated from the coasts, being landlocked in the middle of the country with less cases here. I wrote on Friday about Gabbie leaving for her trip to the US South and how we had to pull Zachary out of his trip to Omaha. I got some comments about how everything was already closed in other parts of the country. We weren't far behind, and on Friday morning, Gabbie's trip was canceled – after driving 9 hours to Little Rock on Thursday, they turned around and drove 9 hours back on Friday. I wish they hadn't left in the first place, but I guess we just didn't know.
– I mean, if we're not sick, how can we effect others? And how can we catch it if no one has it? Just last week we were told that you can't spread the virus if you don't have symptoms, but apparently that was incorrect. And now, people are traveling in from other parts of the country and the world, and even if they are in quarantine, their family members might not be.
– Dave was in California the week before last and I said to him "do you still think we'll be going to NJ for Passover?" and he said of course. Now it's looking highly unlikely.
– He then predicted school would be closed last week. We were open, and like I said, they continued with the trip as planned. On Friday, they called off school until after our regular spring break, which ends on April 20. And that's at the least. [As of yesterday at 5 pm, the KS governor has said all public schools are closed for in-person learning for the rest of the year – school year I assume]
– Actually school isn't off completely – we are starting distance learning today. I will have to write a future post about what that's like, because as of this writing, I have no idea. All I know is Gabbie is off all week because she was supposed to be on the trip. Zachary was supposed to have a STEAM related week so he's supposed to do some projects at home. They start classes online on Monday. And Simon came home with a pack of worksheets that may not take more than an hour of work per day. But the teachers met and figured everything out, so by the time this post is live, I should know a lot more. I also went into school and picked up more worksheets for him, plus a Chromebook. And I almost left before I realized I had to go pick up things for the older kids too! Zachary had already brought home all his school books, but he needed a copy of the Outsiders. Gabbie got a biology book and a copy of The Odyssey.
– I do have concerns. 1-2 hours a day of schooling is not the same as being in school…
– We got an email from Simon's Hebrew teacher saying that she'd be available one hour per day for phone calls, but we shouldn't call her or email her unless we exhausted all other options and only one contact per student per day. That rubbed me the wrong way…and no she doesn't teach multiple classes and actually, if 27 kids all try to call her during one hour of the day, won't that be harder for her?
– I'm sure everyone has seen all the comments on Facebook from people who are already in the trenches of schooling. Showing off their kids working hard at their perfectly organized school centers at home. Posting their hour by hour schedules with how their kids are going to do chores and read and do PE…or worrying about how they are going to do all of this while working from home…or saying that kids need freedom and no structures whatsoever! I feel like the best we can do right now is not judge each other and try to remember that we're all doing our best and what's on Facebook is probably not the total reality.
– I feel incredibly lucky that 1. My kids aren't toddlers anymore and 2. I am a stay-at-home-mom. I don't have to worry about working (other than my blogging – which I can already see that I'm getting a lot less comments than I was before all of this!) and I don't need to go out. How are parents working from home and making sure their kids are schooling from home?! My husband, on the other hand is still working in the office, has been still going to the gym (and as of yesterday the gym is finally closed), and has been doing all the stores, including two trips to Costco on Sunday (somehow the milk didn't make it home the first time)!
– I felt like the huge amounts of food we brought in the house were a pre Passover shopping…or a pre apocalypse…
– I unsubscribed from an email list because of this: "So, if you're down,focus on the positives. Your odds of winning the lottery have not changed! The sun still comes up in the east! This all happened after Super Bowl LIV! Trump is still the President!" Um…
– I feel like this is some sort of pre-cursor to a dystopia.
– I might have to become a runner now that I can't go to the gym. Haha who am I kidding.
– Gabbie has an orthodontist appointment this morning. It hasn't been canceled yet…the rest of my planner is all crossed out this week.
– Our wifi keeps going in and out. That's going to be hard with the distance learning!
– The future effects on our economy are scary. And also, how will we know when it's safe to go out again?
I think all of the unknown is what's so scary for all of us. What are some of your thoughts right now?