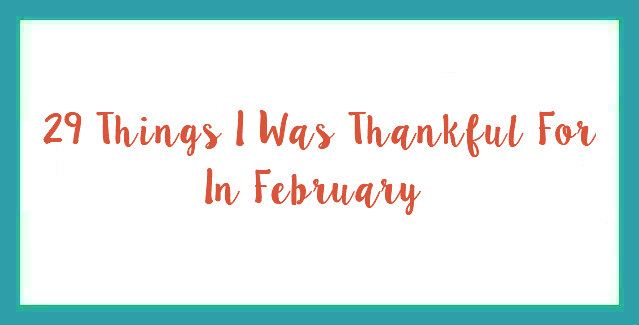 In these crazy times, we need to find things to be thankful for. Since last November, I've been keeping lists of things I am thankful for on a daily basis. That means it's been over a year since I've been keeping track of the things I'm grateful for. I use a gratitude journal and it's not always easy but I'm still trying to focus on gratitude. There were 29 days in February, so here are the 29 things I was thankful for between February 1st and 29th.
1. We had lunch with friends.
2. The Chiefs won the Superbowl!
3. The kids and I went and bought Superbowl shirts and hats.
4. Dave was able to take the kids to school.
5. We went to the Chiefs parade. I didn't need to make lunches for the following day.
6. I had extra time to finish my errands.
7. Homemade soup.
8. Gabbie was feeling better after two days of being home sick.
9. Simon had a birthday party to attend.
10. All three kids were at school.
11. Zachary wasn't feeling well but the doctor said it was just a virus… [this feels like it might not be something to be thankful for if it was a month later!]
12. I finally made it to one of Simon's PT appointments after having to cancel a few!
13. I remembered to get Simon's watch battery replaced so he was happy.
14. Gabbie went to visit the high school she is transferring to next year.
15. We had lunch with friends.
16. Gabbie hung out with friends and Simon had a play date.
17. The kids were off for Presidents' Day.
18. Dave took the kids to school.
19. The kids' appointments worked well timing wise.
20. I finished a pair of knit socks.
21. We had dinner with a local group.
22. Yummy desserts.
23. We had nice weather.
24. The kids had a full week of school.
25. I got all my errands done.
26. I found a lot of great Old Navy finds.
27. My mom celebrated her birthday.
28. Zachary was with friends.
29. Leap Day!
This list is kind of crazy when you think about it. All the times I was thankful that my kids were with their friends or that they had a full week of school? March's list is looking to be quite different! I hope everyone is holding up ok!
What are you thankful for today?