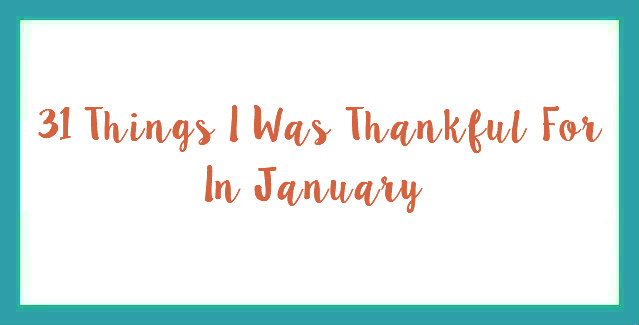 Since last November, I've been keeping lists of things I am thankful for on a daily basis. That means it's been over a year since I've been keeping track of the things I'm grateful for. I use a gratitude journal and it's not always easy but I'm still trying to focus on gratitude. There were 31 days in January, so here are the 31 things I was thankful for between January 1st and 31st.
1. We arrived home from our Florida trip.
2. I worked on catching up with everything and retrieved all the awesome book mail that came while we were away.
3. I headed back to the gym after a long break. We got Gabbie's new watch fixed so she can actually wear it. (It was too big).
4. I received a gift from the friends whose daughter I had been bringing to therapy appointments.
5. The boys were busy with play dates and a youth group event (Zachary).
6. Back to school after winter break! Our middle / high school kids get a special week of elective opportunities just after winter break, so they were excited for that.
7. I brought Simon to PT and the timing worked out with my other scheduled appointments.
8. I had a whole day at home.
9. I didn't have to pick up anyone from school.
10. Zachary got sick and stayed home from school, but he was feeling better.
11. It was a snowy day and we all stayed home.
12. The Chiefs pulled off a major comeback while we were at Gabbie's dance performance.
13. I picked my word of the year – Focus.
14. I found out my friends didn't need me to take their daughter to appointments anymore, which freed up my Tuesday mornings.
15. We have a cleaning lady and she had surgery, but she was able to come back.
16. I had to speak to someone at the local high school and it turned out to be someone I know, which made me more comfortable.
17. We had a snow day.
18. Coffee. When I can't think of anything else, I'm thankful for coffee.
19. The Chiefs got into the Superbowl.
20. It was MLK Day. Zachary had a friend over.
21. I had to pick up a library hold and I was afraid that I waited to long, but it was still being held for me.
22. It was snowy out (again) and I canceled Simon's PT appointment. I was thankful they don't charge for last minute cancellations.
23. I was feeling good at the gym.
24. We had another snow day. The boys had a friend over and that kept them busy.
25. We attended a bat mitzvah lunch and a trivia night.
26. Another day spent at home always makes me happy.
27. I went to the gym and had time to get things done.
28. I am always thankful when my errands fit in well with my daily schedule.
29. Dave made it home on time to make dinner.
30. We were invited to watch the Superbowl with our friends.
31. We played Scrabble as a family and laughed a lot. Simon wanted to write the word "figer," which he said meant "figer it out!"
What are you thankful for today?