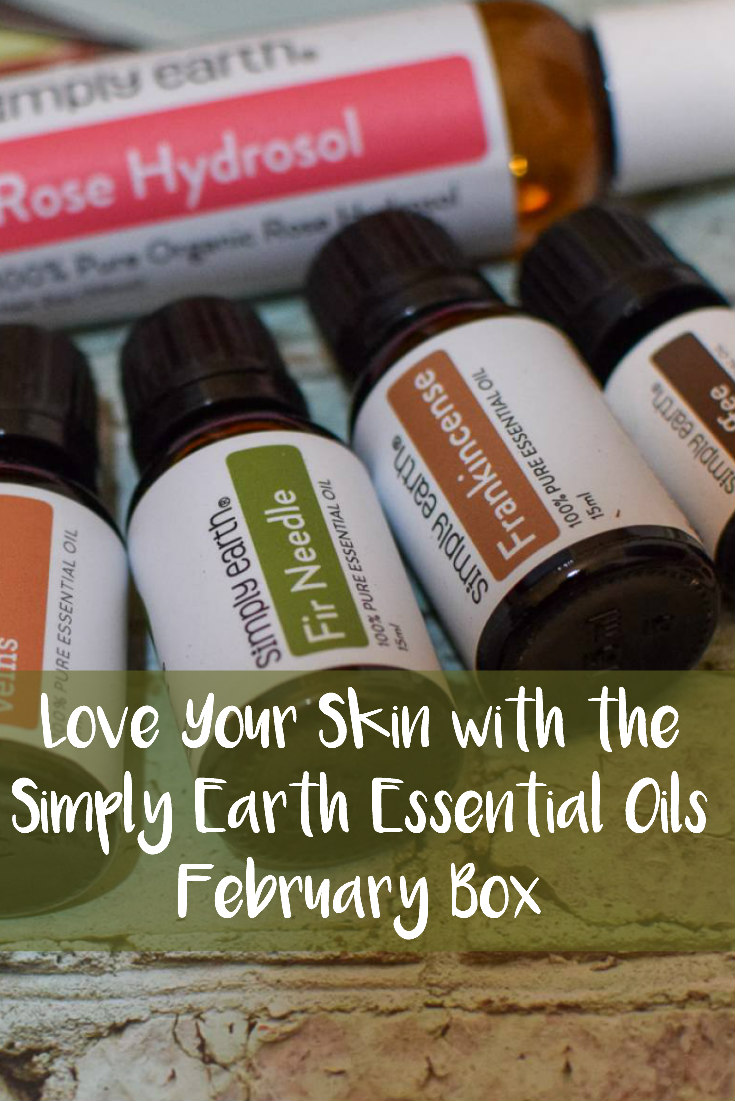 Cold weather can effect your skin so Simply Early Essential Oils has curated a January box that will help you love your skin this winter! Simply Earth's recipe formulator is a certified aromatherapist and she chose the February recipes to get beautiful, glowing skin and take control of your skin care. Let's take a look at what's in the February box!
This post is in collaboration with Simply Earth and contains affiliate links. I received this box in exchange for my review and all opinions are my own. You can use my code NOTINJERSEYFREE to receive a $40 gift card to Simply Earth with your first box purchase!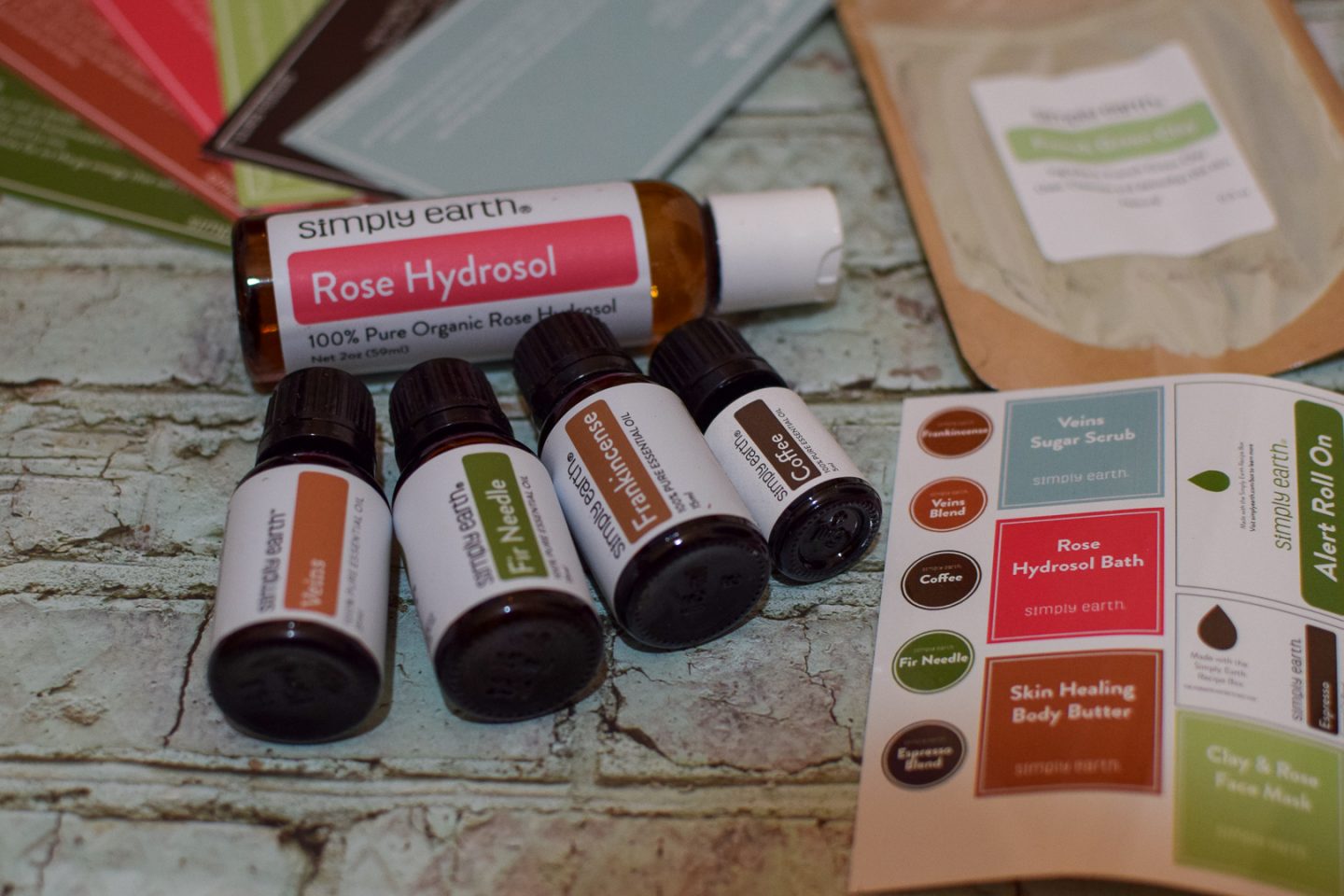 Each month, Simply Earth's boxes come with 4 essential oils, 6 recipes to go along with them, and other supplies needed for the recipes of the month. Plus, when you get your first recipe box, you will also receive the Big Bonus Box, which contains items that you can use along side your monthly boxes, such as empty bottles and carrier oils.
What's in the Simply Earth February Essential Oils Box?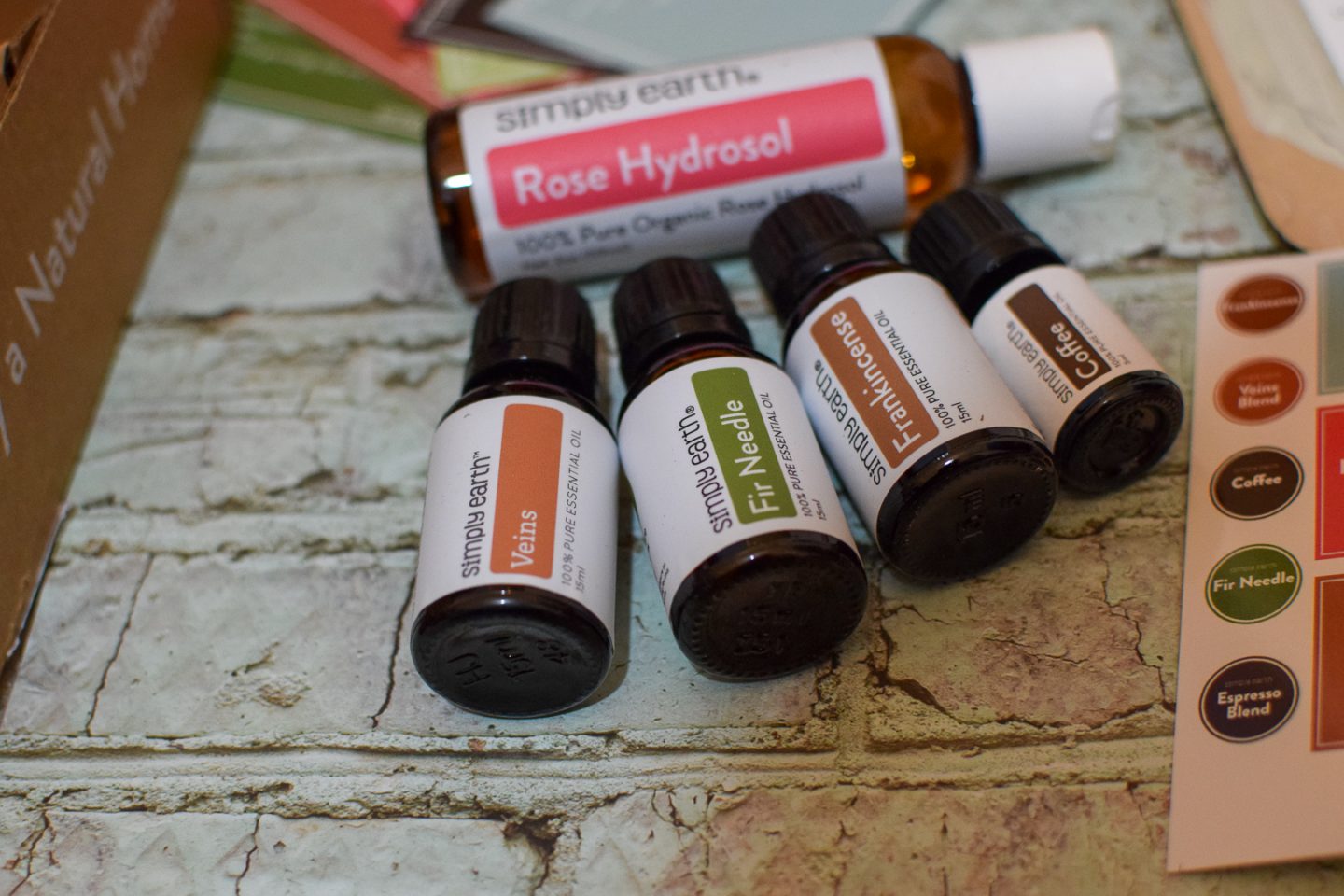 Simply Earth's February Essential Oils box contains essential oils that you can use to love your skin!
Veins Essential Oils Blend: This blend is wonderful for warming intact skin. Bye-bye, Veins! Essential Oil Blend helps to increase blood flow to hands and feet that always seem to be cold, while also helping to reduce spider veins that are a normal part of aging. It contains Cypress, Juniper Berry, & Lemon oils.
Fir Needle Essential Oil: Fir needles are believed by some to have the power to purify the air and the soul because of their disinfecting and calming properties. It combats seasonal illness, supports respiration, and fights fatigue.
Frankincense Essential Oil: Frankincense has been used throughout history, with its most notable appearances in the Bible and in ancient Egyptian history. It assists in fighting germs, reduces symptoms related to bronchitis and sinus congestion, alleviates swelling, deodorizes, and clears the mind.
Coffee Essential Oil: The coffee plant was discovered in 11th century Ethiopia and spread to the Arabian peninsula in the 14th century. Coffee has white flowers with cherry-like fruit that smells similar to jasmine. Soon after its discovery, coffee was found to have medicinal properties by boiling it in water. It warms and invigorates!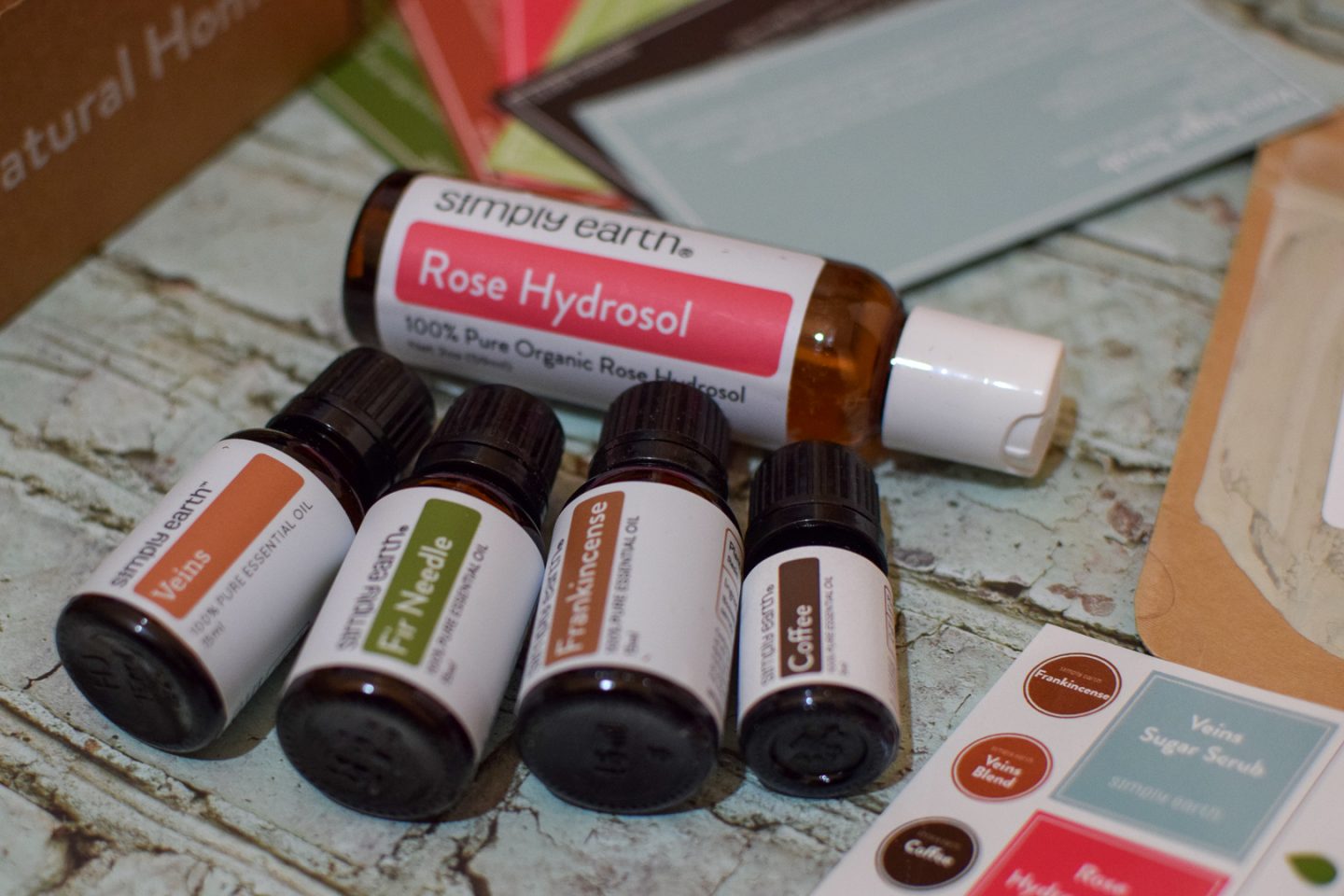 What Extras are in the February Simply Earth Essential Oils Box?
The February box comes with Rose Hydrosol and French Green Clay for use in the recipes included with the box.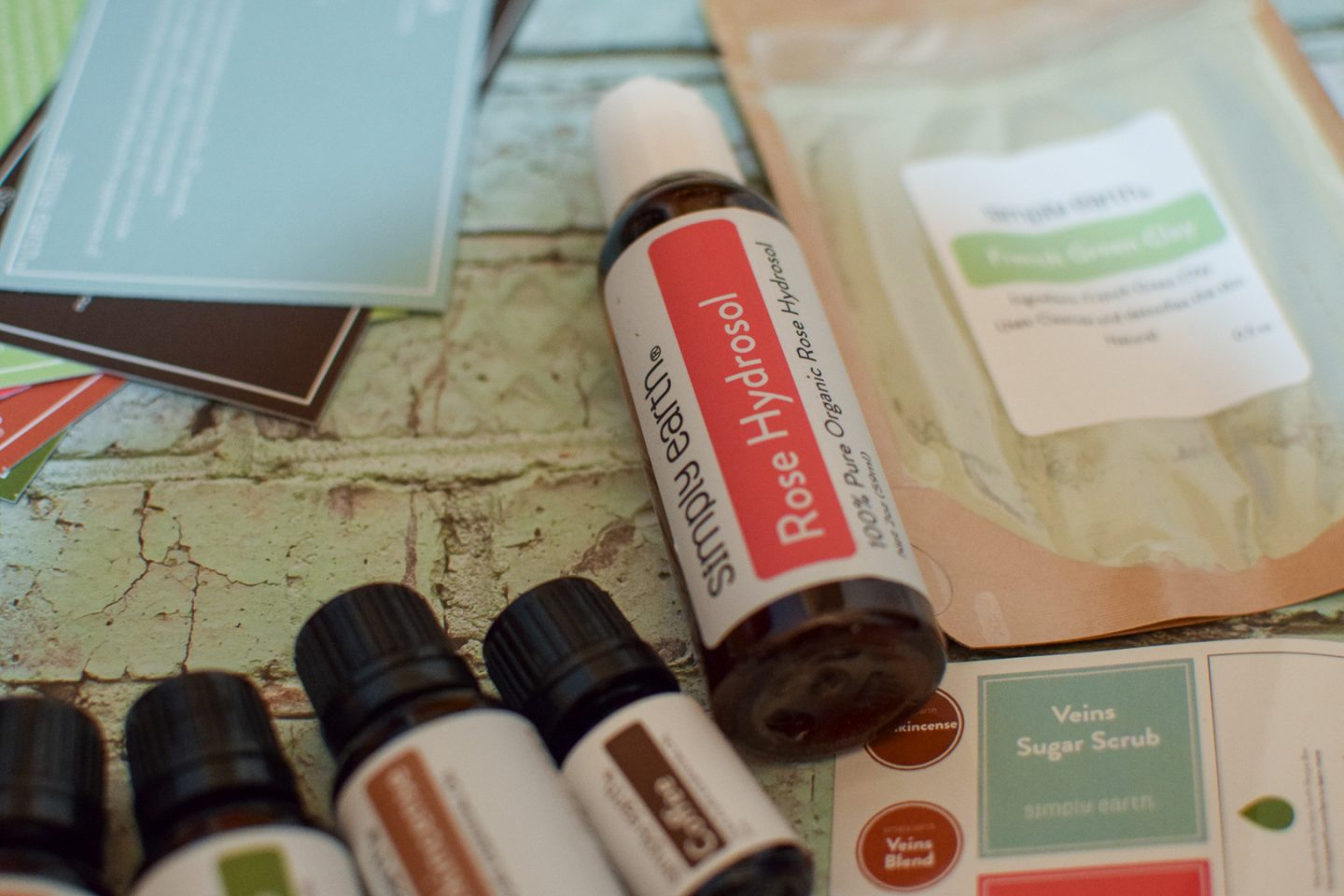 What Recipes are in the February Simply Earth Essential Oils Box?
Veins Sugar Scrub
Espresso Diffuser Blend
Clay and Rose Face Mask
Rose Hydrosol Bath
Skin Healing Body Butter
Alert Roll On
What Additional Items are Needed to Create These Recipes?
Each recipe requires you to use items that come in your monthly box, but may also use a carrier blend. Plus, what about roll on bottles? All of this will come in your Big Bonus Box that you get along with your first order. Items that are not in the bonus box or the monthly box are starred and they include easy to find ingredients such as Epsom salt, sugar etc.
How Much Does This All Cost?
A monthly box from Simply Earth costs $39 per month. With your first month's box you will receive your Big Bonus Box, which contains a value of an additional $40 of products. Plus, when you use my code NOTINJERSEYFREE, you will receive a $40 gift card that you can apply to your next box – essentially another box for free!
These affordable essential oils and recipe boxes can help you transition to a toxin-free home!