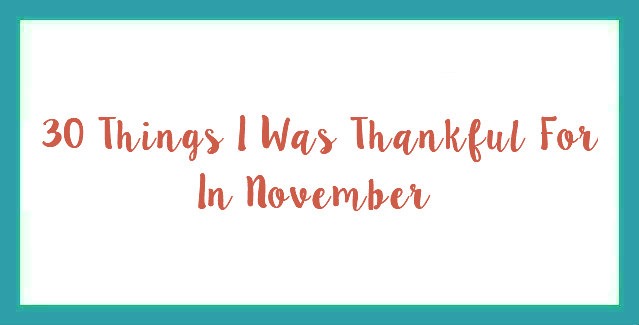 Since last November, I've been keeping lists of things I am thankful for on a daily basis. That means it's been one whole year since I've been keeping track of the things I'm grateful for. There were 30 days in November, so here are the 30 things I was thankful for between November 1st and 30th.
1. We got Chiefs tickets from a friend.
2. We attended a bat mitzvah party for a friend of Zachary's and Gabbie's.
3. We attended the Chiefs game and they won!
4. We had the kids' conferences and I'm thankful they are all doing well in school.
5. There was a pizza night that I was able to take the kids to for dinner.
6. Simon was so happy that his class got to wear pajamas and build blanket forts to read inside.
7. Dave and I had a dinner to attend.
8. Dave was able to take the kids to school. We all attended a dinner at our synagogue.
9. I made a soup that came out really well.
10. It was my birthday. I allowed myself my free Starbucks drink and some ice cream cake.
11. The Billy Joel channel came back to Sirius XM.
12. We found out that we could get Disney + free with our Verizon plan.
13. I took the boys to meet Jeff Kinney.
14. Both Zachary and Gabbie participated in a youth group convention held at our synagogue.
15. Even though I was giving rides to kids attending the convention, I still had time to go to the gym.
16. I am thankful there are so many kids between 5th and 8th grade who go to our syngagoue.
17. We attended the school dodgeball tournament.
18. Gabbie thought she broke her toe but the doctor said it wasn't dislocated, which meant no treatment was required.
19. I was thankful Dave was done with his work traveling. Plus, it was warm enough out to take a walk.
20. I had more time at home than I'd expected. I got a manicure.
21. I got a lot of shopping done.
22. I got more things done in preparation for Thanksgiving.
23. The kids cleaned up the living room.
24. Dave helped me finish up the Thanksgiving shopping.
25. My brother and his family arrived.
26. It was VIP day at school. We went to a brewery in the evening.
27. We had a good time at the Johnson County Museum.
28. It was Thanksgiving. I was grateful for all the cooking my sister-in-law did.
29. We had a good time at Kaleidoscope.
30. We all went and saw Frozen 2.
What are you thankful for today?