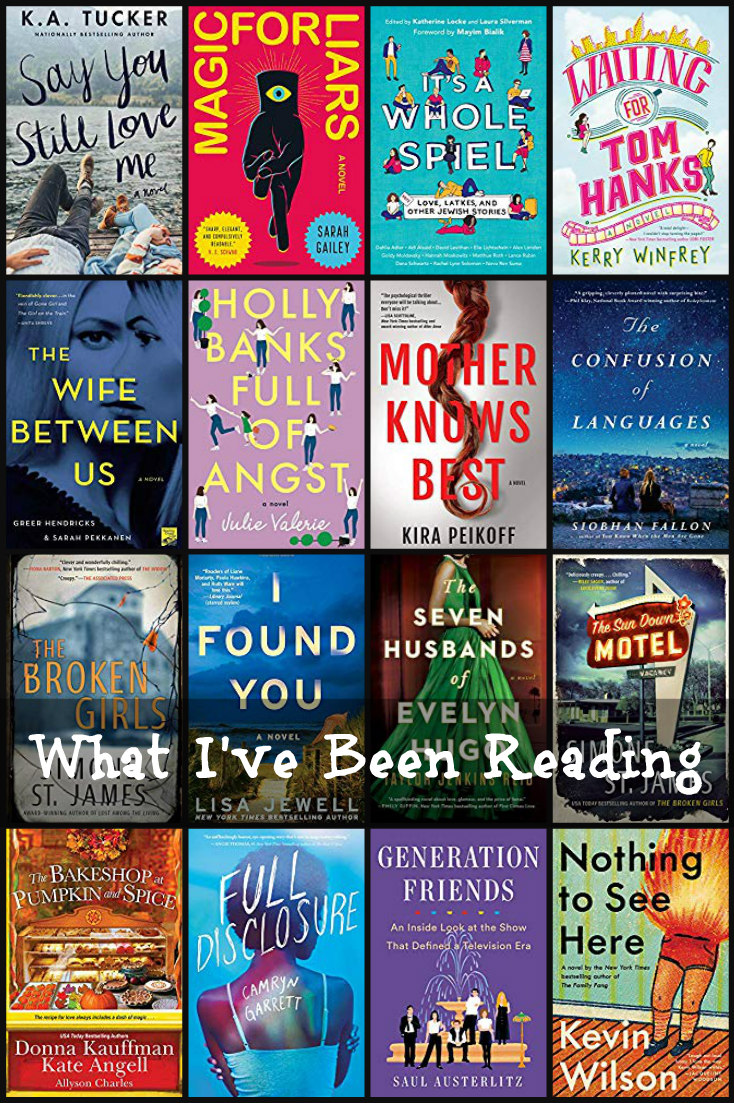 It's time for my monthly book review post! These are the books that I finished in October – there are a lot of them! I read some this month that I really loved, so that's fun to share! I will be linking up this post with the Show Us Your Books Link Up, and as always, the Amazon links to the books I've read are affiliate links and if you use them and make a purchase, I may receive a small commission. If you've read any of these books or are interested in them, I'd love to hear about it in the comments!
Title: Say You Still Love Me
Author: K.A. Tucker
Genre: Contemporary
Publisher: Atria Books, 8/6/19
Source: Library
Why I Read It: For Book Challenge By Erin bonus topic "author uses initials."
My Rating: 4 Stars
This contemporary fiction / romance book was on my radar because I loved the idea of the summer camp setting. The book went back and forth between what happened back at camp and the present, as a second chance love story.
"Life is a mixed bag for Piper Calloway. On the one hand, she's a twenty-nine-year-old VP at her dad's multibillion-dollar real estate development firm, and living the high single life with her two best friends in a swanky downtown penthouse. On the other hand, she's considered a pair of sexy legs in a male-dominated world and constantly has to prove her worth. Plus she's stuck seeing her narcissistic ex-fiancé—a fellow VP—on the other side of her glass office wall every day. Things get exponentially more complicated for Piper when she runs into Kyle Miller—the handsome new security guard at Calloway Group, and coincidentally the first love of her life. The guy she hasn't seen or heard from since they were summer camp counselors together. The guy from the wrong side of the tracks. The guy who apparently doesn't even remember her name. Piper may be a high-powered businesswoman now, but she soon realizes that her schoolgirl crush is still alive and strong, and crippling her concentration. What's more, despite Kyle's distant attitude, she's convinced their reunion isn't at all coincidental, and that his feelings for her still run deep. And she's determined to make him admit to them, no matter the consequences."
I enjoyed the strong female lead character and the family relationships as well as the friendships featured in this book. There wasn't a strong resolution at the end, but I imagine Piper and Ryan worked things out and managed to stay together, since their love endured after so much time in the first place!
---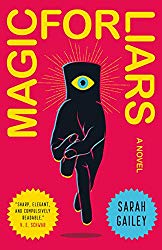 Title: Magic For Liars
Author: Sarah Gailey
Genre: Fantasy / Magical Realism
Publisher: Tor Books, 6/4/19
Source: Library
Why I Read It: For Book Challenge By Erin bonus topic "magical powers."
My Rating: 4 Stars
I had a lot of bad luck with not loving the fantasy books I have tried to read recently, but happily I enjoyed this one! I think I liked it because it wasn't too different from reality, but rather it was the real world including magic.
"Ivy Gamble was born without magic and never wanted it.
Ivy Gamble is perfectly happy with her life – or at least, she's perfectly fine.
She doesn't in any way wish she was like Tabitha, her estranged, gifted twin sister.
Ivy Gamble is a liar.
When a gruesome murder is discovered at The Osthorne Academy of Young Mages, where her estranged twin sister teaches Theoretical Magic, reluctant detective Ivy Gamble is pulled into the world of untold power and dangerous secrets. She will have to find a murderer and reclaim her sister―without losing herself."
Ivy investigates a murder at a magical high school where the high schoolers are relatively normal and typical teenagers besides that they can do magic. Ivy is not magical though, and she wrestles with her feelings about having been left behind by her twin, Tabitha, who is magical. I can definitely imagine a sequel to this one.
---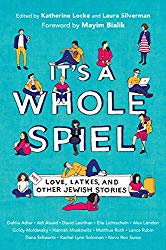 Title: It's A Whole Spiel: Love, Latkes, and Other Jewish Stories
Author: Katherine Locke and Laura Silverman (editors)
Genre: YA Short Stories
Publisher: Knopf Books for Young Readers, 9/17/19
Source: Library
Why I Read It: I saw the cover on Instagram and was intrigued by a book of Jewish themed short stories.
My Rating: 4 Stars
This book is about all kind of Jewish teens and young adults. There is all types of representation of Jewish kids in different places in their Judaism, Jewish kids finding their place in the world, and Jewish kids developing all types of relationships. One of the stories even included a character named Dara!
"A Jewish boy falls in love with a fellow counselor at summer camp. A group of Jewish friends take the trip of a lifetime. A girl meets her new boyfriend's family over Shabbat dinner. Two best friends put their friendship to the test over the course of a Friday night. A Jewish girl feels pressure to date the only Jewish boy in her grade. Hilarious pranks and disaster ensue at a crush's Hanukkah party. From stories of confronting their relationships with Judaism to rom-coms with a side of bagels and lox, It's a Whole Spiel features one story after another that says yes, we are Jewish, but we are also queer, and disabled, and creative, and political, and adventurous, and anything we want to be. You will fall in love with this insightful, funny, and romantic Jewish anthology from a collection of diverse Jewish authors."
I loved a lot of the stories in this book. Some were slower than others. My favorite was the one about a religious girl who has to find her place in college. She doesn't want to stand out because she is Jewish, but she finds that being Jewish is just ingrained in who she is. I did have a bit of an issue with some of the editing in this book. For one, in the introduction, Mayim Bialik writes that one of the stories takes place at space camp. It doesn't, it takes place at a regular camp where a boy is interested more in space than in sports. And in one of the stories about Israel, the locations the group visits don't make sense – you wouldn't go from the south to the north and back to the south in one day. Yes, I am nitpicky. There are individual descriptions of the stories in many of the Amazon reviews, but I will say again that I loved the diversity and representation in the stories in this book.
---
Title: Waiting For Tom Hanks
Author: Kerry Winfrey
Genre: Rom Com
Publisher: Berkley, 6/11/19
Source: Library
Why I Read It: Heard it was good!
My Rating: 4 Stars
This cute and funny story features Annie, who is obsessed with rom coms and is looking for her perfect Tom Hanks inspired relationship. At the same time, she is writing a screen play about her best friend's enemies to hopefully lovers story.
"Annie Cassidy dreams of being the next Nora Ephron. She spends her days writing screenplays, rewatching Sleepless in Seattle, and waiting for her movie-perfect meet-cute. If she could just find her own Tom Hanks—a man who's sweet, sensitive, and possibly owns a houseboat—her problems would disappear and her life would be perfect. But Tom Hanks is nowhere in sight. When a movie starts filming in her neighborhood and Annie gets a job on set, it seems like a sign. Then Annie meets the lead actor, Drew Danforth, a cocky prankster who couldn't be less like Tom Hanks if he tried. Their meet-cute is more of a meet-fail, but soon Annie finds herself sharing some classic rom-com moments with Drew. Her Tom Hanks can't be an actor who's leaving town in a matter of days…can he?"
When Annie gets a job on a movie set, she meets the star, Drew, who doesn't appear to be her perfect imagined boyfriend, but when she lets him in, sparks fly!
---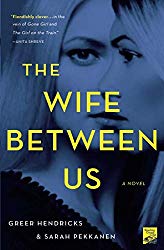 Title: The Wife Between Us
Author: Greer Hendricks & Sarah Pekkanen
Genre: Psychological Thriller
Publisher: St. Martin's Press, 1/9/18
Source: Barnes & Noble
Why I Read It: Instagram Buddy Read
My Rating: 5 Stars
I couldn't put down this twisty thriller! Each section of the book comes with it's own twist, and at the end of the first section, I though I knew what was going on, but when it was revealed, I actually said "what?!" out loud!
"When you read this book, you will make many assumptions.
You will assume you are reading about a jealous ex-wife.
You will assume she is obsessed with her replacement – a beautiful, younger woman who is about to marry the man they both love.
You will assume you know the anatomy of this tangled love triangle.
Assume nothing."
The description doesn't much describe what happens in the book, but I guess that's for a reason! All I can say is that the twists surprised me and made me keep turning the pages. This was one of my favorite reads of the month.
---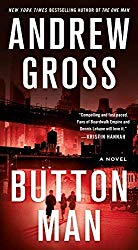 Title: Button Man
Author: Andrew Gross
Genre: Historical Fiction
Publisher: Minotaur Books, 10/18/18
Source: Library
Why I Read It: Book Group
My Rating: 3 Stars
I am sad to say that I found this book boring. I read it quickly, but I may have skimmed more than I took in. Andrew Gross wrote this book about something in his own family history, and I did learn about the Jewish mobsters in New York City.
"Morris, Sol, and Harry Rabishevsky grew up poor and rough in a tiny flat on the Lower East Side, until the death of their father thrust them into having to fend for themselves and support their large family. Morris, the youngest, dropped out of school at twelve years old and apprenticed himself to a garment cutter in a clothing factory; Sol headed to accounting school; but Harry, scarred by a family tragedy, fell in with a gang of thugs as a teenager. Morris steadily climbs through the ranks at the factory until at twenty-one he finally goes out on his own, convincing Sol to come work with him. But Harry can't be lured away from the glamour, the power, and the money that come from his association with Louis Buchalter, whom Morris has battled with since his youth and who has risen to become the most ruthless mobster in New York. And when Buchalter sets his sights on the unions that staff the garment makers' factories, a fatal showdown is inevitable, pitting brother against brother."
One interesting thing about this book is that it features real life people. I have a step-cousin in my ancestry who was a mobster and he even got a mention in the book. Otherwise, I feel that this could have been written much better to keep it more interesting and entertaining.
---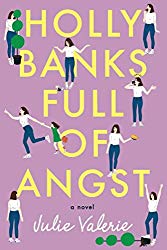 Title: Holly Banks Full of Angst
Author: Julie Valerie
Genre: Contemporary
Publisher: Lake Union Publishing, 12/1/19
Source: Publisher
Why I Read It: Saw it on Instagram, requested a copy.
My Rating: 5 Stars
For my interview with Julie Valerie, visit my post from last week!
This book was hilarious. Holly Banks is a mom to a daughter about to start kindergarten in a town they are new to. Holly just wants to fit in. Her run-ins with the PTA president make things difficult though!
"Holly Banks could not have made a worse first impression on the seemingly perfect moms in her new affluent community, the Village of Primm. Turns out wearing pink piggy pajama bottoms while dropping off her kindergartener late to the first day of school wasn't her best look. Not to mention Holly's worried her husband may be having an affair, she can't get her daughter to stop sucking her thumb, her hard-won film degree is collecting dust, and to top it all off, the power-hungry PTA president clearly has it in for her…To make matters even worse, Holly's natural eye for drama lands her smack-dab in the middle of a neighborhood mystery—right as her own crazy mother shows up in Primm 'to help.' Through it all, Holly begins to realize her neighbors may be just as flawed as—and even wackier than—she is, leaving her to wonder: Is there such a thing as a perfect mom?"
The Village of Primm reminded me of Stars Hollow a bit with its amusing characters. I could relate to Holly a lot and I even wrote down a few of my favorite quotes from her: "Five. she was four last week, three the week before, then two. Last month, she was a baby…" And "The woman was a cool as a cucumber. [She] wished she could be like that, cucumber-like, but she wasn't. She was egg-like. Cracked easily, usually served scrambled, and could make you sick if you weren't careful." The pressure to be perfect that Holly experienced was very relatable and I love that she realized it's ok to be not good enough or not Pinteresty enough!
---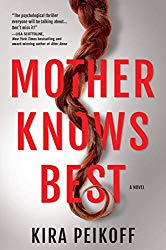 Title: Mother Knows Best
Author: Kira Peikoff
Genre: Psychological Thriller
Publisher: Crooked Lane Books, 9/10/19
Source: Library
Why I Read It: Saw it on Instagram.
My Rating: 4 Stars
This was a quick read and although it is supposed to be twisty, I felt like I guessed all of the twists. It has scientific vs ethical vibes, featuring a girl who has three genetic parents.
"Claire Abrams's dreams became a nightmare when she passed on a genetic mutation that killed her little boy. Now she wants a second chance to be a mother, and finds it in Robert Nash, a maverick fertility doctor who works under the radar with Jillian Hendricks, a cunning young scientist bent on making her mark–and seducing her boss. Claire, Robert, and Jillian work together to create the world's first baby with three genetic parents–an unprecedented feat that could eliminate inherited disease. But when word of their illegal experiment leaks to the wrong person, Robert escapes into hiding with the now-pregnant Claire, leaving Jillian to serve out a prison sentence that destroys her future. Ten years later, a spunky girl named Abigail begins to understand that all is not right with the reclusive man and woman she knows as her parents. But the family's problems are only beginning. Jillian, hardened by a decade of jealousy and loss, has returned–and nothing will stop her from reuniting with the man and daughter who should have been hers."
The book alternates between the view points of the two women – Claire and Jillian – and of the daughter Abby. I feel that it had an interesting premise and was fast paced and very readable!
---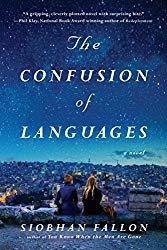 Title: The Confusion of Languages
Author: Siobhan Fallon
Genre: Fiction
Publisher: G.P. Putnam's Sons, 6/27/17
Source: Half Price Books
Why I Read It: Heard about it on a podcast, read as Instagram Buddy Read.
My Rating: 4 Stars
I read this throughout the month while discussing it with a friend on Instagram. I ended up liking it more than she did! While the story was a little bit slower paced, I found it to be meaningful.
"Both Cassie Hugo and Margaret Brickshaw dutifully followed their soldier husbands to the U.S. embassy in Jordan, but that's all the women have in common. After two years, Cassie's an expert on the rules, but newly arrived Margaret sees only her chance to explore. So when a fender-bender sends Margaret to the local police station, Cassie reluctantly agrees to watch Margaret's toddler son. But as the hours pass, Cassie's boredom and frustration turn to fear: Why isn't Margaret answering her phone? Soon Cassie begins to question not only her friend's whereabouts but also her own role in Margaret's disappearance."
The story alternates from Cassie's view point to journal entries written by Margaret, which Cassie ends up reading while trying to discover what happened to her friend. I found the ending to be sad, while not entirely shocking. A quote from the book that I liked was: "I had always assumed kindness was too fleeting, too weak and insubstantial to make a lasting difference, but again maybe I've been wrong. It is not something I am good at, but from now on I will try Margaret's brand of kindness. I will see if acts so small can actually be enough. It is so easily destroyed, kindness, but isn't that what all of us are looking for, every moment of our sad and sorry lives?"
---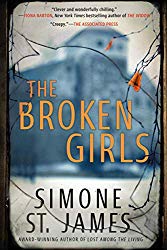 Title: The Broken Girls
Author: Simone St. James
Genre: Mystery
Publisher: Berkley Books, 3/20/18
Source: Target
Why I Read It: For Book Challenge by Erin bonus topic "building on cover."
My Rating: 4 Stars
I wanted to include some atmospherically spooky books in my reading month and this one fit the bill. I did not expect there to be so many aspects to the book though! It is historical and supernatural, and features the mystery surrounding two dead girls, decades apart.
"Vermont, 1950. There's a place for the girls whom no one wants—the troublemakers, the illegitimate, the too smart for their own good. It's called Idlewild Hall, and local legend says the boarding school is haunted. Four roommates bond over their whispered fears, their budding friendship blossoming—until one of them mysteriously disappears….
Vermont, 2014. Twenty years ago, journalist Fiona Sheridan's elder sister's body was found in the overgrown fields near the ruins of Idlewild Hall. And although her sister's boyfriend was tried and convicted of the murder, Fiona can't stop revisiting the events, unable to shake the feeling that something was never right about the case.
When Fiona discovers that Idlewild Hall is being restored by an anonymous benefactor, she decides to write a story about it. But a shocking discovery during renovations links the loss of her sister to secrets that were meant to stay hidden in the past—and a voice that won't be silenced…."
The book is told from the viewpoints of four girls from the past and one from the present. One of the girls in the past time line was found to have been a prisoner at Ravensbruck. That aspect of the story was very interesting and is the same camp that was featured in the book The Lilac Girls. Fiona sets out to uncover the history of the grounds of the old boarding school, and aside from discovering what happened to her own sister, manages to uncover secrets about the past as well.
---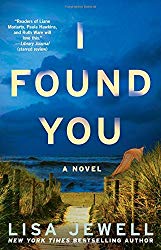 Title: I Found You
Author: Lisa Jewell
Genre: Psychological Thriler
Publisher: Atria Books, 4/25/17
Source: Target
Why I Read It: Instagram Buddy Read
My Rating: 5 Stars
I found this book to be intriguing and another one that I couldn't put down. I have not read any other books by Lisa Jewell and I have heard that many of her others are better than this one, so I plan to read more of them soon!
"In the windswept British seaside town of Ridinghouse Bay, single mom Alice Lake finds a man sitting on a beach outside her house. He has no name, no jacket, and no idea how he got there. Against her better judgment, she invites him inside. Meanwhile, in a suburb of London, newlywed Lily Monrose grows anxious when her husband fails to return home from work one night. Soon, she receives even worse news: according to the police, the man she married never even existed. Twenty-three years earlier, Gray and Kirsty Ross are teenagers on a summer holiday with their parents. The annual trip to Ridinghouse Bay is uneventful, until an enigmatic young man starts paying extra attention to Kirsty. Something about him makes Gray uncomfortable—and it's not just because he's a protective older brother. Who is the man on the beach? Where is Lily's missing husband? And what ever happened to the man who made such a lasting and disturbing impression on Gray?"
The man who is found on the beach is a mystery and kept me wondering if he was a good or a bad person and why he lost his memory. I wondered how he connected to Lily, whose husband was missing. And finally, I could not quite figure out how the man connected to the siblings' story from the past. I like books with surprising connections between the characters, which is probably why I enjoyed this one so much!
---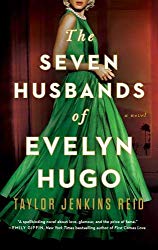 Title: The Seven Husbands of Evelyn Hugo
Author: Taylor Jenkins Reid
Genre: Historical / Contemporary Fiction
Publisher: Atria Books, 6/13/17
Source: Thrift Books
Why I Read It: Heard it was good.
My Rating: 4 Stars
When I posted a picture on Instagram of a pile of books I hope to read this fall, the most comments I received said that this one was great. I will say I enjoyed it, but I didn't find it to be as amazing as they had professed it to be!
"Aging and reclusive Hollywood movie icon Evelyn Hugo is finally ready to tell the truth about her glamorous and scandalous life. But when she chooses unknown magazine reporter Monique Grant for the job, no one is more astounded than Monique herself. Why her? Why now? Monique is not exactly on top of the world. Her husband has left her, and her professional life is going nowhere. Regardless of why Evelyn has selected her to write her biography, Monique is determined to use this opportunity to jumpstart her career. Summoned to Evelyn's luxurious apartment, Monique listens in fascination as the actress tells her story. From making her way to Los Angeles in the 1950s to her decision to leave show business in the '80s, and, of course, the seven husbands along the way, Evelyn unspools a tale of ruthless ambition, unexpected friendship, and a great forbidden love. Monique begins to feel a very real connection to the legendary star, but as Evelyn's story near its conclusion, it becomes clear that her life intersects with Monique's own in tragic and irreversible ways."
I will say that one reason I found I did not love the book is that I think I was supposed to be surprised by how Evelyn and Monique were connected, but I figured it out at one point while I was reading. It also was not hard to realize who Evelyn's life love was before she revealed it. Also, the book switched between the two characters' view points, but it was not clearly delineated each time the view point switched. At the same time, I did like the characters and enjoyed reading about Evelyn's life as she described it to Monique.
---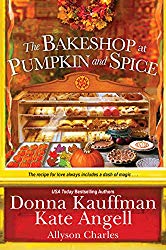 Title: The Bakeshop at Pumpkin and Spice
Author: Donna Kauffman, Kate Angell, and Allyson Charles
Genre: Romance Anthology
Publisher: Kensington Books, 8/27/19
Source: TLC Booktours
Why I Read It: Sent to me in exchange for an Instagram post.
My Rating: 4 Stars
This book of three novellas was perfect for reading in between thrillers. The stories were romantic and all featured a bakeshop that makes cookies that cause those that eat them to fall in love.
"Witches, goblins, the occasional ghost—they're all sure to be spotted at the annual Halloween parade, where adults and children alike dress in costume to celebrate Moonbright's favorite holiday. And no place has more seasonal spirit than Bellaluna's Bakeshop, a family business steeped in traditional recipes, welcoming warmth—and, legend has it, truly spellbinding, heart-melting treats …Between good-natured Halloween tricks, frothy pumpkin lattes, and some very special baked goods, for three Moonbright residents looking for love—whether they know it or not—the spookiest thing will be how magical romance can suddenly be …"
This was really a great book of stories to read in the fall season. The first story featured the granddaughter of the bakery owner who falls in love with a man who is not planning to remain permanently in the town she doesn't plan to leave. The second was probably my favorite, and featured a woman who picked the man she wanted to marry based on his on paper qualities, rather than whether they work in real life. This makes her resistant to the man who does actually like her. The last story featured the mayor of the town and a woman who knew him in high school. Their romance was sweet and fun! I would definitely consider reading another book of stories like this one!
---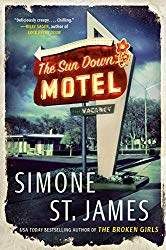 Title: The Sun Down Motel
Author: Simone St. James
Genre: Mystery / Thriller
Publisher: Berkley Books, 2/18/20
Source: Edelweiss
Why I Read It: Instagram Buddy Read
My Rating: 5 Stars
Things I usually don't do: read two books by the same author so closely together, read e-books, read books so far before they are published. But I did it with this one and it was my top book of the month!
"The secrets lurking in a rundown roadside motel ensnare a young woman, just as they did her aunt thirty-five years before, in this new atmospheric suspense novel from the national bestselling and award-winning author of The Broken Girls. Upstate NY, 1982. Every small town like Fell, New York, has a place like the Sun Down Motel. Some customers are from out of town, passing through on their way to someplace better. Some are locals, trying to hide their secrets. Viv Delaney works as the night clerk to pay for her move to New York City. But something isn't right at the Sun Down, and before long she's determined to uncover all of the secrets hidden… Upstate New York, 2017. Carly Kirk has never been able to let go of the story of her aunt Viv, who mysteriously disappeared from the Sun Down before she was born. She decides to move to Fell and visit the motel, where she quickly learns that nothing has changed since 1982. And she soon finds herself ensnared in the same mysteries that claimed her aunt."
Like The Broken Girls, this book features ghosts and some suspension of belief is required. I definitely found it creepy! I loved the true crime vibe of the book as both Viv and Carly searched to uncover the secrets of things that happened at the Sun Down. I also liked the friendships described in the book. I definitely recommend keeping this one on your radar!
---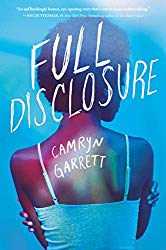 Title: Full Disclosure
Author: Camryn Garrett
Genre: YA
Publisher: Knopf Books for Young Readers, 10/29/19
Source: Book of the Month YA
Why I Read It: I try to read my book of the month books during the month I receive them!
My Rating: 4 Stars
One of the best things about Book of the Month is getting books that aren't even published yet! You can get your first book for $10 using the code BFF5.
While this book was YA, it was very much about sex. It featured a lot of representation surrounding sexuality. The three girls featured in the book talked openly with each other about sex, which as an adult was fine for me, but I wouldn't want my own young adult reader to read this one.
"Simone Garcia-Hampton is starting over at a new school, and this time things will be different. She's making real friends, making a name for herself as student director of Rent, and making a play for Miles, the guy who makes her melt every time he walks into a room. The last thing she wants is for word to get out that she's HIV-positive, because last time . . . well, last time things got ugly. Keeping her viral load under control is easy, but keeping her diagnosis under wraps is not so simple. As Simone and Miles start going out for real–shy kisses escalating into much more–she feels an uneasiness that goes beyond butterflies. She knows she has to tell him that she's positive, especially if sex is a possibility, but she's terrified of how he'll react! And then she finds an anonymous note in her locker: I know you have HIV. You have until Thanksgiving to stop hanging out with Miles. Or everyone else will know too. Simone's first instinct is to protect her secret at all costs, but as she gains a deeper understanding of the prejudice and fear in her community, she begins to wonder if the only way to rise above is to face the haters head-on. . . ."
I have never read about a person living with HIV in the present and I thought this premise was unique and important, as there is very much a stigma surrounding the disease. I learned a lot and I appreciate what the author – who by the way is a teenager herself – did with this book.
---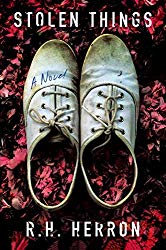 Title: Stolen Things
Author: RH Herron
Genre: Psychological Thriller
Publisher: Dutton, 8/20/19
Source: Library
Why I Read It: Instagram Buddy Read and publisher sent me an e-copy as well.
My Rating: 4 Stars
This was another good, quick moving thriller. I found the topics in the book to be timely, including a corrupt, racist police force and a football player who has secrets.
"Laurie Ahmadi has worked as a 911 police dispatcher in her quiet Northern California town for almost two decades, but nothing in her nearly twenty years of experience could prepare her for the worst call of her career—her teenage daughter, Jojo, is on the other end of the line. She is drugged, disoriented, and in pain, and even though the whole police department springs into action, there is nothing Laurie can do to help. Jojo, who has been sexually assaulted, doesn't remember how she ended up at the home of Kevin Leeds, a pro football player famous for his work with the Citizens Against Police Brutality movement, though she insists he would never hurt her. And she has no idea where her best friend, Harper, who was with her earlier in the evening, could be. As Jojo and Laurie begin digging into Harper's private messages on social media to look for clues to her whereabouts, they uncover a conspiracy far bigger than they ever could have imagined. With Kevin's freedom on the line and the chances of finding Harper unharmed slipping away, Laurie and Jojo begin to realize that they can't trust anyone to find Harper except themselves, not even the police department they've long considered family . . . and time is running out."
Jojo is biracial with an Iranian father who happens to be the town's police chief. I enjoyed the mother-daughter aspect of this book and there were some surprises along the way. It was fast paced and kept me reading!
---
Title: Generation Friends: An Inside Look at the Show That Defined a Television Era
Author: Saul Austerlitz
Genre: Non-fiction
Publisher: Penguin Random House, 9/17/19
Source: Net Galley
Why I Read It: E-copy provided by the publisher.
My Rating: 4 Stars
This book was funny and interesting for a Friends fan! It contains a lot of facts about Friends from the creation to after its 10 year run. My one complaint is that it doesn't contain pictures!
"In September 1994, six friends sat down in their favorite coffee shop and began bantering about sex, relationships, jobs, and just about everything else. A quarter of a century later, new fans are still finding their way into the lives of Rachel, Ross, Joey, Chandler, Monica, and Phoebe, and thanks to the show's immensely talented creators, its intimate understanding of its youthful audience, and its reign during network television's last moment of dominance, Friends has become the most influential and beloved show of its era. Friends has never gone on a break, and this is the story of how it all happened. Noted pop culture historian Saul Austerlitz utilizes exclusive interviews with creators David Crane and Marta Kauffman, executive producer Kevin Bright, director James Burrows, and many other producers, writers, and cast members to tell the story of Friends' creation, its remarkable decade-long run, and its astonishing Netflix-fueled afterlife. Readers will go behind the scenes to hear from the people who were present as the show was developed and cast, written and filmed. There will be talk of trivia contests, prom videos, trips to London, Super Bowls, lesbian weddings, wildly popular hairstyles, superstar cameos, mad dashes to the airport, and million-dollar contracts. They'll also discover surprising details—that Monica and Joey were the show's original romantic couple, how Danielle Steel probably saved Jennifer Aniston's career, and why Friends is still so popular that if it was a new show, its over-the-air broadcast reruns would be the ninth-highest-rated program on TV. The show that defined the 1990s has a legacy that has endured beyond wildest expectations. And in this hilarious, informative, and entertaining book, readers will now understand why."
Here are three things I didn't know about friends and found out from this book: the costume designer Debra McGuire along with Marta Kauffman lit Shabbat candles on the set. When Ross said Rachel instead of Emily at their wedding, this came from a flub David Schwimmer actually made while running a line (he said "Rachel, the taxi's here" instead of Emily). And when Ross's ex-wife married a woman, a real life gay rights advocate played the officiant at their wedding. This book would make a great holiday gift for a Friends fan!
---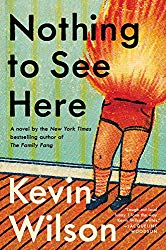 Title: Nothing To See Here
Author: Kevin Wilson
Genre: Magical Realism / Fiction
Publisher: Ecco, 10/29/19
Source: Book of the Month
Why I Read It: I try to read my book of the month books during the month I receive them!
My Rating: 4 Stars
I read this book slowly, a bit at a time, although I imagine I could have read it much faster. It was an entertaining, character-driven novel without much of a plot.
"Lillian and Madison were unlikely roommates and yet inseparable friends at their elite boarding school. But then Lillian had to leave the school unexpectedly in the wake of a scandal and they've barely spoken since. Until now, when Lillian gets a letter from Madison pleading for her help. Madison's twin stepkids are moving in with her family and she wants Lillian to be their caretaker. However, there's a catch: the twins spontaneously combust when they get agitated, flames igniting from their skin in a startling but beautiful way. Lillian is convinced Madison is pulling her leg, but it's the truth. Thinking of her dead-end life at home, the life that has consistently disappointed her, Lillian figures she has nothing to lose. Over the course of one humid, demanding summer, Lillian and the twins learn to trust each other—and stay cool—while also staying out of the way of Madison's buttoned-up politician husband. Surprised by her own ingenuity yet unused to the intense feelings of protectiveness she feels for them, Lillian ultimately begins to accept that she needs these strange children as much as they need her—urgently and fiercely. Couldn't this be the start of the amazing life she'd always hoped for?"
I enjoyed the kids in the book and found them well-written. I also liked the theme of finding a family. I do have to wonder what makes an author decide to write about kids who spontaneously combust rather than suffer from some other ailment, but I suppose it worked in this case!
---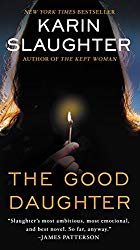 Title: The Good Daughter
Author: Karin Slaughter
Genre: Psychological Thriller
Publisher: William Morrow, 8/8/17
Source: Libby app via the library.
Why I Read It: I try to read my book of the month books during the month I receive them!
My Rating: 3 Stars
Finally, this month I made it through an audio book. It took me a long time, as it was quite long. As far as thrillers go, this one was not my favorite.
"Twenty-eight years ago, Charlotte and Samantha Quinn's happy small-town family life was torn apart by a terrifying attack on their family home. It left their mother dead. It left their father—Pikeville's notorious defense attorney—devastated. And it left the family fractured beyond repair, consumed by secrets from that terrible night. Twenty-eight years later, Charlie has followed in her father's footsteps to become a lawyer herself—the ideal good daughter. But when violence comes to Pikeville again—and a shocking tragedy leaves the whole town traumatized—Charlie is plunged into a nightmare. Not only is she the first witness on the scene, but it's a case that unleashes the terrible memories she's spent so long trying to suppress. Because the shocking truth about the crime that destroyed her family nearly thirty years ago won't stay buried forever . . ."
This book contains a lot of difficult topics including rape, school shooting, and assault. These topics described graphically and made the book disturbing in parts. The plot itself was so-so, and like I said, not my favorite.
---
If you made it through this post, congratulations! If not, in October I read 19 books – 16 in print, 2 e-books, and 1 on audio. The genres I read included contemporary, rom com, magical realism, short stories, thriller, and non-fiction. My favorites of the month were The Sun Down Motel, Holly Banks Full of Angst, The Wife Between Us, and I Found You.
Have you read any of these books? What have you been reading lately?