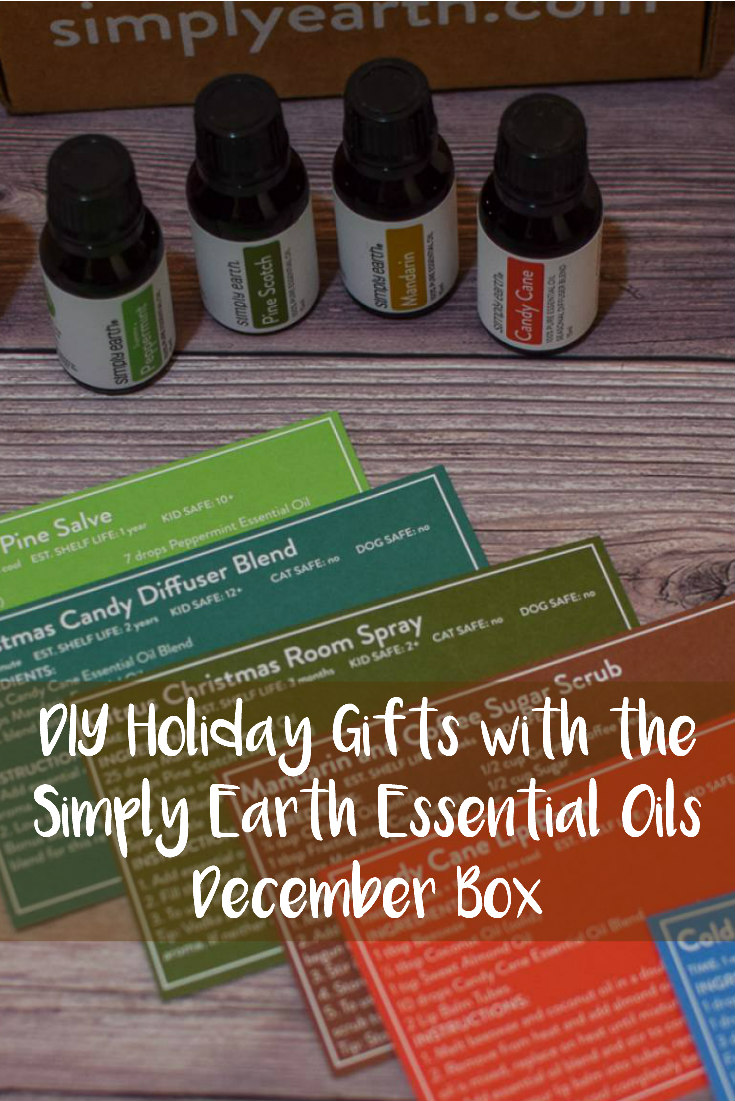 It's the season of gifting and Simply Early Essential Oils has curated a December box that will help you DIY your holiday gifts! Simply Earth's recipe formulator is a certified aromatherapist and she chose the December recipes to make gift giving easy, affordable, and toxin-free. Let's take a look at what's in the December box!
This post is in collaboration with Simply Earth and contains affiliate links. I received this box in exchange for my review and all opinions are my own. You can use my code NOTINJERSEYFREE to receive a $40 gift card to Simply Earth with your first box purchase!
Each month, Simply Earth's boxes come with 4 essential oils, 6 recipes to go along with them, and other supplies needed for the recipes of the month. Plus, when you get your first recipe box, you will also receive the Big Bonus Box, which contains items that you can use along side your monthly boxes, such as empty bottles and carrier oils.
What's in the Simply Earth December Essential Oils box?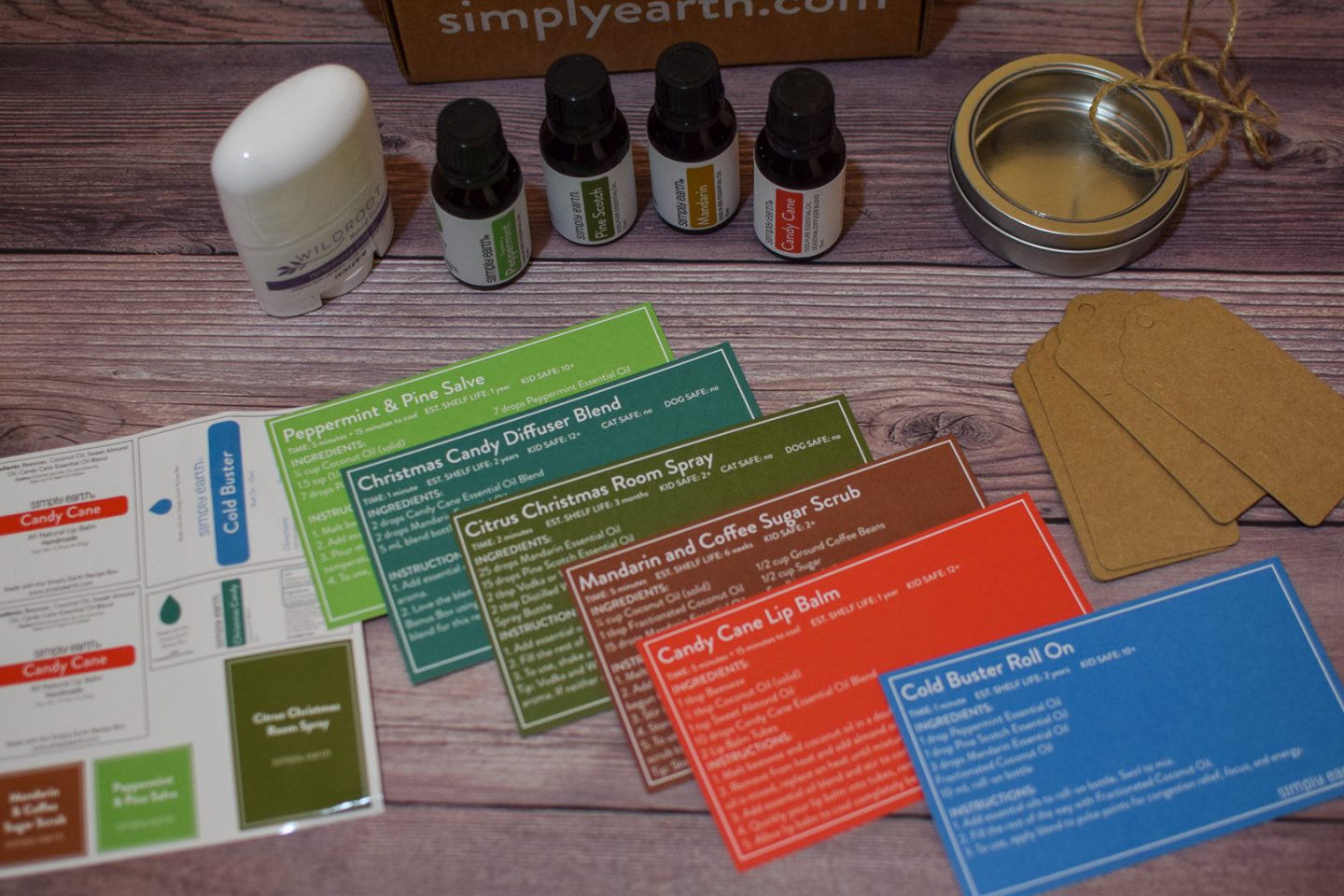 Simply Earth's December Essential Oils box contains essential oils that you can use to DIY holiday gifts!
Candy Cane Essential Oil Blend: Made with Peppermint, Wintergreen, Orange, & Cassia Essential Oils for a seasonal smell.
Mandarin Essential Oil: Mandarin Essential Oil can be used to soothe sore muscles, while its scent also has a relaxing and calming effect. Mix it with lotion for massage lotion!
Pine Scotch Essential Oil: Pine scotch supports a healthier respiratory tract, improves circulation, and has a warm and soothing effect. Mix it with a carrier oil for a congestion relief blend.
Peppermint Essential Oil: Other than its distinct flavor, it also has a cooling effect and can help relieve head tension and aid in digestion. Mix it with Jojoba oil and create a foot bath!
What Extras are in the December Simply Earth Essential Oils Box?
The December box comes with gift tags, an empty 2 oz tin, two lip balm tubes, and a spray bottle.
PLUS the box came with a sample of Wildroot Natural Deodorant!
What Recipes are in the December Simply Earth Essential Oils Box?
Citrus Christmas Room Spray
Christmas Candy Diffuser Blend
Peppermint and Pine Salve
Candy Cane Lip Balm
Mandarin and Coffee Sugar Scrub
Cold Buster Roll On
What Additional Items are Needed to Create These Recipes?
Each recipe requires you to use items that come in your monthly box, but may also use a carrier blend. Plus, what about roll on bottles? All of this will come in your Big Bonus Box that you get along with your first order. Items that are not in the bonus box or the monthly box are starred and they include easy to find ingredients such as distilled water, coffee beans, sugar, etc.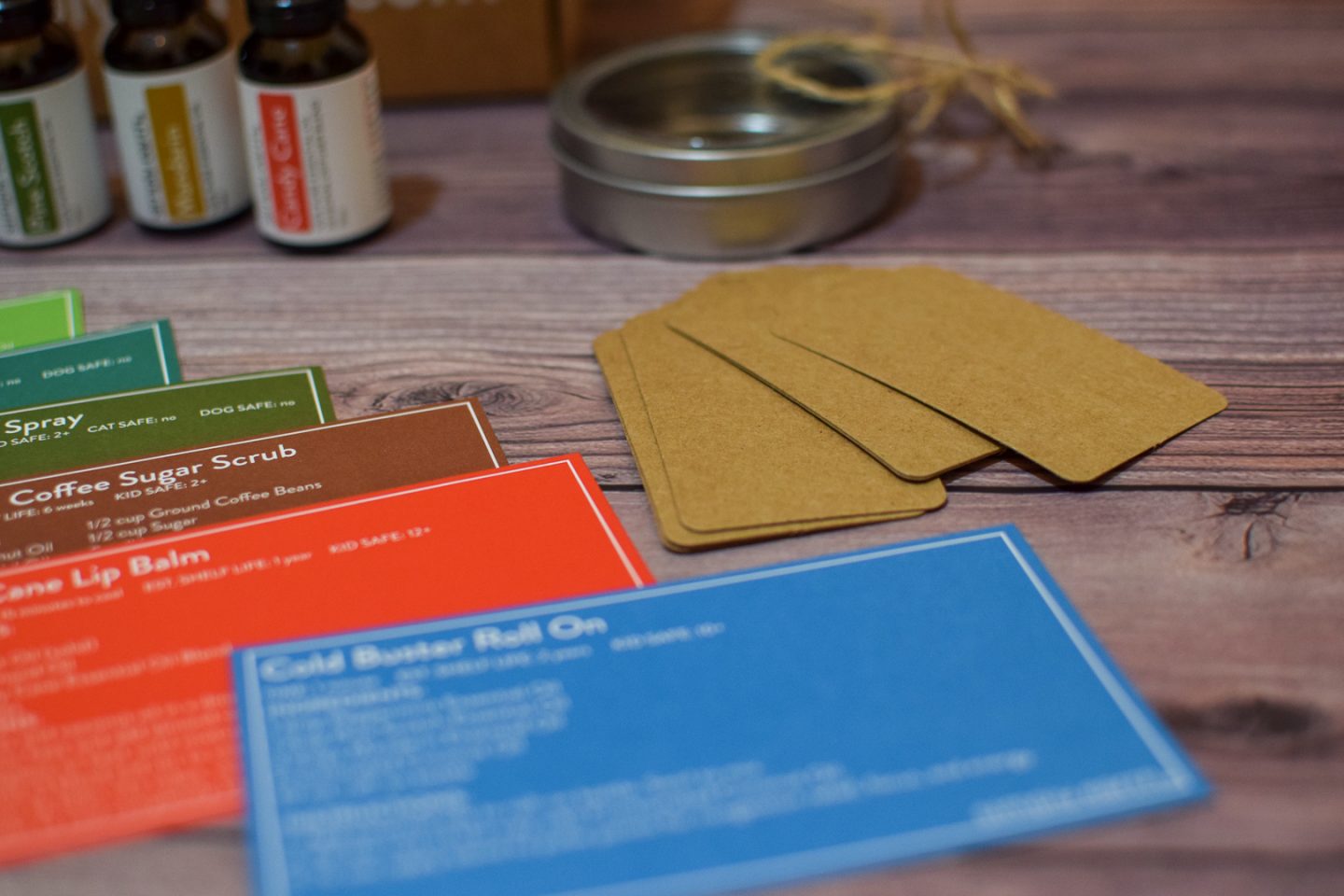 How Much Does This All Cost?
A monthly box from Simply Earth costs $39 per month. With your first month's box you will receive your Big Bonus Box, which contains a value of an additional $40 of products. Plus, when you use my code NOTINJERSEYFREE, you will receive a $40 gift card that you can apply to your next box – essentially another box for free!
These affordable essential oils and recipe boxes can help you transition to a toxin-free home!