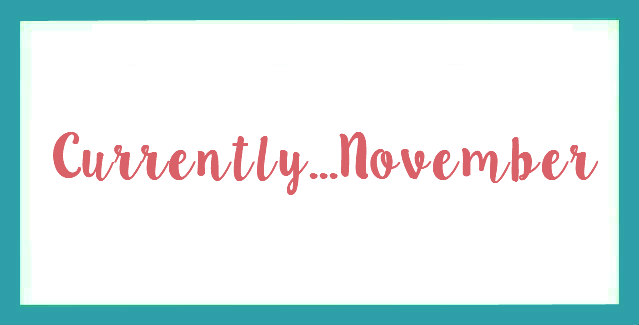 Today I'm linking up with Anne In Residence for her Currently link up. November's prompt words are: picking, preparing, trying, feeling, and following. Here's what I'm currently up to!
[picking]
Today I'll be picking Gabbie up from school to take her to the doctor. She has a wart on the bottom of her foot which really hurts her and makes it hard for her to dance! She has been dealing with it for a few months already so when over the counter treatment didn't work, I made her an appointment for today. I hope it works!
[preparing]
I haven't actually started preparing yet, but we will need to prepare for our visit from my brother, sister-in-law, niece, and nephew as well as my parents for Thanksgiving!
[trying]
I'm trying to get organized and stop stressing about so many books so little time! And about my photography skills. So I guess I'm trying to stop stressing.
[feeling]
I'm feeling a little bit of anxiety for no really good reason. See above!
[following]
We are following the Chiefs closely because they are awesome and I love watching football. This past Sunday, Dave and I got to attend a game!
Now tell me something you are currently doing!