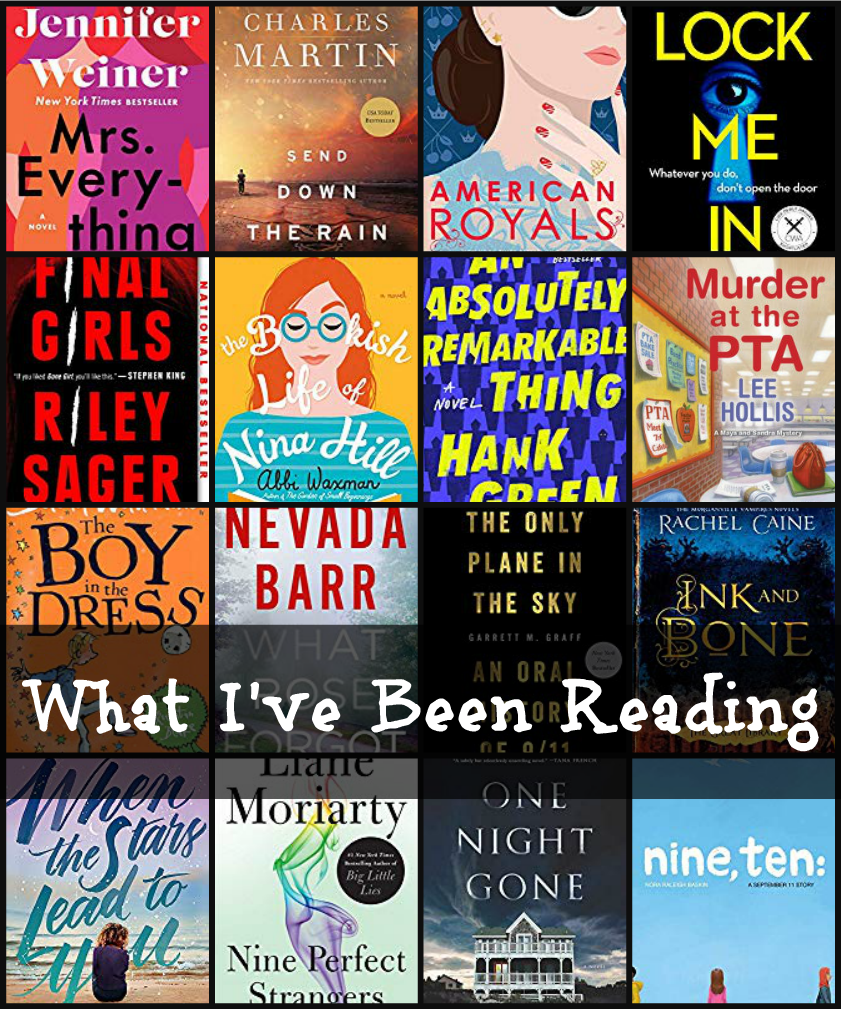 It's time for my monthly book review post! These are the books that I finished in September – there are a lot of them! I will be linking up this post with the Show Us Your Books Link Up, and as always, the Amazon links to the books I've read are affiliate links and if you use them and make a purchase, I may receive a small commission.
Last month, I received a question about my star rating system, so I figured I should include that information! 5 stars are for books I absolutely love, that touch me somehow, or I feel strongly about. 4 stars are for books I liked, but there may be something missing that keeps me from absolutely loving them. 3 stars are books that were entertaining enough. 2 stars are books I really didn't like but had some reason to finish them anyway. I don't give any books 1 star, because I probably abandoned it if it was that bad!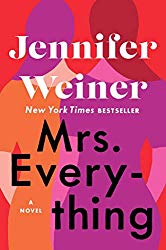 Title: Mrs. Everything
Author: Jennifer Weiner
Genre: Fiction
Publisher: Atria Books, 6/11/19
Source: Library
Why I Read It: I love the author.
My Rating: 5 Stars
Jennifer Weiner is one of my favorite authors and Mrs. Everything did not disappoint. I added it to my library list, although I probably should have just purchased it, because I loved it so much!
"Do we change or does the world change us? Jo and Bethie Kaufman were born into a world full of promise. Growing up in 1950s Detroit, they live in a perfect 'Dick and Jane' house, where their roles in the family are clearly defined. Jo is the tomboy, the bookish rebel with a passion to make the world more fair; Bethie is the pretty, feminine good girl, a would-be star who enjoys the power her beauty confers and dreams of a traditional life. But the truth ends up looking different from what the girls imagined. Jo and Bethie survive traumas and tragedies. As their lives unfold against the background of free love and Vietnam, Woodstock and women's lib, Bethie becomes an adventure-loving wild child who dives headlong into the counterculture and is up for anything (except settling down). Meanwhile, Jo becomes a proper young mother in Connecticut, a witness to the changing world instead of a participant. Neither woman inhabits the world she dreams of, nor has a life that feels authentic or brings her joy. Is it too late for the women to finally stake a claim on happily ever after?"
This book is about women being held back by society and the strength they can find in family. The story follows Jo and Bethie from their younger days as daughters to where they land as women. It covers such themes as motherhood, childlessness, sexuality, interracial relationships, and more, set over the course of 60 years of American history. The featured family is also Jewish, which means a lot to me. The end made me cry, in a way that made me want to read the book all over again. Read it!
---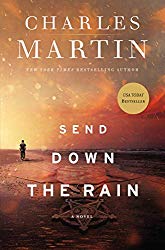 Title: Send Down The Rain
Author: Charles Martin
Genre: Fiction
Publisher: Thomas Nelson, 5/8/18
Source: Library
Why I Read It: For Book Challenge by Erin bonus topic "contains the word rain, thunder, etc."
My Rating: 4 Stars
I think I had put Send Down The Rain in my TBR list at some point, so I chose it for my bonus round of Book Challenge by Erin. What I didn't realize is that Charles Martin write "Christian fiction." I wouldn't say that this book was overly Christian in any way though, so it's probably a good thing that I didn't realize that sub-category was assigned to this book before I picked it up.
"Allie is still recovering from the loss of her family's beloved waterfront restaurant on Florida's Gulf Coast when she loses her second husband to a terrifying highway accident. Devastated and losing hope, she shudders to contemplate the future—until a cherished person from her past returns. Joseph has been adrift for many years, wounded in both body and spirit and unable to come to terms with the trauma of his Vietnam War experiences. Just as he resolves to abandon his search for peace and live alone at a remote cabin in the Carolina mountains, he discovers a mother and her two small children lost in the forest. A man of character and strength, he instinctively steps in to help them get back to their home in Florida. There he will return to his own hometown—and witness the accident that launches a bittersweet reunion with his childhood sweetheart, Allie. When Joseph offers to help Allie rebuild her restaurant, it seems the flame may reignite—until a forty-five-year-old secret begins to emerge, threatening to destroy all hope for their second chance at love."
I thought that Send Down The Rain was very well-written. It is about brothers, which is a topic I don't usually read about. There were twists, lost loves, and great side characters including a talk show radio host and a very loyal dog. The overall theme of the book was about generosity and making up for past mistakes. I enjoyed reading this one.
---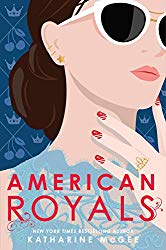 Title: American Royals
Author: Katharine McGee
Genre: YA
Publisher: Random House, 9/3/19
Source: Library
Why I Read It: Heard about it on a podcast.
My Rating: 4 Stars
What if American was a monarchy? Descendants of George Washington rule the country and the various territories are lead by dukes and other important people. The premise is so interesting! Unfortunately, it's YA.
"When America won the Revolutionary War, its people offered General George Washington a crown. Two and a half centuries later, the House of Washington still sits on the throne. Like most royal families, the Washingtons have an heir and a spare. A future monarch and a backup battery. Each child knows exactly what is expected of them. But these aren't just any royals. They're American. As Princess Beatrice gets closer to becoming America's first queen regnant, the duty she has embraced her entire life suddenly feels stifling. Nobody cares about the spare except when she's breaking the rules, so Princess Samantha doesn't care much about anything, either . . . except the one boy who is distinctly off-limits to her. And then there's Samantha's twin, Prince Jefferson. If he'd been born a generation earlier, he would have stood first in line for the throne, but the new laws of succession make him third. Most of America adores their devastatingly handsome prince . . . but two very different girls are vying to capture his heart."
While this book could have been about America's monarchy, it was actually about being a teenager in love with someone that is not considered appropriate. The book is told from the two sisters' perspectives, as well as from that of Nina and Daphne, the two girls vying for Prince Jefferson's attention. I felt like the sisters could have resolved their forbidden love problems if they had just talked to each other, but nothing was resolved in this book because there will be a sequel! All that being said, I still enjoyed reading this book well enough to give it 4 stars!
---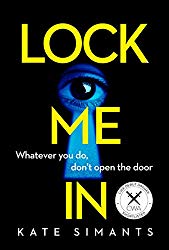 Title: Lock Me In
Author: Kate Simants
Genre: Thriller
Publisher: Killer Reads / One More Chapter Books, 10/4/19
Source: Net Galley
Why I Read It: I want to start reviewing more advanced copies of books and this was an automatic Net Galley download (no need to be approved for it).
My Rating: 5 Stars
Downloading a book on Net Galley that didn't require approval had me a little nervous, but I could not stop reading this! For me, it was the epitome of a book I couldn't put down.
"By day, Ellie Power has a normal life. She has a stable home, a loving boyfriend, a future. But at night, she suffers from a sleep disorder. She becomes angry, unpredictable, violent. Her mother locks her in her bedroom every night, to keep them both safe. Then one morning, Ellie wakes up, horrified to find the lock on her bedroom door smashed from the inside. She is covered in injuries, unable to remember anything about the night before. And her boyfriend Matt is nowhere to be found…"
I don't want to say too much about this book and give things away, because it really surprised me. While I suspected certain things, I never would have guessed the reasons for the way the characters acted or did what they did. It is told from the alternating perspectives of Ellie and the detective on the case, Ben Mae. This kindle book is available today, so if you can, give it a try and let me know what you think!
---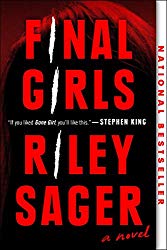 Title: Final Girls
Author: Riley Sager
Genre: Thriller
Publisher: Dutton, 7/11/17
Source: Barnes and Noble
Why I Read It: Instagram Buddy Read / Book Challenge by Erin Bonus topic "begins with F."
My Rating: 4 Stars
I really love discussing books on Instagram because forming these little discussion groups makes me move a book to the top of my TBR pile, plus being able to discuss the book makes the book even more worth reading! Final Girls was a good thriller, although it did take me some time to get into.
"Ten years ago, college student Quincy Carpenter went on vacation with five friends and came back alone, the only survivor of a horror movie–scale massacre. In an instant, she became a member of a club no one wants to belong to—a group of similar survivors known in the press as the Final Girls: Lisa, who lost nine sorority sisters to a college dropout's knife; Sam, who went up against the Sack Man during her shift at the Nightlight Inn; and now Quincy, who ran bleeding through the woods to escape Pine Cottage and the man she refers to only as Him. The three girls are all attempting to put their nightmares behind them and, with that, one another. Despite the media's attempts, they never meet. Now, Quincy is doing well—maybe even great, thanks to her Xanax prescription. She has a caring almost-fiancé, Jeff; a popular baking blog; a beautiful apartment; and a therapeutic presence in Coop, the police officer who saved her life all those years ago. Her memory won't even allow her to recall the events of that night; the past is in the past. That is until Lisa, the first Final Girl, is found dead in her bathtub, wrists slit; and Sam, the second Final Girl, appears on Quincy's doorstep. Blowing through Quincy's life like a whirlwind, Sam seems intent on making Quincy relive the past, with increasingly dire consequences, all of which makes Quincy question why Sam is really seeking her out. And when new details about Lisa's death come to light, Quincy's life becomes a race against time as she tries to unravel Sam's truths from her lies, evade the police and hungry reporters, and, most crucially, remember what really happened at Pine Cottage, before what was started ten years ago is finished."
I was unable to predict the ending of this book. What seems obvious is not the answer. I liked the ending and overall enjoyed reading this book.
---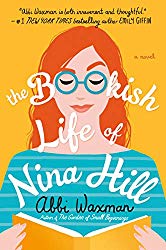 Title: The Bookish Life of Nina Hill
Author: Abbi Waxman
Genre: Fiction
Publisher: Berkley, 7/9/19
Source: Library
Why I Read It: I had it on my library list.
My Rating: 4 Stars
Nina Hill is my new favorite fictional character. She works in a bookshop and is on a trivia team. She is organized and the book includes snippets from her planner. She is book character goals!
"The only child of a single mother, Nina has her life just as she wants it: a job in a bookstore, a kick-butt trivia team, a world-class planner and a cat named Phil. If she sometimes suspects there might be more to life than reading, she just shrugs and picks up a new book. When the father Nina never knew existed suddenly dies, leaving behind innumerable sisters, brothers, nieces, and nephews, Nina is horrified. They all live close by! They're all—or mostly all—excited to meet her! She'll have to Speak. To. Strangers. It's a disaster! And as if that wasn't enough, Tom, her trivia nemesis, has turned out to be cute, funny, and deeply interested in getting to know her. Doesn't he realize what a terrible idea that is?
Nina considers her options.
1. Completely change her name and appearance. (Too drastic, plus she likes her hair.)
2. Flee to a deserted island. (Hard pass, see: coffee).
3. Hide in a corner of her apartment and rock back and forth. (Already doing it.)
It's time for Nina to come out of her comfortable shell, but she isn't convinced real life could ever live up to fiction. It's going to take a brand-new family, a persistent suitor, and the combined effects of ice cream and trivia to make her turn her own fresh page."
The funny conversations between Nina and her book seller co-workers were very entertaining. One of the funniest characters was the 6 year old Clare, who talked about the "series of responsibilities" of being in a wedding. The love story in this book is secondary to the story of self-discovery that Nina goes through in finding a family and embracing herself.
---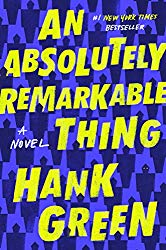 Title: An Absolutely Remarkable Thing
Author: Hank Green
Genre: Sci-Fi
Publisher: Dutton, 9/25/18
Source: Publisher
Why I Read It: Sent to me for my review.
My Rating: 4 Stars
Sci-fi is not my usual genre, but I agreed to try out this book. While the premise is sci-fi, the story is about what happens when you become social media famous, a concept that is not foreign to many of us.
"Roaming through New York City at three a.m., twenty-three-year-old April May stumbles across a giant sculpture. Delighted by its appearance and craftsmanship—like a ten-foot-tall Transformer wearing a suit of samurai armor—April and her best friend, Andy, make a video with it, which Andy uploads to YouTube. The next day, April wakes up to a viral video and a new life. News quickly spreads that there are Carls in dozens of cities around the world—from Beijing to Buenos Aires—and April, as their first documentarian, finds herself at the center of an intense international media spotlight. Seizing the opportunity to make her mark on the world, April now has to deal with the consequences her new particular brand of fame has on her relationships, her safety, and her own identity. And all eyes are on April to figure out not just what the Carls are, but what they want from us."
This book reminded me a bit of an episode of Black Mirror. The world is just slightly different – there's a woman president! – and April finds that she can use her new found fame to either bring people together or join them in their fears of the unknown.
---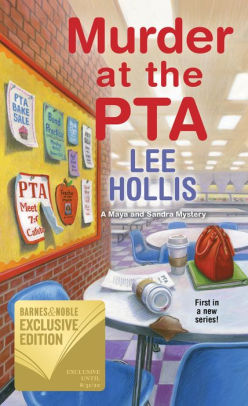 Title: Murder at the PTA
Author: Lee Hollis
Genre: Mystery
Publisher: Kensington, 8/27/19
Source: Harlequin Publicity Team
Why I Read It: Sent to me in exchange for an Instagram post.
My Rating: 4 Stars
I don't think I've ever heard of a book not available on Amazon, but apparently this one is a Barnes and Noble exclusive! I read this light read along with a heavier read at the same time and it was a fun, well-plotted mystery.
"Someone is trying to turn Portland High into a school for scandal with a gossipy website called Dirty Laundry. The latest target of ruinous rumors is newly elected PTA president Sandra Wallage. After a heated meeting with outraged parents, Sandra runs into fellow school mom and private investigator Maya Kendrick, who's discovered the person behind the website. But when the women storm into the venomous gossip columnist's office they find a lifeless body—along with a confession. Although the police rule the death a suicide, Maya suspects an injured party hung the Dirty Laundry creator out to dry. Maya already has a PI partner—but she's pregnant, and sonograms and stakeouts tend to conflict. So when Sandra volunteers for a crash course in sleuthing, Maya accepts the help. But as these unlikely partners study the clues, a killer plans to teach them a lesson . . ."
The two main characters are moms, with the PTA president also being the wife of a senator. Their reluctant bond to one another was enjoyable. The ending tied up suddenly and neatly. This is considered a cozy mystery, and it definitely felt like one! It is the first in a new series, which I would definitely read more of.
---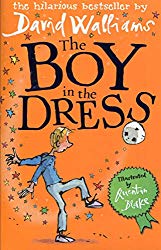 Title: The Boy In The Dress
Author: David Walliams
Genre: Middle Grade
Publisher: HarperCollins Children's, 10/1/08
Source: ThriftBooks
Why I Read It: Book Challenge by Erin bonus topic "title contains an article of clothing."
My Rating: 4 Stars
I would call this book a lower middle grade read, as it was more like something my 4th grader would read than my 7th grader. And in fact, Simon did read this after I finished! I suppose this book was a bit ahead of it's time, being that it was published 11 years ago.
"Dennis was different. Why was he different, you ask? Well, a small clue might be in the title of this book!"
This funny and easy to read book is about a boy who likes fashion and enjoys how it feels to wear a dress. He finds support in a new friend and a local shop owner. He is on the soccer team, and he isn't sure how his teammates will react when they find out how different he is. And what about his dad and his brother? The acceptance that Dennis finds is heartwarming and Simon and I both enjoyed this book. Simon found that the writing was similar to other books that he likes and he would like to read more books by David Walliams!
---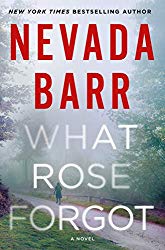 Title: What Rose Forgot
Author: Nevada Barr
Genre: Mystery / Thriller
Publisher: Minotaur Books, 9/17/19
Source: Minotaur Book Blogger Program
Why I Read It: Sent to me in exchange for my review.
My Rating: 4 Stars
While some classified this book as a thriller, I found that it was actually more of a mystery, with a lot of humorous touches. Rose discovers that she has been drugged and confined to a nursing home and against all odds, manages to escape, hide out, and uncover what really is going on.
"Rose Dennis wakes up in a hospital gown, her brain in a fog, only to discover that she's been committed to an Alzheimer's Unit in a nursing home. With no memory of how she ended up in this position, Rose is sure that something is very wrong. When she overhears one of the administrators saying about her that she's 'not making it through the week,' Rose is convinced that if she's to survive, she has to get out of the nursing home. She avoids taking her medication, putting on a show for the aides, then stages her escape. The only problem is―how does she convince anyone that she's not actually demented? Her relatives were the ones to commit her, all the legal papers were drawn up, the authorities are on the side of the nursing home, and even she isn't sure she sounds completely sane. But any lingering doubt Rose herself might have had is erased when a would-be killer shows up in her house in the middle of the night. Now Rose knows that someone is determined to get rid of her. With the help of her computer hacker/recluse sister Marion, thirteen-year old granddaughter Mel, and Mel's friend Royal, Rose begins to gather her strength and fight back―to find out who is after her and take back control of her own life. But someone out there is still determined to kill Rose, and they're holding all the cards."
I found the idea of a 68 year old woman going through what Rose went through to be quite amusing. Rather than finding the story far fetched, I chose to find it humorous! I loved the gang of people that Rose found to help her solve the mystery of her wrongful confinement.
---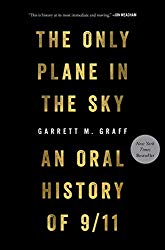 Title: The Only Plane In The Sky: An Oral History of 9/11
Author: Garrett M. Graff
Genre: Non-Fiction
Publisher: Avid Reader Press / Simon & Schuster, 9/10/19
Source: Library
Why I Read It: A meaningful book for our time.
My Rating: 4 Stars
This is the best non-fiction book I have read in quite awhile, and that is not because I so rarely read non-fiction. Having lived through 9/11 as a young adult living not that far away from the NYC attacks, I understand the need to talk about where we were on that day. This book follows the time line of the day from multiple viewpoints, from people who were in various locations when the towers were hit, to people who were in the Pentagon, to relatives of victims, to government officials, all laid out in a basic order of events as they occurred.
"Over the past eighteen years, monumental literature has been published about 9/11, from Lawrence Wright's The Looming Tower, which traced the rise of al-Qaeda, to The 9/11 Commission Report, the government's definitive factual retrospective of the attacks. But one perspective has been missing up to this point—a 360-degree account of the day told through the voices of the people who experienced it. Now, in The Only Plane in the Sky, award-winning journalist and bestselling historian Garrett Graff tells the story of the day as it was lived—in the words of those who lived it. Drawing on never-before-published transcripts, recently declassified documents, original interviews, and oral histories from nearly five hundred government officials, first responders, witnesses, survivors, friends, and family members, Graff paints the most vivid and human portrait of the September 11 attacks yet. Beginning in the predawn hours of airports in the Northeast, we meet the ticket agents who unknowingly usher terrorists onto their flights, and the flight attendants inside the hijacked planes. In New York City, first responders confront a scene of unimaginable horror at the Twin Towers. From a secret bunker underneath the White House, officials watch for incoming planes on radar. Aboard the small number of unarmed fighter jets in the air, pilots make a pact to fly into a hijacked airliner if necessary to bring it down. In the skies above Pennsylvania, civilians aboard United Flight 93 make the ultimate sacrifice in their place. Then, as the day moves forward and flights are grounded nationwide, Air Force One circles the country alone, its passengers isolated and afraid. More than simply a collection of eyewitness testimonies, The Only Plane in the Sky is the historic narrative of how ordinary people grappled with extraordinary events in real time: the father and son working in the North Tower, caught on different ends of the impact zone; the firefighter searching for his wife who works at the World Trade Center; the operator of in-flight telephone calls who promises to share a passenger's last words with his family; the beloved FDNY chaplain who bravely performs last rites for the dying, losing his own life when the Towers collapse; and the generals at the Pentagon who break down and weep when they are barred from rushing into the burning building to try to rescue their colleagues. At once a powerful tribute to the courage of everyday Americans and an essential addition to the literature of 9/11, The Only Plane in the Sky weaves together the unforgettable personal experiences of the men and women who found themselves caught at the center of an unprecedented human drama. The result is a unique, profound, and searing exploration of humanity on a day that changed the course of history, and all of our lives."
This book was extremely poignant and brought me right back to the feelings of living through the day itself. I couldn't read too much of it at once and split it with reading other books at the same time. Even if you were too young at the time to feel what the country lived through first-hand, this book is very important reading. Along with my previous visit to the 9/11 museum, this book taught me new things I never realized happened that day. The only issues I had were that there was so many people quoted, I couldn't remember who was who and I had to keep flipping to the index to find the previous place each person was mentioned. Also, the parts about the government were a little less interesting to me than that of those telling their personal rescue stories. I feel like I could spend years learning each person's story of where they were that day, and this book does a great job of compiling many of them.
---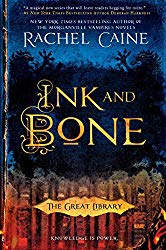 Title: Ink & Bone
Author: Rachel Caine
Genre: YA Fantasy
Publisher: Berkley, 7/7/15
Source: ThriftBooks
Why I Read It: Book Challenge by Erin bonus topic "same title, different genre."
My Rating: 2 Stars
Sigh. I had high hopes for this one, as I've been having the worst luck with fantasy novels and I have really wanted to find one that I enjoy! Unfortunately, this would have been another unfinished book for me, but I really wanted to finish it for the challenge category.
"Ruthless and supremely powerful, the Great Library is now a presence in every major city, governing the flow of knowledge to the masses. Alchemy allows the Library to deliver the content of the greatest works of history instantly—but the personal ownership of books is expressly forbidden. Jess Brightwell believes in the value of the Library, but the majority of his knowledge comes from illegal books obtained by his family. Jess has been sent to be his family's spy, but his loyalties are tested in the final months of his training to enter the Library's service. When his friend inadvertently commits heresy by creating a device that could change the world, Jess discovers that those who control the Great Library believe knowledge is more valuable than any human life—and soon both heretics and books will burn…."
If I'm being honest, this book gave me a headache. And the part in the description about Jess's friend committing heresy didn't even happen till the very end of the book. What it did have was a lot of action. My favorite part was the fact that the characters keep journals. Otherwise, it wasn't a good read for me.
---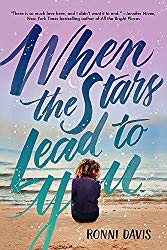 Title: When The Stars Lead To You
Author: Ronni Davis
Genre: YA
Publisher: Little, Brown Books for Young Readers, 11/12/19
Source: The author, via Net Galley
Why I Read It: The author is my friend!
My Rating: 4 Stars
I'm so excited about this book, even though it's not out yet! I have known the author for many, many years, having met her through an online message board we were both on back in the late 90's! We even met in person a few years ago. I am so proud of her for publishing a book and I'm really grateful that she allowed me to read a copy via Net Galley.
"Eighteen-year-old Devon longs for two things. The stars. And the boy she fell in love with last summer. When Ashton breaks Devon's heart at the end of the most romantic and magical summer ever, she thinks her heart will never heal again. But over the course of the following year, Devon finds herself slowly putting the broken pieces back together. Now it's senior year and she's determined to enjoy every moment of it, as she prepares for a future studying galaxies. That is, until Ashton shows up on the first day of school. Can she forgive and open her heart to him again? Or are they doomed to repeat history?"
Knowing the author, there were little things in the book that reminded me of her personality that made me smile. The story itself is a romance, but it's also about dealing with depression and suicidal ideation. I hope it's not a spoiler to say that I was pleased that it is the boy in this story who has depression, not the girl. I feel like many books focus on girls who deal with depression, not boys. I was happy with the way the book ended and I loved the relationship between Devon and her parents. Definitely add this one to your lists for November!
---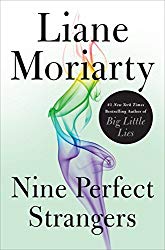 Title: Nine Perfect Strangers
Author: Liane Moriarty
Genre: Fiction
Publisher: Flatiron Books, 11/6/18
Source: Barnes and Noble
Why I Read It: Instagram Buddy Read.
My Rating: 4 Stars
This is another book that was moved up on my TBR pile due to a read along. We divided this one by the week, so I read a little bit of it every night and finished each section before the weekly discussions.
"Nine people gather at a remote health resort. Some are here to lose weight, some are here to get a reboot on life, some are here for reasons they can't even admit to themselves. Amidst all of the luxury and pampering, the mindfulness and meditation, they know these ten days might involve some real work. But none of them could imagine just how challenging the next ten days are going to be. Frances Welty, the formerly best-selling romantic novelist, arrives at Tranquillum House nursing a bad back, a broken heart, and an exquisitely painful paper cut. She's immediately intrigued by her fellow guests. Most of them don't look to be in need of a health resort at all. But the person that intrigues her most is the strange and charismatic owner/director of Tranquillum House. Could this person really have the answers Frances didn't even know she was seeking? Should Frances put aside her doubts and immerse herself in everything Tranquillum House has to offer – or should she run while she still can? It's not long before every guest at Tranquillum House is asking exactly the same question."
I found this one a bit strange. It didn't really have a plot, but focused on each of the nine people looking for healing and growth, as well as on the spa owner and workers. My favorite character was Carmel, a mom of 4 little girls who was just looking for an escape. The characters were just about all looking for some kind of personal healing. Their experience was certainly unique, and I enjoyed the ending of the book.
---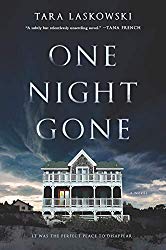 Title: One Night Gone
Author: Tara Laskowski
Genre: Thriller
Publisher: Graydon House, 10/1/19
Source: Harlequin Publicity Team
Why I Read It: Sent to me in exchange for an Instagram post.
My Rating: 4 Stars
This book is told through two timelines, one in the past and one in the present, which are tied together through Tammy, who appears in both timelines. Tammy desperately wants help finding out what happened to her missing friend, Maureen.
"One sultry summer, Maureen Haddaway arrives in the wealthy town of Opal Beach to start her life anew—to achieve her destiny. There, she finds herself lured by the promise of friendship, love, starry skies, and wild parties. But Maureen's new life just might be too good to be true, and before the summer is up, she vanishes. Decades later, when Allison Simpson is offered the opportunity to house-sit in Opal Beach during the off-season, it seems like the perfect chance to begin fresh after a messy divorce. But when she becomes drawn into the mysterious disappearance of a girl thirty years before, Allison realizes the gorgeous homes of Opal Beach hide dark secrets. And the truth of that long-ago summer is not even the most shocking part of all…"
There were a few twists in this story, but I found that I was able to predict them ahead of time. Still, I enjoyed reading this and loved the Opal Beach setting, as well as seeing the characters overlapping in both timelines.
---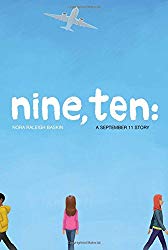 Title: Nine, Ten: A September 11 Story
Author: Nora Raleigh Baskin
Genre: Middle Grade
Publisher: Atheneum Books, 6/28/16
Source: My kids' bookshelves
Why I Read It: Out loud to the kids.
My Rating: 4 Stars
I'm actually not sure when we got this book, but I suppose it was either from a Scholastic Book Order or sale! Both Gabbie and Zachary read it already and I wanted to read it, so when Zachary asked me to read it to him and Simon, I agreed. Simon was nervous about it at first, but ended up liking it. It goes well with the other 9/11 book mentioned above, although the main things they have in common is that they both reference the color the sky was that morning.
"Ask anyone: September 11, 2001, was serene and lovely, a perfect day—until a plane struck the World Trade Center. But right now it is a few days earlier, and four kids in different parts of the country are going about their lives. Sergio, who lives in Brooklyn, is struggling to come to terms with the absentee father he hates and the grandmother he loves. Will's father is gone, too, killed in a car accident that has left the family reeling. Naheed has never before felt uncomfortable about being Muslim, but at her new school she's getting funny looks because of the head scarf she wears. Aimee is starting a new school in a new city and missing her mom, who has to fly to New York on business. These four don't know one another, but their lives are about to intersect in ways they never could have imagined."
The story follows the four children in the days prior to 9/11, as well as on that day and one year later. It shows how different types of families were effected by the tragedies of the day and how children, in particular, can learn to interact with those who are different from them.
---
For those keeping count, that was 16 books read in September! (Plus, I read one more that I will be reviewing separately next week!) I read 14 print books and 2 e-books in genres including Fiction, YA, Mystery, Sci-fi, thriller, fantasy, middle grade, and non-fiction! My reads are all over the place!
Have you read any of these books? What have you been reading lately?