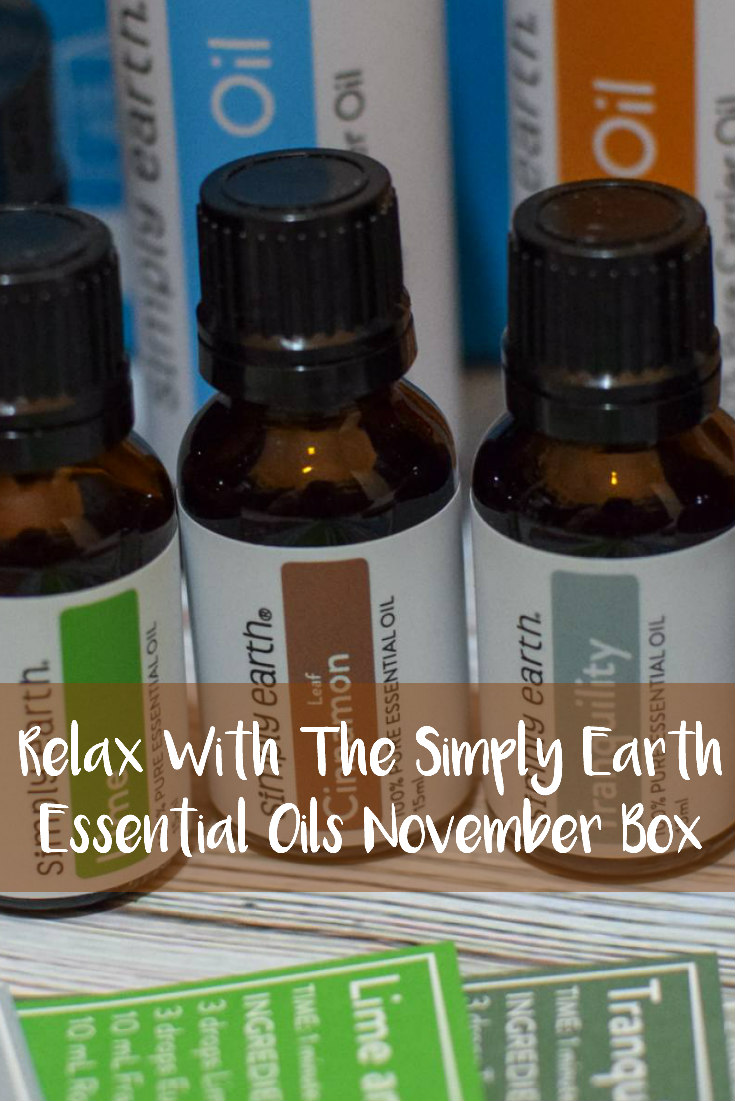 One of the most stressful times of year is approaching and Simply Earth Essential Oils has curated a November Box that will be sure to help you relax. Simply Earth's recipe formulator is a certified aromatherapist and she chose the November recipes to help hydrate your skin and create a stress-reducing atmosphere using toxin-free essential oils. Let's take a look at what's in the November box!
This post is in collaboration with Simply Earth and contains affiliate links. I received this box in exchange for my review and all opinions are my own. You can use my code NOTINJERSEYFREE to receive a $40 gift card to Simply Earth with your first box purchase!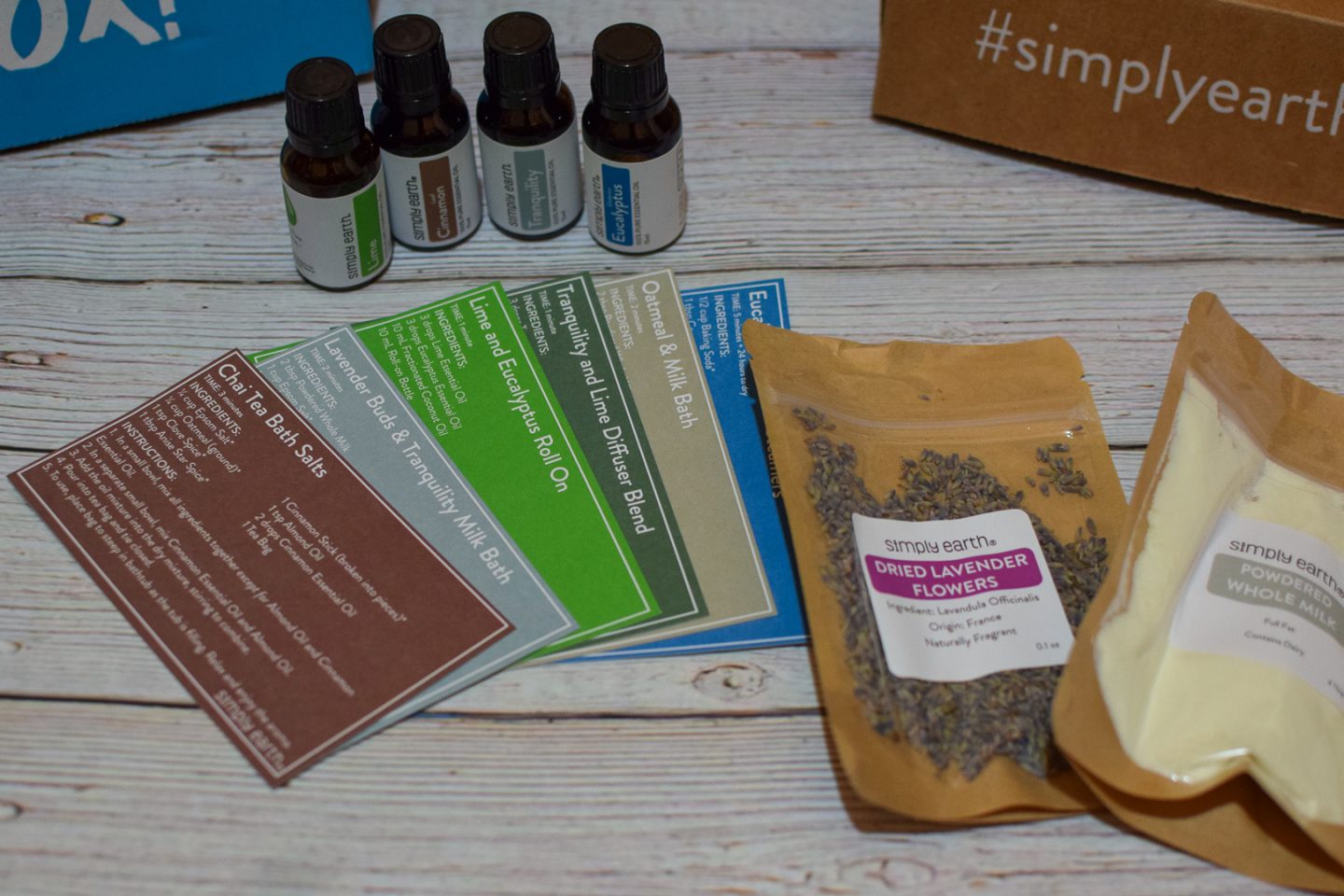 Each month, Simply Earth's boxes come with 4 essential oils, 6 recipes to go along with them, and other supplies needed for the recipes of the month. Plus, when you get your first recipe box, you will also receive the Big Bonus Box, which contains items that you can use along side your monthly boxes, such as empty bottles and carrier oils.
What's in the Simply Earth November Essential Oils box?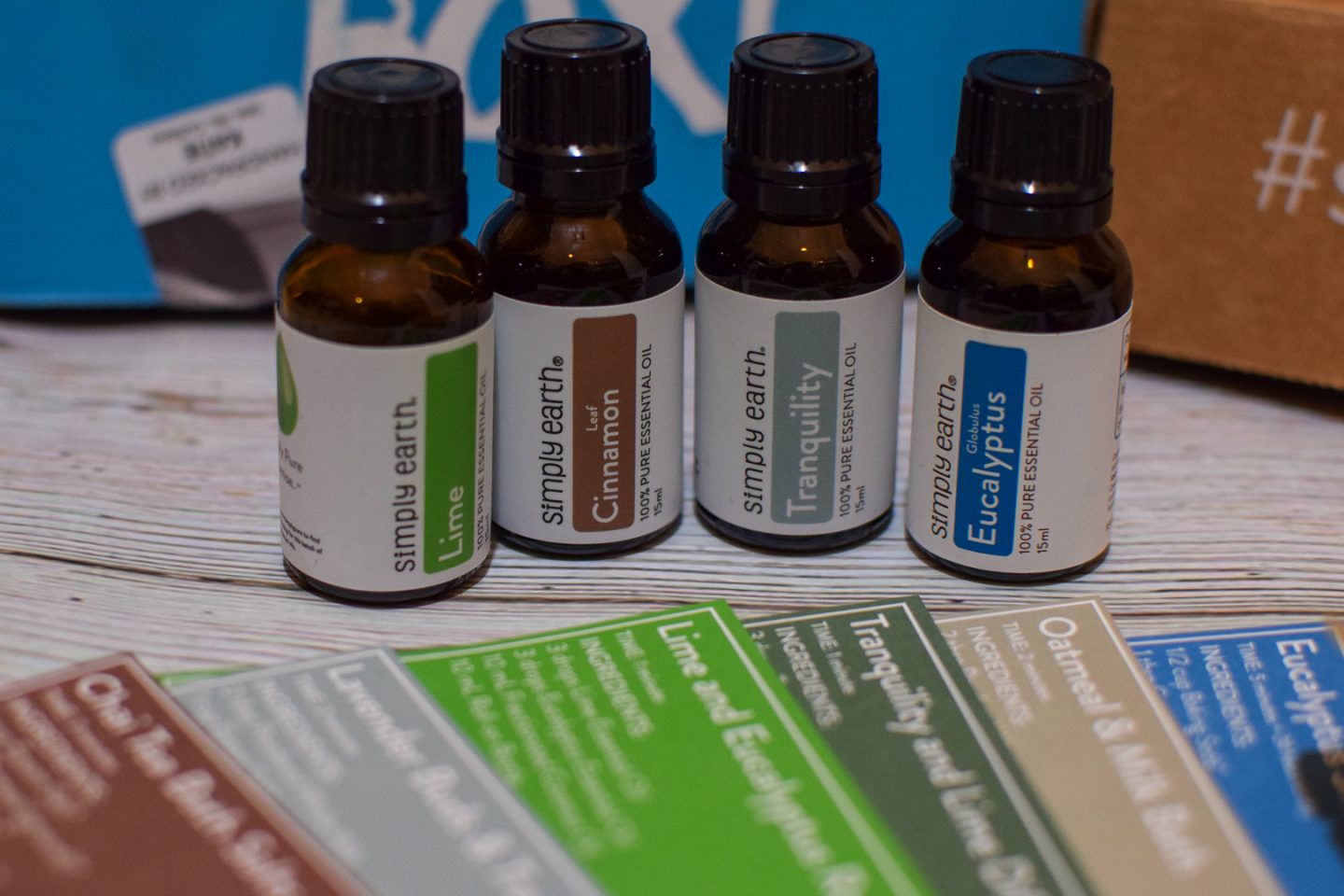 Simply Earth's November Essential Oils box contains essential oils to help you relax!
Lime Essential Oil: Inhaling the citrus scent of lime can stimulate the sympathetic nervous system and evoke alertness. Massaging the oil can have a relaxing and stress-relieving effect. Lime Essential Oil uplifts, invigorates, and smells clean. Use it along with Lavender Essential Oil and water to create a bathroom spray!
Cinnamon Leaf Essential Oil: Ancient middle eastern cultures used Cinnamon Leaf for colds, flu, digestive issues, menstrual complaints, and as a general stimulant. It is still very popular for its various health benefits. Cinnamon Leaf Essential Oil promotes warmth when applied topically diluted to the skin, relieves chronic aches and discomfort, uplifts, helps combat seasonal illnesses, and deters pests. Add a few drops to your pinecones for a homemade potpourri!
Tranquility Essential Oil Blend: This calming blend promotes feelings of contentment, composure, and reassurance, helping you feel more at ease and bringing about a sense of well being when anxious feelings try to overwhelm your emotions. It calms and relieves anxiety. You can add it to your diffuser to calm and sooth!
Eucalyptus Essential Oil: Discovered in Australia, Eucalyptus treated everything from a cough to skin diseases. Eucalyptus leaves were minced to use for respiratory ailments, wounds, ulcers, aching joints, fevers, and dysentery. Today you can find Eucalyptus in cough syrups, toothpaste, and cosmetics. It can be used to make bath salts, massage oil, and skin toner!
What Extras are in the November Simply Earth Essential Oils Box?
Dried Lavender Buds: Soothing and calming, dried lavender can be used in soap, potpourri sachets, and as a relaxant to be placed under the pillow.
Powdered Whole Milk: Required for some of the recipes in the November box!
An empty tea bag.
What Recipes are in the November Simply Earth Essential Oils Box?
Tranquility and Lime Diffuser Blend
Oatmeal and Milk Bath
Eucalyptus Shower Steamers
Chai Tea Bath Salts
Lavender Buds and Tranquility Blend Milk Bath
Lime and Eucalyptus Roll On
All of these recipes will be perfect to relax with!
What Additional Items are Needed to Create These Recipes?
Each recipe requires you to use items that come in your monthly box, but may also use a carrier blend. Plus, what about roll on bottles? All of this will come in your Big Bonus Box that you get along with your first order.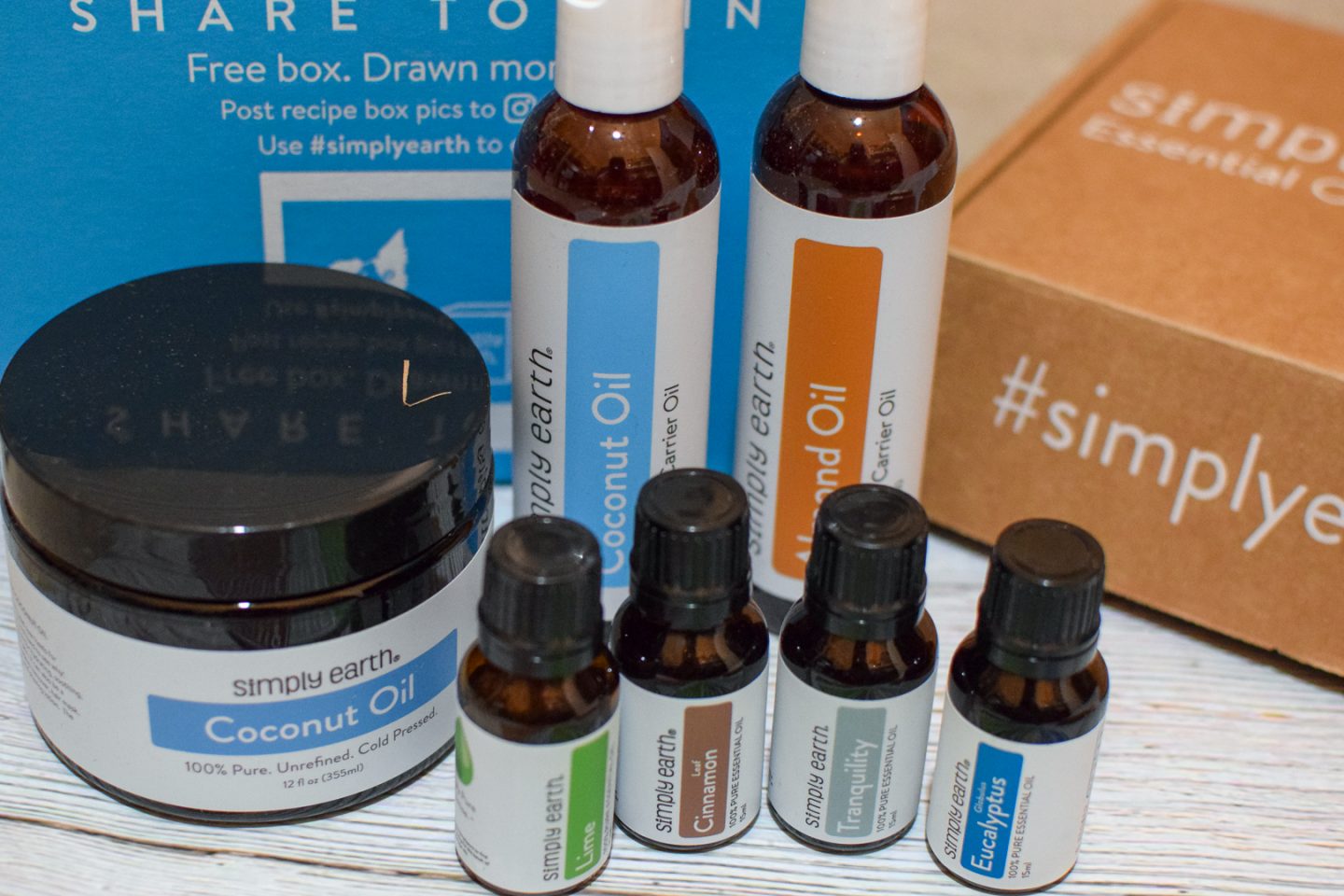 Items that are not in the bonus box or the monthly box are starred and they include easy to find ingredients such as baking soda, oatmeal, cloves, Epsom salt, etc.
How Much Does This All Cost?
A monthly box from Simply Earth costs $39 per month. With your first month's box you will receive your Big Bonus Box, which contains a value of an additional $40 of products. Plus, when you use my code NOTINJERSEYFREE, you will receive a $40 gift card that you can apply to your next box – essentially another box for free!
These affordable essential oils and recipe boxes can help you transition to a toxin-free home!