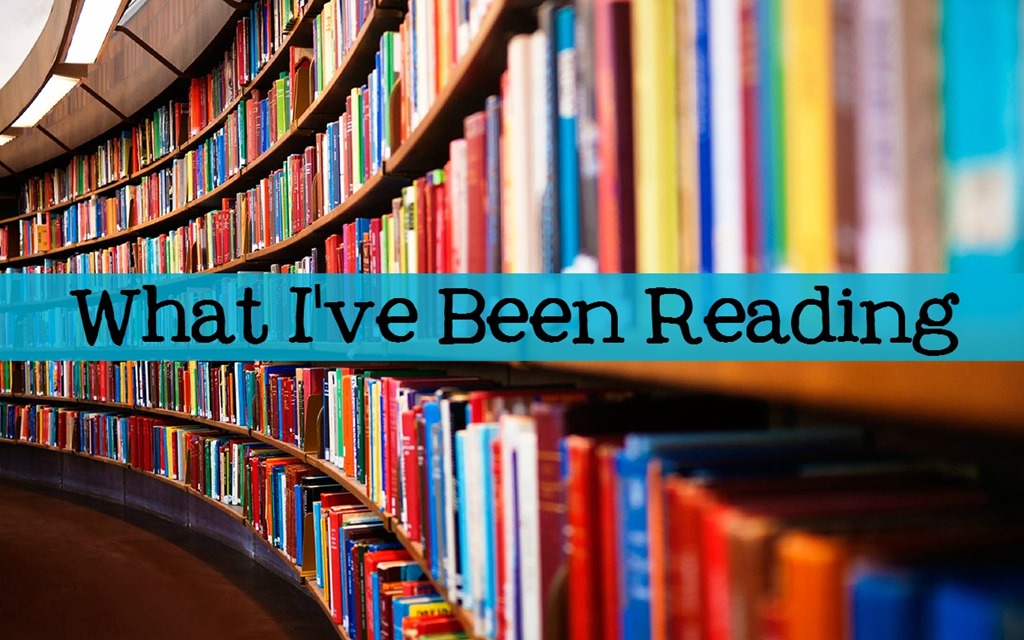 It's time for my monthly book review post! This month I read less than I have in the past few months, and I also decided that I should separate these posts out by the month, rather than from post to post, so this month I'm including books I finished from August 8 – 31, and next month I will cover everything finished in September. I also decided to try to make sure to post on time for the monthly Show Us Your Books Link Up! As always, the Amazon links to the books I've read are affiliate links and if you use them and make a purchase, I may receive a small commission.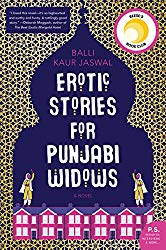 Title: Erotic Stories For Punjabi Widows
Author: Balli Kaur Jaswal
Genre: Fiction
Publisher: William Morrow, 6/13/17
Source: Library, Read for Book Challenge By Erin topic "has a building on the cover."
My Rating: 4 Stars
I added this book to my to-be-read list after seeing that it was loved by a ton of other bloggers. When I made my list for the Book Challenge by Erin, I looked at my to-be-read list and what was available at the library and went from there! I thought this book was easy to read but it took me longer to get through than it should have!
"Nikki lives in cosmopolitan West London, where she tends bar at the local pub. The daughter of Indian immigrants, she's spent most of her twenty-odd years distancing herself from the traditional Sikh community of her childhood, preferring a more independent (that is, Western) life. When her father's death leaves the family financially strapped, Nikki, a law school dropout, impulsively takes a job teaching a 'creative writing' course at the community center in the beating heart of London's close-knit Punjabi community. Because of a miscommunication, the proper Sikh widows who show up are expecting to learn basic English literacy, not the art of short-story writing. When one of the widows finds a book of sexy stories in English and shares it with the class, Nikki realizes that beneath their white dupattas, her students have a wealth of fantasies and memories. Eager to liberate these modest women, she teaches them how to express their untold stories, unleashing creativity of the most unexpected—and exciting—kind. As more women are drawn to the class, Nikki warns her students to keep their work secret from the Brotherhood, a group of highly conservative young men who have appointed themselves the community's 'moral police.' But when the widows' gossip offers shocking insights into the death of a young wife—a modern woman like Nikki—and some of the class erotica is shared among friends, it sparks a scandal that threatens them all."
I liked the cultural aspect of this book and that it contains a mystery as well as a romance, plus much about friendships. It also does include the erotic stories that the women write, so don't be surprised if you pick this one up!
---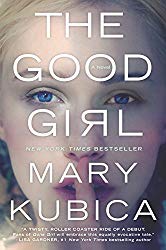 Title: The Good Girl
Author: Mary Kubica
Genre: Thriller
Publisher: Harlequin MIRA, 7/29/14
Source: Library, Read for Book Challenge By Erin topic "same title, different genre."
My Rating: 4 Stars
The Good Girl by Mary Kubica was on my TBR list for a long time, but I hadn't gotten to it until now. The book is told from varying view points, focusing on Mia (the good girl), her mother, and the detective trying to find out what happened to Mia.
"One night, Mia Dennett enters a bar to meet her on-again, off-again boyfriend. But when he doesn't show, she unwisely leaves with an enigmatic stranger. At first Colin Thatcher seems like a safe one-night stand. But following Colin home will turn out to be the worst mistake of Mia's life. When Colin decides to hide Mia in a secluded cabin in rural Minnesota instead of delivering her to his employers, Mia's mother, Eve, and detective Gabe Hoffman will stop at nothing to find them. But no one could have predicted the emotional entanglements that eventually cause this family's world to shatter."
I didn't see the twist at the end coming at all. I felt sorry for the characters in the book, including for Colin, the kidnapper. This was a pretty quick read which passed the time just fine.
---
Title: The Pants Project
Author: Cat Clarke
Genre: Middle Grade
Publisher: Sourcebooks Young Readers, 3/7/17
Source: Library, Read for Book Challenge By Erin topic "item of clothing in the title."
My Rating: 4 Stars
The Pants Project was not on my radar at all until I looked for a book to read for the item of clothing topic in Erin's book challenge. This book is about a transgender middle school student who is opposed to the dress code that requires girls to wear skirts.
"Liv knows he was always meant to be a boy, but with his new school's terrible dress code, he can't even wear pants. Only skirts. Operation: Pants Project begins! The only way for Liv to get what he wants is to go after it himself. But to Liv, this isn't just a mission to change the policy―it's a mission to change his life. And that's a pretty big deal."
This was a quick read that tells the story of friendships and secrets kept in middle school. Liv makes friends and together they realize that the secrets that they keep about themselves are worth sharing. This is a great read for middle grade kids and those who love them.
---
Title: The Family Next Door
Author: Sally Hepworth
Genre: Fiction
Publisher: St. Martin's Press, 3/6/18
Source: Library, Read for Book Challenge By Erin topic "title starts with F."
My Rating: 4 Stars
Another book I wanted to read for a long time, The Family Next Door could have fit into multiple challenge topics by I chose it for one that starts with an F! The Family Next Door is the third book I read by Sally Hepworth and I may have liked it the most.
"Small, perfect towns often hold the deepest secrets. From the outside, Essie's life looks idyllic: a loving husband, a beautiful house in a good neighborhood, and a nearby mother who dotes on her grandchildren. But few of Essie's friends know her secret shame: that in a moment of maternal despair, she once walked away from her newborn, asleep in her carriage in a park. Disaster was avoided and Essie got better, but she still fears what lurks inside her, even as her daughter gets older and she has a second baby. When a new woman named Isabelle moves in next door to Essie, she is an immediate object of curiosity in the neighborhood. Why single, when everyone else is married with children? Why renting, when everyone else owns? What mysterious job does she have? And why is she so fascinated with Essie? As the two women grow closer and Essie's friends voice their disapproval, it starts to become clear that Isabelle's choice of neighborhood was no accident. And that her presence threatens to bring shocking secrets to light."
This book totally reminded me of Big Little Lies with it's neighborhood setting and multiple characters with secrets. While the book's main character tends to be Essie, her friends Ange and Fran also have things they are keeping secret. The flaws in their lives show that no matter how perfect the family next door may seem, they never really are. The mystery regarding Isabelle and her purpose in the neighborhood was well done and and the climatic section around it kept me turning the pages!
---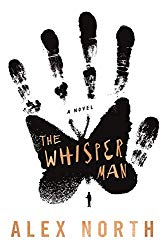 Title: The Whisper Man
Author: Alex North
Genre: Thriller
Publisher: Celadon Books, 8/20/19
Source: Book of The Month Club – Want to join? Use my link and get a free book!
My Rating: 4 Stars
I picked a thriller for my Book of the Month selection in September and also joined a buddy read group for a discussion about the book at the end of the month. The Whisper Man reminded me of an episode of Criminal Minds, and maybe I've watched too many because I was able to guess who the culprit was pretty early on!
"After the sudden death of his wife, Tom Kennedy believes a fresh start will help him and his young son Jake heal. A new beginning, a new house, a new town. Featherbank. But the town has a dark past. Twenty years ago, a serial killer abducted and murdered five residents. Until Frank Carter was finally caught, he was nicknamed 'The Whisper Man,' for he would lure his victims out by whispering at their windows at night. Just as Tom and Jake settle into their new home, a young boy vanishes. His disappearance bears an unnerving resemblance to Frank Carter's crimes, reigniting old rumors that he preyed with an accomplice. Now, detectives Amanda Beck and Pete Willis must find the boy before it is too late, even if that means Pete has to revisit his great foe in prison: The Whisper Man. And then Jake begins acting strangely. He hears a whispering at his window…"
A lot of reviews say that this book is really scary, but for me it was just a bit creepy. It didn't terrify me, and the creepiness was enjoyable! There were some surprises that I didn't see coming. I'd say it got really good at about page 150. I liked the characters and enjoyed reading a book that reminded me of one of my favorite shows.
---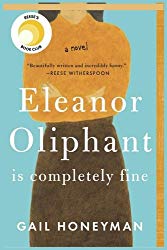 Title: Eleanor Oliphant Is Completely Fine
Author: Gail Honeyman
Genre: Fiction
Publisher: Viking, Pamela Dorman Books, 5/9/17
Source: Barnes and Noble
My Rating: 4 Stars
At the same time that I joined the buddy read for The Whisper Man, I found out that the same group had a general fiction read going on for Eleanor Oliphant is Completely Fine, and since I recently purchased it, I joined that one too.
"Meet Eleanor Oliphant: She struggles with appropriate social skills and tends to say exactly what she's thinking. Nothing is missing in her carefully timetabled life of avoiding social interactions, where weekends are punctuated by frozen pizza, vodka, and phone chats with Mummy. But everything changes when Eleanor meets Raymond, the bumbling and deeply unhygienic IT guy from her office. When she and Raymond together save Sammy, an elderly gentleman who has fallen on the sidewalk, the three become the kinds of friends who rescue one another from the lives of isolation they have each been living. And it is Raymond's big heart that will ultimately help Eleanor find the way to repair her own profoundly damaged one."
Eleanor has no clue about social conventions. She is like a child in an adult body due to trauma she suffered as a child. She makes very amusing observations on everything from getting a bikini wax to going to a funeral. There was a twist at the end that I feel like I should have picked up on, but I was not expecting it! Eleanor is a lovable heroine and I enjoyed reading about her.
---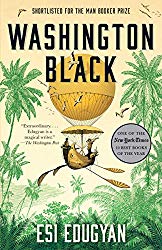 Title: Washington Black
Author: Esi Edugyan
Genre: Historical Fiction
Publisher: Knopf Publishing Group, 9/18/18
Source: Library, Read for Book Challenge By Erin topic "Booker Prize winner or short list."
My Rating: 3 Stars
This was on my TBR list and I added it to my library holds list since I realized it was short listed for the Booker Prize. While the story was good, I found it to be a difficult and slow read that was hard to get through.
"Eleven-year-old George Washington Black—or Wash—a field slave on a Barbados sugar plantation, is initially terrified when he is chosen as the manservant of his master's brother. To his surprise, however, the eccentric Christopher Wilde turns out to be a naturalist, explorer, inventor, and abolitionist. Soon Wash is initiated into a world where a flying machine can carry a man across the sky, where even a boy born in chains may embrace a life of dignity and meaning, and where two people, separated by an impossible divide, can begin to see each other as human. But when a man is killed and a bounty is placed on Wash's head, they must abandon everything and flee together. Over the course of their travels, what brings Wash and Christopher together will tear them apart, propelling Wash ever farther across the globe in search of his true self. Spanning the Caribbean to the frozen Far North, London to Morocco, Washington Black is a story of self-invention and betrayal, of love and redemption, and of a world destroyed and made whole again."
While the beginning of the book focuses on slavery and the horrors of growing up on a plantation, the seemingly impossible travels that Wash ends up on are harder to believe. These travels are very interesting and imagining Wash everywhere from the Arctic to Morocco is what made the story enjoyable, at least a little bit. Like I said, it was a slower read for me, and one I was just glad to be finished with.
---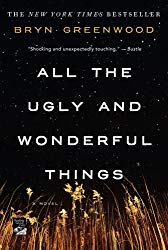 Title: All The Ugly and Wonderful Things
Author: Brynn Greenwood
Genre: Fiction
Publisher: Thomas Dunne Books, 8/9/16
Source: Library
My Rating: 4 Stars
This book had been on my TBR for awhile and I happened to see it on the shelf at the library so I grabbed it. I also added it as my freebie category for the bonus round of the Book Challenge by Erin! Unlike Washington Black, All The Ugly and Wonderful Things was an easy read about a difficult topic.
"As the daughter of a drug dealer, Wavy knows not to trust people, not even her own parents. It's safer to keep her mouth shut and stay out of sight. Struggling to raise her little brother, Donal, eight-year-old Wavy is the only responsible adult around. Obsessed with the constellations, she finds peace in the starry night sky above the fields behind her house, until one night her star gazing causes an accident. After witnessing his motorcycle wreck, she forms an unusual friendship with one of her father's thugs, Kellen, a tattooed ex-con with a heart of gold. By the time Wavy is a teenager, her relationship with Kellen is the only tender thing in a brutal world of addicts and debauchery. When tragedy rips Wavy's family apart, a well-meaning aunt steps in, and what is beautiful to Wavy looks ugly under the scrutiny of the outside world."
This book is very controversial as it makes you question whether it is ever okay for a 25 year old man to have a relationship with a young teenager. It was very well-written from many perspectives, all giving the reader an outsider's view of Wavy's life. I loved some of the side characters like Wavy's grandmother, her cousin Amy, and her college roommate Renee. While it is hard to get passed the taboo nature of the main relationship in the book, it definitely makes you think and see things from a viewpoint you may not have previously thought about.
---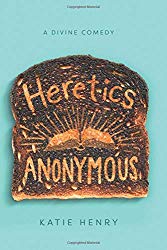 Title: Heretics Anonymous
Author: Katie Henry
Genre: YA Fiction
Publisher: Katherine Tegen Books, 8/7/18
Source: audiobooksync.com
My Rating: 4 Stars
My audio book listening really took a back seat due to spending a lot of time with my kids, as well as trying to get through a lot of print books this month! It took me quite awhile to listen to and I haven't started another since I finished it. This book is one of the only Young Adult novels I can recall that features a male protagonist.
"When Michael walks through the doors of Catholic school, things can't get much worse. His dad has just made the family move again, and Michael needs a friend. When a girl challenges their teacher in class, Michael thinks he might have found one, and a fellow atheist at that. Only this girl, Lucy, isn't just Catholic . . . she wants to be a priest. Lucy introduces Michael to other St. Clare's outcasts, and he officially joins Heretics Anonymous, where he can be an atheist, Lucy can be an outspoken feminist, Avi can be Jewish and gay, Max can wear whatever he wants, and Eden can practice paganism. Michael encourages the Heretics to go from secret society to rebels intent on exposing the school's hypocrisies one stunt at a time. But when Michael takes one mission too far—putting the other Heretics at risk—he must decide whether to fight for his own freedom or rely on faith, whatever that means, in God, his friends, or himself."
This book is about religion about the right to question religion, even in the Catholic school setting. I loved that there was Jewish representation in this book! Avi actually seemed to know things about Judaism too, which is always nice for a Jewish character. As Michael deals with his family issues he learns the value of friendships and of not always putting yourself first.
---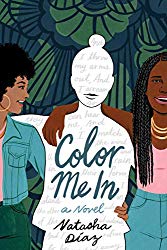 Title: Color Me In
Author: Natasha Diaz
Genre: YA Fiction
Publisher: Delacorte, 8/20/19
Source: Book of the Month YA
My Rating: 4 Stars
This month, I became an affiliate for the new Young Adult version of Book of the Month and this was my first pick. I decided to use this book box to try reading more diverse options in the YA genre!
"Growing up in an affluent suburb of New York City, sixteen-year-old Nevaeh Levitz never thought much about her biracial roots. When her Black mom and Jewish dad split up, she relocates to her mom's family home in Harlem and is forced to confront her identity for the first time. Nevaeh wants to get to know her extended family, but one of her cousins can't stand that Nevaeh, who inadvertently passes as white, is too privileged, pampered, and selfish to relate to the injustices they face on a daily basis as African Americans. In the midst of attempting to blend their families, Nevaeh's dad decides that she should have a belated bat mitzvah instead of a sweet sixteen, which guarantees social humiliation at her posh private school. Even with the push and pull of her two cultures, Nevaeh does what she's always done when life gets complicated: she stays silent. It's only when Nevaeh stumbles upon a secret from her mom's past, finds herself falling in love, and sees firsthand the prejudice her family faces that she begins to realize she has a voice. And she has choices. Will she continue to let circumstances dictate her path? Or will she find power in herself and decide once and for all who and where she is meant to be?"
One of the over arching YA themes is the angst that teenagers feel, when each teenager thinks her problems are worse than anyone else's. Nevaeh is no different, as she tries to discover where she fits in as multi-racial. On the one hand, her cousins think she is too white for cornrows in her hair and on the other, her former friend turned bully uses racist means to attack her. At first, it seems that Nevaeh is more interested in fitting into the African American side of herself and is much more resistant to learning about the Jewish side. I was happy that she did come around to embracing that side of herself too. The Jewish representation in this book was okay, although at one point Nevaeh translates a prayer with way more words than are actually in the prayer in Hebrew! In an interesting attempt at portraying Nevaeh's mom's past, Nevaeh reads her mom's journal, which is not actually written like a journal and contains full on dialogue written out. Nevaeh is a writer and random poetry appears throughout the book. I felt like a lot of the writing was lyrical, but not all of the book was written in the same way. If it had all been so beautifully written, I may have bumped it up to 5 stars. This book definitely contains the diversity I was looking for, with a lot about privilege and race in America today. I will be passing this one on to my daughter.
---
While I only read 10 books since my last update, I finished the first round of the Book Challenge By Erin and moved on to the bonus round. I rated almost all of these at 4 stars, with one 3 star rating as well. However, I have already finished my first book of September, and it was a 5 star read, so stay tuned to find out what it was next time!
Have you read any of these books? What have you been reading lately?