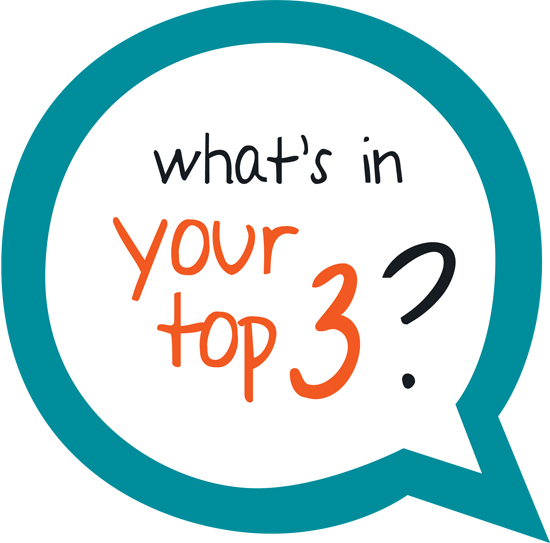 My blog friend Rebecca has been doing these fun top 3 posts that she found from her blog friend Steph. Steph puts up her posts once a month, I believe, but since it's my first time borrowing her topics, I have included answers from the past 2 posts she's done!
These are my Top 3…
Songs that make me think of high school:
1. Paradise By The Dashboard Light by MeatLoaf
2. Waterfalls by TLC
3. Ironic by Alanis Morissette
Things I like to give:
1. Creative themed gifts
2. Something the person asked for
3. Gift cards
Things I like to receive:
1. Money
2. Gift cards
3. Books
Things I hate that many people like:
1. Eggplant
2. Peppers
3. Mushrooms
Clothes I find uncomfortable:
1. Off the shoulder tops
2. Button down pajama tops
3. Choker necklaces
Things I love seeing other people post:
1. Travel recaps
2. What they've been reading
3. Organizing tips
Movies I've watched more than 20 times:
1. Aladdin
2. The Lion King
3. Rain Man
Things I don't do:
1. Drive in NYC
2. Go for runs
3. Eat pork
Things I'm always up for doing:
1. Going to Disney World
2. Reading a good book
3. Holding a friend's baby
Good things that happened this month:
1. We visited Warm Springs Ranch
2. I've read a lot of good books
3. We hung out with friends
Things I wish everyone knew so well it was ingrained in their bones:
1. Grammar
2. How to be kind
3. Tolerance of others
Things I'm tired of:
1. The multiple emails I get from the same stores / candidates / etc. each day
2. Being taken advantage of
3. Running out of things I need and realizing it after I've just been to the store
Things I'll never tire of:
1. Coffee
2. Dogs
3. Books
Things I like to photograph:
1. My kids
2. Flowers
3. Scenery
Things I can't resist:
1. jane.com
2. Amazon deals
3. Coffee
Now tell me if we have any of these things in common!