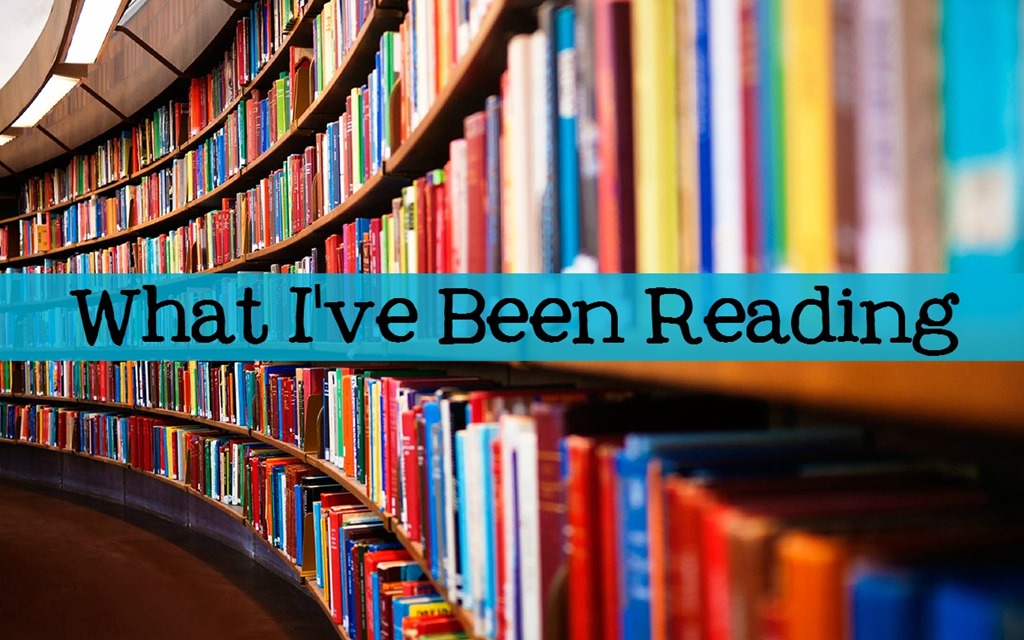 It's time for my monthly book review post! What a perfect day for a book post, as today is National Book Lovers Day! Like last month, I read a bunch of books, working my way through my to-be-read list! This month I bought a book journal called A Novel Companion and I am using it to keep notes on the books I'm reading! As always, the Amazon links to the books I've read are affiliate links and if you use them and make a purchase, I may receive a small commission.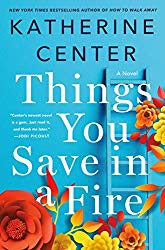 Title: Things You Save In A Fire
Author: Katherine Center
Genre: Fiction
Publisher: St. Martin's Press, 8/13/19
Source: Book of The Month Club – Want to join? Use my link and get a free book!
My Rating: 5 Stars
I wanted to read Things You Save In A Fire from the minute I heard it was coming out because How To Walk Away was one of my favorite books last year! I joined Book of the Month solely so I could get my hands on an early copy. While I didn't get into the story quite as quickly as I did with How To Walk Away, I ended up loving the story and rating it 5 stars!
"Cassie Hanwell was born for emergencies. As one of the only female firefighters in her Texas firehouse, she's seen her fair share of them, and she's a total pro at other people's tragedies. But when her estranged and ailing mother asks her to give up her whole life and move to Boston, Cassie suddenly has an emergency of her own. The tough, old-school Boston firehouse is as different from Cassie's old job as it could possibly be. Hazing, a lack of funding, and poor facilities mean that the firemen aren't exactly thrilled to have a 'lady' on the crew―even one as competent and smart as Cassie. Except for the infatuation-inspiring rookie, who doesn't seem to mind having Cassie around. But she can't think about that. Because love is girly, and it's not her thing. And don't forget the advice her old captain gave her: Never date firefighters. Cassie can feel her resolve slipping…and it means risking it all―the only job she's ever loved, and the hero she's worked like hell to become."
The fire house setting reminded me a bit of Chicago Fire, which is one of my favorite shows. Of course, this one is not set in Chicago and takes place in the Boston area! The themes in the book include forgiveness, self-confidence, and love. There is a romance involved and it is lovely, but mainly the book is about Cassie finding out who she is and moving on from her past. If you liked How To Walk Away, you will certainly love this one as well!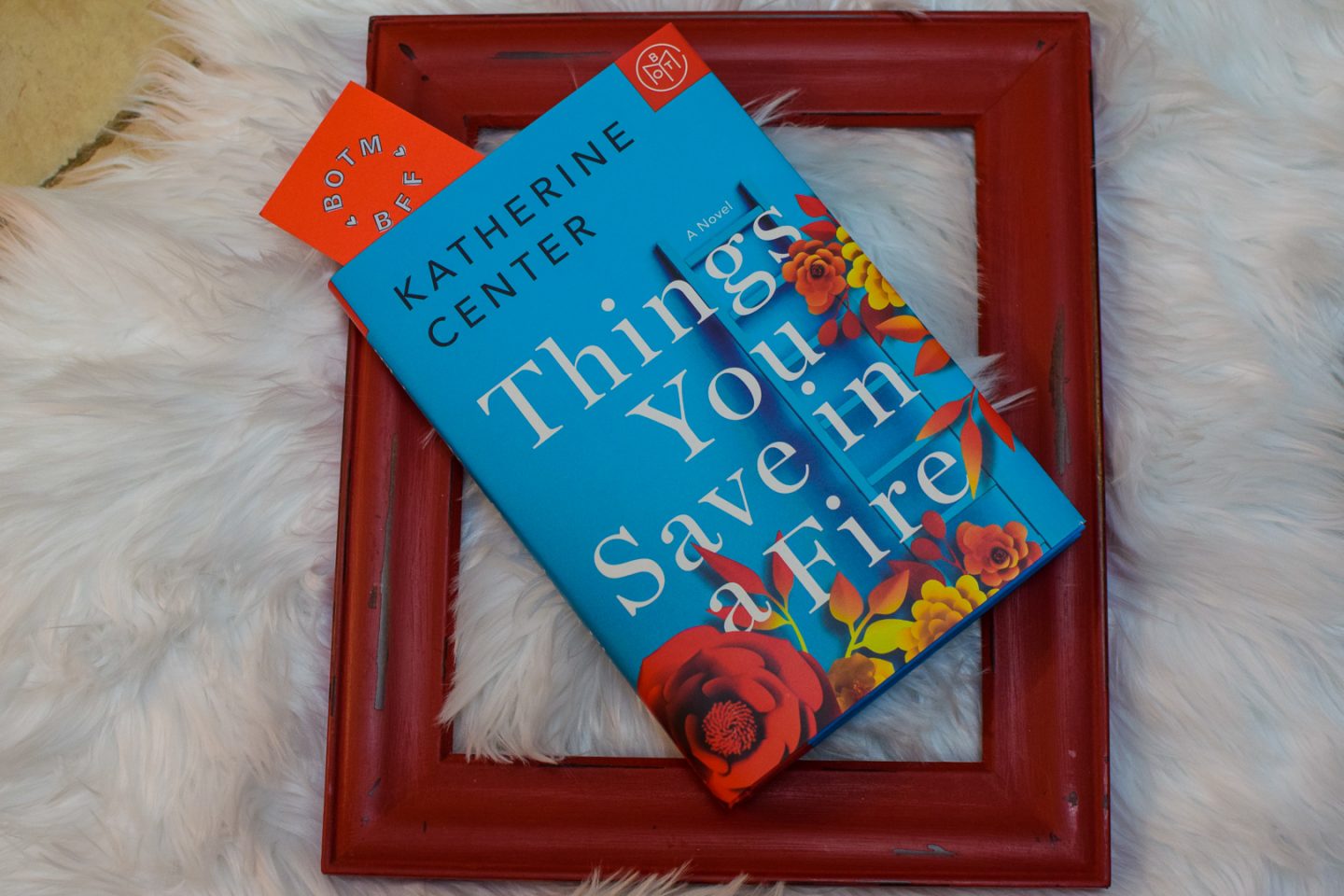 ---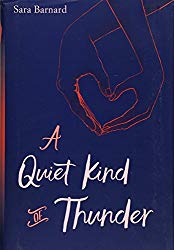 Title: A Quiet Kind of Thunder
Author: Sara Barnard
Genre: Young Adult
Publisher: Macmillan Children's Books, 1/12/17
Source: Library, used for Book Challenge By Erin topic "includes the words rain, thunder, or monsoon."
My Rating: 5 Stars
When I made my list for the Book Challenge By Erin, I tried to match the topics to books on my TBR list as well as to what I could easily get from the library. This one was not on my list, but I thought it sounded good, so I chose it and grabbed it from the library soon after.
"Steffi has been a selective mute for most of her life. The condition's name has always felt ironic to her, because she certainly does not 'select' not to speak. In fact, she would give anything to be able to speak as easily and often as everyone around her can. She suffers from crippling anxiety, and uncontrollably, in most situations simply can't open her mouth to get out the words. Steffi's been silent for so long that she feels completely invisible. But Rhys, the new boy at school, sees her. He's deaf, and her knowledge of basic sign language means that she's assigned to help him acclimate. To Rhys, it doesn't matter that Steffi doesn't talk. As they find ways to communicate, Steffi discovers that she does have a voice, and that she's falling in love with the one person who makes her feel brave enough to use it. But as she starts to overcome a lifelong challenge, she'll soon confront questions about the nature of her own identity and the very essence of what it is to know another person."
This book was so sweet! I loved the relationship between Steffi and Rhys. They are on the older end of teenager and their relationship reflects that. I also enjoyed Steffi's relationship with her parents and her best friend and learning about her feelings as she becomes more in tune with herself throughout the book. This is YA that isn't angsty and has a good message, so it's the type of YA that I enjoy!
---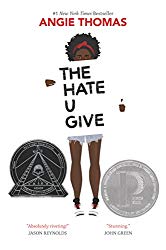 Title: The Hate U Give
Author: Angie Thomas
Genre: Young Adult
Publisher: Balzer + Bray, 2/28/17
Source: The library audio app, my TBR list
My Rating: 4 Stars
The Hate U Give is a must read for this generation and I hadn't read it yet so I wanted to. I went for the audio version because I heard it's well-narrated. I can see that this book could be controversial, but it presents the feelings of the narrator and her family and shows the way of life in a neighborhood that is considered dangerous very well.
"Sixteen-year-old Starr Carter moves between two worlds: the poor neighborhood where she lives and the fancy suburban prep school she attends. The uneasy balance between these worlds is shattered when Starr witnesses the fatal shooting of her childhood best friend Khalil at the hands of a police officer. Khalil was unarmed. Soon afterward, his death is a national headline. Some are calling him a thug, maybe even a drug dealer and a gangbanger. Protesters are taking to the streets in Khalil's name. Some cops and the local drug lord try to intimidate Starr and her family. What everyone wants to know is: what really went down that night? And the only person alive who can answer that is Starr. But what Starr does—or does not—say could upend her community. It could also endanger her life."
Starr moves between two worlds, the world of her posh private school where she is one of the only black students, and the world of her neighborhood where violence and drugs are the norm. Starr has to deal with losing the second of her friends to gun violence, as well as the unfair fact that Khalil was shot by the police when he was unarmed. The story seems to run true to real life situations such as this one and shows the reader the hard reality of a teenager like Starr. This book is an important read about a difficult subject for sure.
---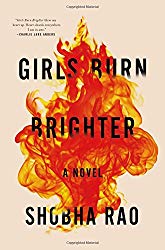 Title: Girls Burn Brighter
Author: Shobha Rao
Genre: Fiction
Publisher: Flatiron Books, 3/6/18
Source: Library, used for Book Challenge By Erin topic "takes place in India."
My Rating: 4 Stars
Girls Burn Brighter was on my TBR list and fit into the challenge category of taking place in India. This book reminded me a lot of another book I read about a pair of sisters from India – A Walk Across The Sun – although this one had much better writing.
"Poornima and Savitha have three strikes against them: they are poor, they are ambitious, and they are girls. After her mother's death, Poornima has very little kindness in her life. She is left to care for her siblings until her father can find her a suitable match. So when Savitha enters their household, Poornima is intrigued by the joyful, independent-minded girl. Suddenly their Indian village doesn't feel quite so claustrophobic, and Poornima begins to imagine a life beyond arranged marriage. But when a devastating act of cruelty drives Savitha away, Poornima leaves behind everything she has ever known to find her friend. Her journey takes her into the darkest corners of India's underworld, on a harrowing cross-continental journey, and eventually to an apartment complex in Seattle. Alternating between the girls' perspectives as they face ruthless obstacles, Shobha Rao's Girls Burn Brighter introduces two heroines who never lose the hope that burns within."
This book gives a very sad look at the life of women in India. The things that happen to them are horrifying. It definitely makes you think about how difficult life can be and how lucky we are to not live our lives like these women. The strength of their friendship keeps them both going and there is hope inside both of them. The ending is a source of complaint for many reviewers but it made me say Whoa!
---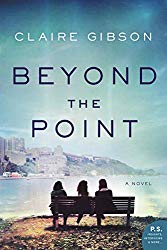 Title: Beyond The Point
Author: Claire Gibson
Genre: Fiction
Publisher: William Morrow, 4/2/19
Source: Library, my TBR list, for a Buddy Read on Instagram
My Rating: 4 Stars
I had heard a lot about Beyond The Point and when I saw a group of ladies on Instagram were going to read it together and discuss it, I decided to join in. I did not realize how long this book was before I joined their group! It wasn't a slow read, but I did spread it out across the month so that I was at the right point in the book to participate in the discussion about it.
"Duty. Honor. Country. That's West Point's motto, and every cadet who passes through its stone gates vows to live it. But on the eve of 9/11, as Dani, Hannah and Avery face four grueling years ahead, they realize they'll only survive if they do it together. Everyone knows Dani is going places. With athletic talent and a brilliant mind, she navigates West Point's predominantly male environment with wit and confidence, breaking stereotypes and embracing new friends. Hannah's grandfather, a legendary Army general, offers a stark warning about the dangers that lie ahead, but she moves forward anyway, letting faith guide her path. When she meets her soul mate at West Point, the future looks perfect, just as planned. Wild child Avery moves fast and doesn't mind breaking a few rules (and hearts) along the way. But she can't outpace her self-doubt, and the harder she tries, the further it leads her down a treacherous path. The world—of business, of love, and of war—awaits Dani, Hannah, and Avery beyond the gates of West Point. These three women know that what doesn't kill you makes you stronger. But soon, that adage no longer rings true—for their future, or their friendship. As they're pulled in different directions, will their hard-forged bond prevail or shatter?"
I actually thought this book was more about 9/11, but instead it was merely something that happened while the women in this book were at West Point. The book starts by explaining how each of them ended up wanting to join the Army and moves on to their years at West Point. Then it continues with the time after school in which they get jobs and go through their lives as West Point graduates. The three women are quite different from one another but their friendship grows from their shared experiences. The book covers a lot of ground and seems to provide a realistic portrayal of what it is like to be a woman in the military.
---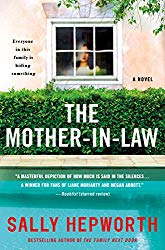 Title: The Mother-In-Law
Author: Sally Hepworth
Genre: Fiction
Publisher: St. Martin's Press, 4/23/19
Source: Library Hold Wait List
My Rating: 4 Stars
Everyone and their mother-in-law read this book already, and then it was my turn to get it from the library wait list. I read it pretty quickly and basically enjoyed it. The only problem is that now that I'm writing this review, I am having to think very hard to remember the secrets that were revealed in this book!
"From the moment Lucy met her husband's mother, she knew she wasn't the wife Diana had envisioned for her perfect son. Exquisitely polite, friendly, and always generous, Diana nonetheless kept Lucy at arm's length despite her desperate attempts to win her over. And as a pillar in the community, an advocate for female refugees, and a woman happily married for decades, no one had a bad word to say about Diana…except Lucy. That was five years ago. Now, Diana is dead, a suicide note found near her body claiming that she longer wanted to live because of the cancer wreaking havoc inside her body. But the autopsy finds no cancer. It does find traces of poison, and evidence of suffocation. Who could possibly want Diana dead? Why was her will changed at the eleventh hour to disinherit both of her children, and their spouses? And what does it mean that Lucy isn't exactly sad she's gone?"
I think the book description is a bit misleading because I didn't really suspect Lucy at all, even though the description makes it seem like she should be a suspect. The book is really about the many types of people who make up a family and how they all interact with each other, as well as the secrets kept by each of them. It was a quick and entertaining read if you are like me and didn't read it already!
---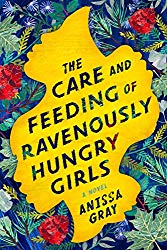 Title: The Care and Feeding of Ravenously Hungry Girls
Author: Anissa Gray
Genre: Fiction
Publisher: Berkley, 2/19/19
Source: The library audio app, my TBR list
My Rating: 4 Stars
I heard that The Care and Feeding of Ravenously Hungry Girls was an audio book with a cast, rather than one reader, which is a lot of fun to listen to, so I borrowed it from the library. What was funny was that one of the cast members was actually the same voice as Starr from The Hate U Give! There are a lot of characters in this book but the three main sisters – Lilian, Viola, and Althea – are the narrators of the story. I did have some trouble keeping track of everyone and how they all fit together! I didn't even realize that Althea's daughters were twins for most of the book!
"The Butler family has had their share of trials—as sisters Althea, Viola, and Lillian can attest—but nothing prepared them for the literal trial that will upend their lives. Althea, the eldest sister and substitute matriarch, is a force to be reckoned with and her younger sisters have alternately appreciated and chafed at her strong will. They are as stunned as the rest of the small community when she and her husband, Proctor, are arrested, and in a heartbeat the family goes from one of the most respected in town to utter disgrace. The worst part is, not even her sisters are sure exactly what happened. As Althea awaits her fate, Lillian and Viola must come together in the house they grew up in to care for their sister's teenage daughters. What unfolds is a stunning portrait of the heart and core of an American family in a story that is as page-turning as it is important."
All of the family members in this book are effected by the crime committed by Althea and Proctor, as well as by their individual upbringings. Lilian takes care of Althea and Proctor's two daughters, Baby Vi and Kim. Kim actually turned in her parents for their crime of embezzlement of money. The major action in the story centers around Kim when she disappears. The other sister, Viola, is dealing with bulimia and a recent break up. There is also a brother, Joe. The whole family is coping both with their present and their past and it was a really interesting portrait of a family that I enjoyed listening to on audio.
---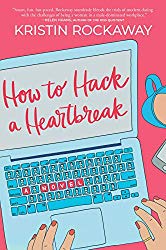 Title: How to Hack a Heartbreak
Author: Kristin Rockaway
Genre: Fiction
Publisher: Graydon House, 7/30/19
Source: Harlequin Publicity Team in exchange for a photo on Instagram
My Rating: 4 Stars
I read this book partially on the way back from our trip to Chicago and Milwaukee and I really enjoyed it. It focuses around a woman who works in coding and how that life is difficult for women. It also focuses on the dating world in NYC for women in their 20s. The main character connects these two themes with her ideas for better dating apps.
"By day, Mel Strickland is an underemployed helpdesk tech at a startup incubator, Hatch, where she helps entitled brogrammers–'Hatchlings'–who can't even fix their own laptops, but are apparently the next wave of startup geniuses. And by night, she goes on bad dates with misbehaving dudes she's matched with on the ubiquitous dating app, Fluttr. But after one dick pic too many, Mel has had it. Using her brilliant coding skills, she designs an app of her own, one that allows users to log harrassers and abusers in online dating space. It's called JerkAlert, and it goes viral overnight. Mel is suddenly in way over her head. Worse still, her almost-boyfriend, the dreamy Alex Hernandez–the only non-douchey guy at Hatch–has no idea she's the brains behind the app. Soon, Mel is faced with a terrible choice: one that could destroy her career, love life, and friendships, or change her life forever."
One thing that bothered me about the book was that while there is a strong group of women friends, they really only talk to each other about dating. However, the women each have a career and talents that they put to use towards Mel's project and they really support each other throughout the story. While there is a romance involved, I wouldn't say the main focus of the story is their relationship, but rather the improvement of the dating world overall. It was a very cute and fun read!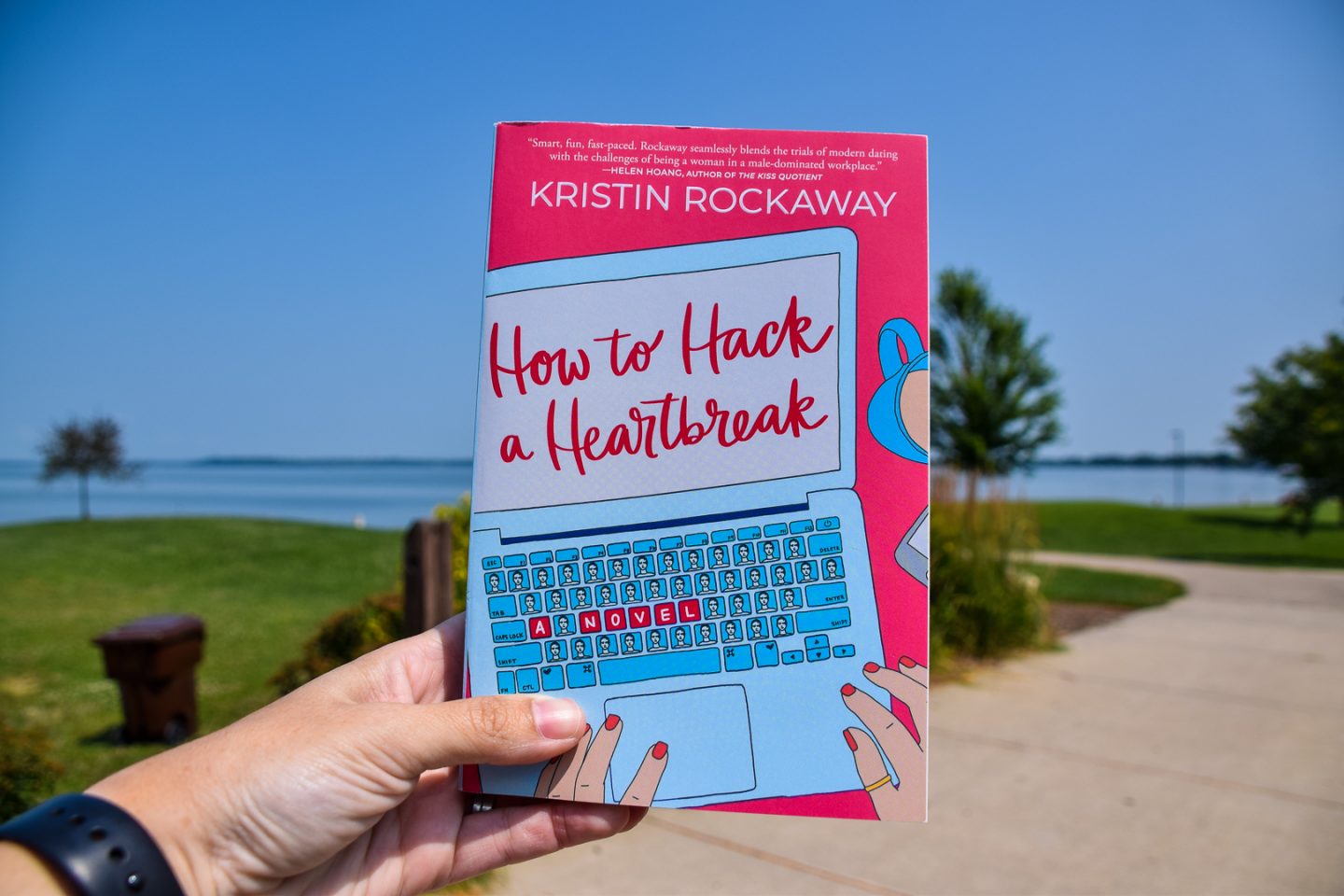 ---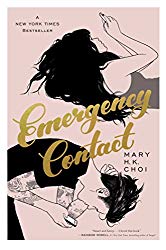 Title: Emergency Contact
Author: Mary H. K. Choi
Genre: Young Adult
Publisher: Simon & Schuster, 3/27/18
Source: Barnes and Noble, used for Book Challenge By Erin topic "the author uses initials in her name."
My Rating: 3 Stars
I think Emergency Contact can be classified as a "new adult" book as it focuses on young adults who are on their own. In this case, Penny is a new college student and Sam is a few years older and working in a campus coffee shop. I didn't feel like I was concentrating very well on this book, although I did finish it pretty quickly.
"For Penny Lee high school was a total nonevent. Her friends were okay, her grades were fine, and while she somehow managed to land a boyfriend, he doesn't actually know anything about her. When Penny heads to college in Austin, Texas, to learn how to become a writer, it's seventy-nine miles and a zillion light years away from everything she can't wait to leave behind. Sam's stuck. Literally, figuratively, emotionally, financially. He works at a café and sleeps there too, on a mattress on the floor of an empty storage room upstairs. He knows that this is the god-awful chapter of his life that will serve as inspiration for when he's a famous movie director but right this second the seventeen bucks in his checking account and his dying laptop are really testing him. When Sam and Penny cross paths it's less meet-cute and more a collision of unbearable awkwardness. Still, they swap numbers and stay in touch—via text—and soon become digitally inseparable, sharing their deepest anxieties and secret dreams without the humiliating weirdness of having to see each other."
Both Penny and Sam are dealing with issues with their mothers and the book focuses on how they become each other's support and go-to person when the other is in need. My favorite thing about the book though was Penny's go-bag. I guess some people have go-bags in case of a zombie apocolypse, but Penny carried around items good for any crisis like stain stick, band-aids, chap stick, hand sanitizer, q-tips, bobby pins, etc. It makes me want to make my own go-bag! The characters are flawed but diverse and unique and this seems to be a well-liked book in the YA romance type genre. For me, it fell just a little bit short.
---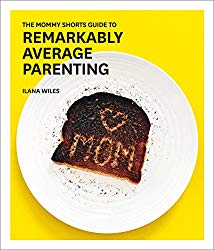 Title: The Mommy Shorts Guide to Remarkably Average Parenting
Author: Ilana Wiles
Genre: Non-Fiction, Parenting, Humor
Publisher: Harry N. Abrams, 9/27/16
Source: Library
My Rating: 4 Stars
I heard Ilana Wiles on a podcast that I listen to and was inspired to pick up her book. She blogs and posts on Instagram as well but I wanted to add to my non-fiction reads and this one fit the bill with hilarious stories from Ilana's life raising her two adorable girls. The book goes through the ages of baby through preschooler.
"Ilana Wiles is not a good mother. She's not a bad mother either. Like most of us, she's normal. From the creator of the wildly popular blog Mommy Shorts comes Ilana Wiles's first humor book on remarkably average parenting. If you want solid advice about raising kids, this book is not for you. If you want to wallow in your own misery about how having kids is AWFUL, this book is not for you. This book pays homage to the every-parent and suggests that they are the people having the best child-rearing experience of all. Using Wiles's signature infographics and photographs to illustrate her personal and hilarious essays on motherhood, the book is an honest guide that celebrates the fun of being a mom."
I nodded along with this book throughout. One of my favorite chapters was called "Even Ice Cream Causes Tantrums" because YES. The book is filled with anecdotes, pictures, and fun lists from Ilana and some sections include amusingly captioned images from other mothers as well. I highly recommend this one to any mom in the thick of parenting!
---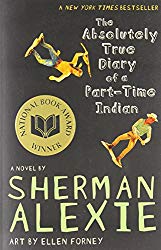 Title: The Absolutely True Diary of a Part-Time Indian
Author: Sherman Alexie
Genre: Young Adult
Publisher: Little Brown, 9/12/07
Source: Amazon
My Rating: 3 Stars
As I mentioned in my Prime Purchases post, I got this because it was assigned to Gabbie for summer reading and I read it as well. Gabbie liked it a lot. For me, it lacked some emotion that I thought the protagonist would display when describing the emotional things that happened to him. On the other hand, the characterization seemed to hold true for a 14 year old boy.
"Bestselling author Sherman Alexie tells the story of Junior, a budding cartoonist growing up on the Spokane Indian Reservation. Determined to take his future into his own hands, Junior leaves his troubled school on the rez to attend an all-white farm town high school where the only other Indian is the school mascot. Heartbreaking, funny, and beautifully written, The Absolutely True Diary of a Part-Time Indian, which is based on the author's own experiences, coupled with poignant drawings by Ellen Forney that reflect the character's art, chronicles the contemporary adolescence of one Native American boy as he attempts to break away from the life he was destined to live."
This is apparently a partial memoir of Alexie, who I have come to understand was recently accused of sexual harrassment by multiple women. This book has also been banned by many school districts due to some sexual references in it. I'm not sure it is entirely appropriate for rising 9th graders, or at least for my rising 9th grader, but this content is not the whole focus of the book and it does highlight many deeper themes including poverty, racism, alcoholism, and family and friendship issues. It will be interesting to see the results of the discussions of this book in Gabbie's class this school year.
---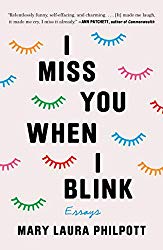 Title: I Miss You When I Blink
Author: Mary Laura Philpott
Genre: Memoir
Publisher: Atria Books, 4/2/19
Source: The library audio app, my TBR list
My Rating: 3 Stars
This book has been hyped entirely too much. I am not a memoir fan, but I decided to go on the waiting list for this one after I heard that it is a good audio book because it is read by the author. I actually added it to my wait list for audio and for print, but the audio version came in first, so I listened to it. This book inspired my post about writing a memoir in blog posts, as the book is made up of essays that very easily could have been published on a blog.
"Mary Laura Philpott thought she'd cracked the code: Always be right, and you'll always be happy. But once she'd completed her life's to-do list (job, spouse, house, babies—check!), she found that instead of feeling content and successful, she felt anxious. Lost. Stuck in a daily grind of overflowing calendars, grueling small talk, and sprawling traffic. She'd done everything 'right,' but she felt all wrong. What's the worse failure, she wondered: smiling and staying the course, or blowing it all up and running away? And are those the only options? In this memoir-in-essays full of spot-on observations about home, work, and creative life, Philpott takes on the conflicting pressures of modern adulthood with wit and heart. She offers up her own stories to show that identity crises don't happen just once or only at midlife; reassures us that small, recurring personal re-inventions are both normal and necessary; and advises that if you're going to faint, you should get low to the ground first. Most of all, Philpott shows that when you stop feeling satisfied with your life, you don't have to burn it all down and set off on a transcontinental hike (unless you want to, of course). You can call upon your many selves to figure out who you are, who you're not, and where you belong. Who among us isn't trying to do that?"
I just this week listened to the author speaking on a podcast about her memoir being a memoir about an ordinary person. The reason I don't love memoirs is because I think so many of them are about ordinary people who have connections and can get published. I imagine this is my own issue of envy. I'm ordinary. Publish me! Some of the things the author writes are funny and I did listen to all of it, but I am still not a fan of memoirs.
---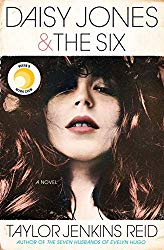 Title: Daisy Jones and The Six
Author: Taylor Jenkins Reid
Genre: Fiction
Publisher: Ballentine Books, 3/5/19
Source: The library audio app, my TBR list
My Rating: 4 Stars
Speaking of hyped books…I requested this one on both audio and in print as well and this time the print version came in first. I found myself not really getting into the story, but then my audio hold came up as available as well and I was able to catch up to and pass where I'd been in my print copy and ended up enjoying the book a lot. This is another full cast audio book and I find those very fun to listen to.
"Daisy is a girl coming of age in L.A. in the late sixties, sneaking into clubs on the Sunset Strip, sleeping with rock stars, and dreaming of singing at the Whisky a Go Go. The sex and drugs are thrilling, but it's the rock 'n' roll she loves most. By the time she's twenty, her voice is getting noticed, and she has the kind of heedless beauty that makes people do crazy things. Also getting noticed is The Six, a band led by the brooding Billy Dunne. On the eve of their first tour, his girlfriend Camila finds out she's pregnant, and with the pressure of impending fatherhood and fame, Billy goes a little wild on the road. Daisy and Billy cross paths when a producer realizes that the key to supercharged success is to put the two together. What happens next will become the stuff of legend."
In case you have somehow not heard of this book, the book is written in the format of an interview, complete with an author's note from the fictional author who is interviewing the band and those in their circles in order to piece together their story. There was a lot of talk about the process of writing songs that I might have been able to do without. I did really like the story of the band, the way each character was portrayed in the audio version, the reveal towards the end of the book, and the ending itself. Interestingly, at the end of the audio version there is an instrumental piece without words, but the lyrics to the songs discussed in the book are included at the end of the print version. This is being made into a 13 episode TV series which I'm pretty excited about!
---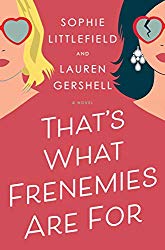 Title: That's What Frenemies Are For
Author: Sophie Littlefield & Lauren Gershell
Genre: Fiction
Publisher: Ballentine Books, 7/30/19
Source: Library hold list
My Rating: 3 Stars
I heard about this book on Sarah's Bookshelves Live and I requested it from the library before it was published and was able to get it as soon as it came in. I expected it to be a lot more funny than it actually was and the main character was pretty hateable, although she did somewhat redeem herself in the end.
"Julia Summers seems to have it all: a sprawling Upper East Side apartment, a successful husband, and two adorable children attending the best private school in the city. She relishes wielding influence over her well-heeled girlfriends . . . but her star appears to be fading. That's why, when stranded in Manhattan for the summer as her entire crowd flees to the Hamptons, Julia is on the hunt for the next big thing that will make her the envy of her friends and put her back on top. Enter Flame, the new boutique gym in her neighborhood. Seductive and transformative, Flame's spin classes are exactly what Julia needs—and demure, naïve instructor Tatum is her ticket in. But rebranding Tatum as a trendy guru proves hard work, and Julia's triumphant comeback at summer's end doesn't quite go as planned. Tatum begins to grasp just how much power her newfound stardom holds, and when things suddenly get ugly, Julia realizes she's in way over her head. Julia's life is already spiraling out of control when her husband is arrested for fraud and bribery. As her so-called friends turn their backs on her, and Tatum pursues her own agenda, Julia is forced to rethink everything she knew about her world to reclaim her perfect life. But does she even want it back?"
Julia talks about being the perfect stay-at-home-mom, so busy raising her children, when really her nanny is the one raising them. This was probably done purposely, but it was never acknowledged that Julia actually wasn't a very good mom, so that kind of annoyed me. One thing that this book did do was make me think I should try spin classes! (Not a good idea, I've tried them before!) Julia was blessed with a very understanding husband and I did enjoy their relationship. I noticed a few contininuity errors in the book and I wonder if these things are eventually fixed in later printings of books! This could be a fun read for moms or those who realize that the moms in this book are not normal and aren't to be emulated!
This month my total was 15 books, 11 in print and 4 on audio!
Have you read any of these books? What have you been reading lately?