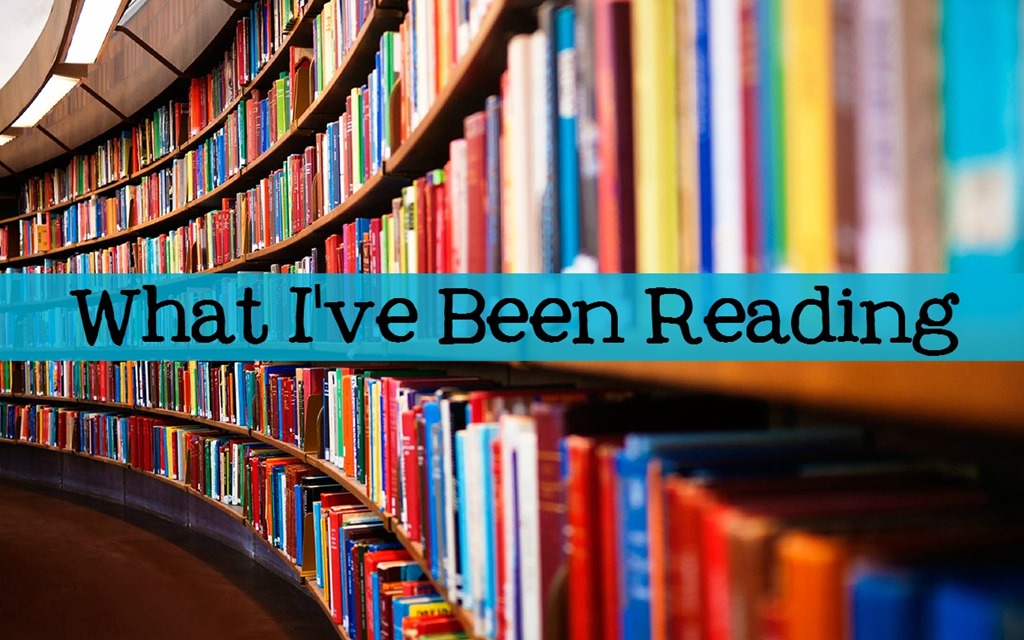 It's time for my monthly book review post! Like last month, I read a bunch of books, working my way through my to-be-read list! Also, today I have a giveaway in honor of two things – my 200th (well, 201st) book review post and my blog friend Lauren's 12 blogiversary! You can find the details below. As always, the Amazon links to the books I've read are affiliate links and if you use them and make a purchase, I may receive a small commission.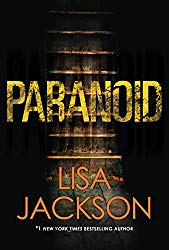 Title: Paranoid
Author: Lisa Jackson
Genre: Thriller
Publisher: Kensington, 6/25/19
Source: She Speaks and Kensington Books
My Rating: 4 Stars
First up, I read Paranoid by Lisa Jackson. I read it on our road trip and it was definitely great at keeping my interest! It kept me guessing and it was full of characters to suspect.. The way they all tied together in the end was surprising and I might even say shocking!
"There are people in Edgewater, Oregon, who think that twenty years ago, Rachel Gaston got away with murder. Rachel still has no idea how a foolish teenaged game turned deadly—or who replaced her soft pellet air gun with a real weapon. When a figure leapt out at her from the darkness, she fired without thinking. Too late, she recognized her half-brother, Luke, and saw blood blooming around his chest. Despite counseling, Rachel's horrifying dreams about that night continue. Her anxiety contributed to her divorce from Detective Cade Ryder, though he blames himself too. But as Rachel's high school reunion nears, she feels her imagination playing tricks, convincing her that objects in her house have moved. That there's a hint of unfamiliar cologne in the air. That someone is tailing her car. Watching her home. She's right to be scared. And as connections surface between a new string of murders and Luke's death, Rachel realizes there's no escaping the past, and the truth may be darker than her worst fears …"
This is one of the best thrillers I've read in awhile. The twist was just shocking enough to be a surprise but to also make total sense. I felt like I had figured out what was happening just before it was revealed, only to learn there was another layer to it all. There are some gruesome death scenes but they just added to the thrill of the book for me!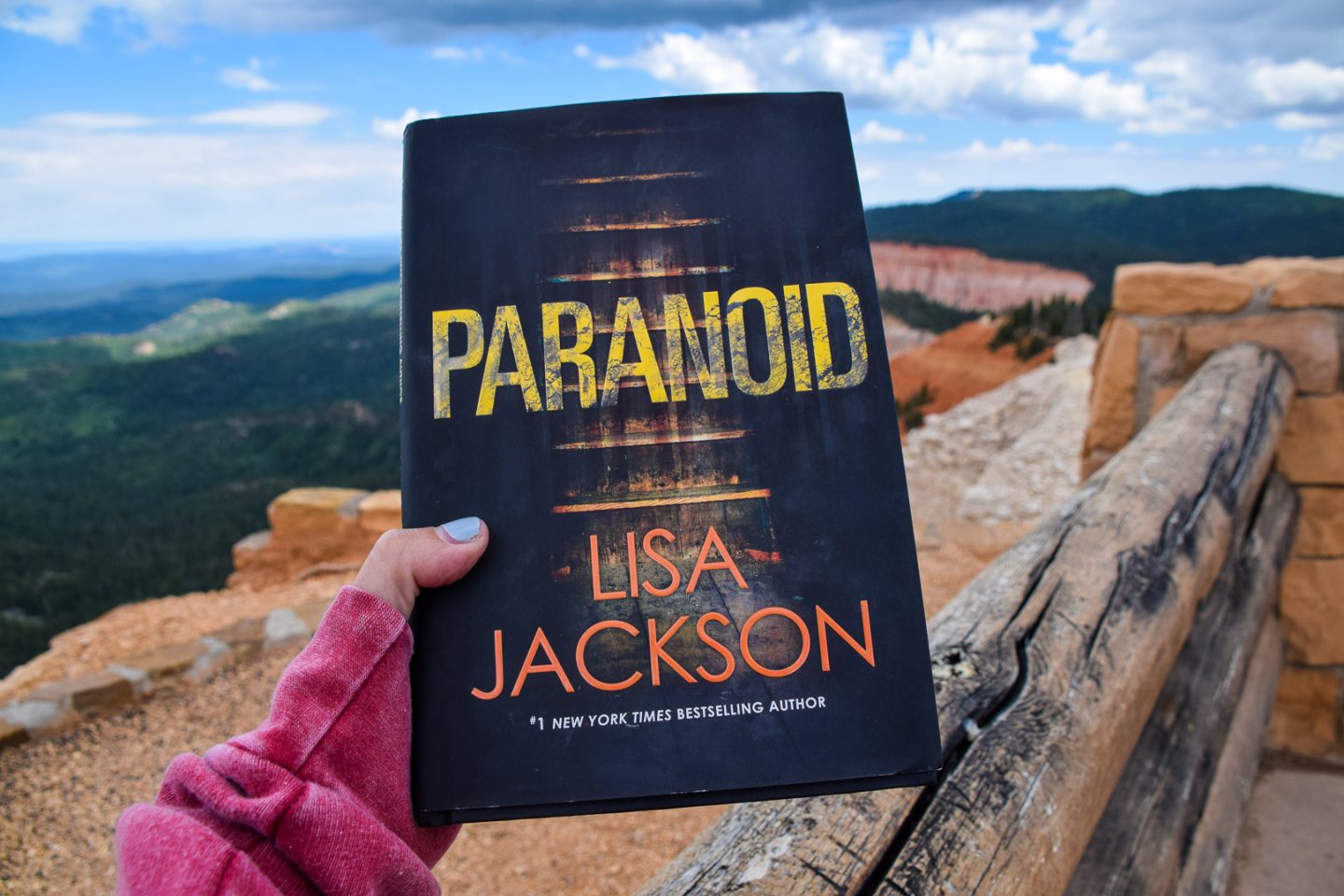 ---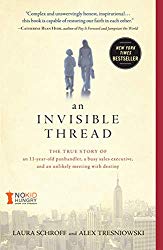 Title: An Invisible Thread
Author: Laura Schroff and Alex Tresinowski
Genre: Memoir
Publisher: Howard Books, 8/7/12
Source: Library, for book club
My Rating: 2 Stars
I really don't like memoirs and this book is a prime example of why. I'm always wondering what makes the author so special that she can publish a book about her life – it makes me ask if I really care. The story that Laura Schroff tells about her chance meeting with an 11 year old panhandler and the way they become friends is interesting and at times moving, but while I cared about the boy she befriended, I didn't really care about the writer herself.
"Stopping was never part of the plan…She was a successful ad sales rep in Manhattan. He was a homeless, eleven-year-old panhandler on the street. He asked for spare change; she kept walking. But then something stopped her in her tracks, and she went back. And she continued to go back, again and again. They met up nearly every week for years and built an unexpected, life-changing friendship that has today spanned almost three decades. Whatever made [her] notice him on that street corner so many years ago is clearly something that cannot be extinguished, no matter how relentless the forces aligned against it. Some may call it spirit. Some may call it heart. It drew [her] to him, as if [they] were bound by some invisible, unbreakable thread. And whatever it is, it binds [them] still."
Parts of this book were very touching. There were difficult descriptions of the poverty that existed in New York City. Maurice, the child in the book, was raised by a drug addicted mother who had no idea where her child was or what he was doing. Laura definitely made a difference in his life. Yet, she dared to compare his awful childhood with her own, having been raised by an abusive father. No, her life was not perfect, but was it comparable? Not really. I believe the author was aware of the privilege she had, but she probably could have made more of a point about it in the book. And I wonder how she feels about publishing a book with a co-author who is not the child she helped – maybe he should have been the one to become a published author and write about the rich white lady who helped him get there. Or maybe I'm just being bitter.
---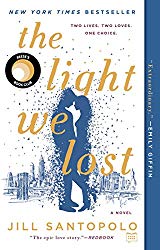 Title: The Light We Lost
Author: Jill Santopolo
Genre: Fiction / Romance
Publisher: G.P. Putnam's Sons, 5/9/17
Source: Library, My to-be-read list
My Rating: 5 Stars
I loved this book! I had it on my to-be-read list and when some of my book group friends were talking about it, I decided to pick it up for my road trip. I couldn't put it down! The short chapters and the use of foreshadowing made me want to keep going. This book reminded me a bit of One Day In December and of Swear On This Life, but I loved this one so much more than either of those other two.
"Lucy is faced with a life-altering choice. But before she can make her decision, she must start her story–their story–at the very beginning. Lucy and Gabe meet as seniors at Columbia University on a day that changes both of their lives forever. Together, they decide they want their lives to mean something, to matter. When they meet again a year later, it seems fated–perhaps they'll find life's meaning in each other. But then Gabe becomes a photojournalist assigned to the Middle East and Lucy pursues a career in New York. What follows is a thirteen-year journey of dreams, desires, jealousies, betrayals, and, ultimately, of love. Was it fate that brought them together? Is it choice that has kept them away? Their journey takes Lucy and Gabe continents apart, but never out of each other's hearts."
The book is told by Lucy, as if she is speaking to or writing a letter to Gabe. It takes place in New York City, beginning on September 11. Placing their story into a real life context like that made me feel like they were real people. I wanted to look up the show Lucy worked on or Gabe's Wikipedia page! I have heard this author's second book is not as good as this one, which is too bad, because I loved this one so much!
---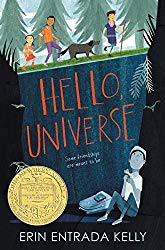 Title: Hello Universe
Author: Erin Entrada Kelly
Genre: Middle Grade Fiction
Publisher: Greenwillow Books, 3/14/17
Source: Received as a gift from Leslie
My Rating: 4 Stars
When Leslie blogged about this book, I commented that I thought my boys would enjoy it. She was so sweet as to send us a copy! It took us awhile to add it to our read aloud repertoire, but I was right that the boys loved it. It was a little young for Gabbie, but she ended up listening to most of it and she seemed to like it too.
"In one day, four lives weave together in unexpected ways. Virgil Salinas is shy and kindhearted and feels out of place in his crazy-about-sports family. Valencia Somerset, who is deaf, is smart, brave, and secretly lonely, and she loves everything about nature. Kaori Tanaka is a self-proclaimed psychic, whose little sister, Gen, is always following her around. And Chet Bullens wishes the weird kids would just stop being so different so he can concentrate on basketball. They aren't friends, at least not until Chet pulls a prank that traps Virgil and his pet guinea pig at the bottom of a well. This disaster leads Kaori, Gen, and Valencia on an epic quest to find missing Virgil. Through luck, smarts, bravery, and a little help from the universe, a rescue is performed, a bully is put in his place, and friendship blooms."
My kids thought it was funny that both this book and A Drop of Hope feature multiple viewpoints, many types of kids, and a well, but this well was a lot different from the one in A Drop of Hope! I loved the diversity of the characters in this book and the things that you can learn from each of them. I definitely recommend this one for middle grade readers and those who love them.
---
Title: The First Time She Drowned
Author: Kerry Kletter
Genre: Young Adult
Publisher: Philomel Books, 3/15/16
Source: Audiobook Sync – Audio books for teens (or adults who want) throughout the summer, for free!
My Rating: 4 Stars
This book is really sad, but also hopeful. It's about feeling like you're drowning but getting out and going on. This book contains a very verbally abusive mother and other difficult childhood traumas.
"Cassie O'Malley has spent the past two and a half years in a mental institution–dumped there by her mother, against her will. Now, at 18, Cassie emancipates herself, determined to start over and reclaim her life. But when the unhealthy mother-daughter relationship that defined Cassie's childhood and adolescence threatens to pull her under once again, Cassie must decide: whose version of history is the truth, and whose life must she save?"
Cassie's struggles are difficult to read or to listen to, as I did, but really inspiring. As Cassie recalls her past, it is clear that the cycle of abuse in her family goes back quite awhile. Cassie realizes how difficult it is to grow up and go to college when she never had a positive role model to learn from. She is lucky that she finds a good friend and a good counselor to help her along, but it is not easy for her when she is terrified of abandonment by everyone in her life. This book would definitely be triggering and is probably meant for the older end of a young adult audience.
---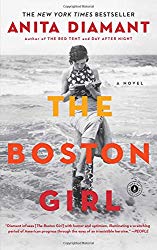 Title: The Boston Girl
Author: Anita Diamant
Genre: Fiction / Historical Fiction
Publisher: Scribner, 12/9/14
Source: The library book store, my to-be-read list
My Rating: 4 Stars
This book fulfilled my wish for a book about Jewish characters, preferably where they aren't just Jewish as a plot device, but in which their Judaism means something to them. (I'm still looking for more of these if you know of any!) The Boston Girl is written as a grandmother telling her life story to her granddaughter and takes place in Boston beginning in the early 1900s.
"Addie is The Boston Girl, the spirited daughter of an immigrant Jewish family, born in 1900 to parents who were unprepared for America and its effect on their three daughters. Growing up in the North End of Boston, then a teeming multicultural neighborhood, Addie's intelligence and curiosity take her to a world her parents can't imagine—a world of short skirts, movies, celebrity culture, and new opportunities for women. Addie wants to finish high school and dreams of going to college. She wants a career and to find true love. From the one-room tenement apartment she shared with her parents and two sisters, to the library group for girls she joins at a neighborhood settlement house, to her first, disastrous love affair, to finding the love of her life, eighty-five-year-old Addie recounts her adventures with humor and compassion for the naïve girl she once was."
Addie's life story was pretty remarkable to read, and I enjoyed the history it contained. My one complaint would be that there was an important chunk of years that were pretty well glossed over. The main focus of the book takes place between 1900 and 1930. It's a coming of age story and could probably use a part two to continue the story the rest of the way through!
---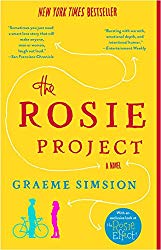 Title: The Rosie Project
Author: Graeme Simsion
Genre: Fiction
Publisher: Simon and Schuster, 10/1/13
Source: The library book store, my to-be-read list
My Rating: 4 Stars
I had heard a lot about The Rosie Project and was excited to check it out. The main character is quirky and funny and the story was interesting enough.
"The art of love is never a science: Meet Don Tillman, a brilliant yet socially inept professor of genetics, who's decided it's time he found a wife. In the orderly, evidence-based manner with which Don approaches all things, he designs the Wife Project to find his perfect partner: a sixteen-page, scientifically valid survey to filter out the drinkers, the smokers, the late arrivers. Rosie Jarman possesses all these qualities. Don easily disqualifies her as a candidate for The Wife Project (even if she is 'quite intelligent for a barmaid'). But Don is intrigued by Rosie's own quest to identify her biological father. When an unlikely relationship develops as they collaborate on The Father Project, Don is forced to confront the spontaneous whirlwind that is Rosie―and the realization that, despite your best scientific efforts, you don't find love, it finds you."
Being that so many people seem to love this book, I'm a little disappointed that I didn't love it more! As I write this review, I find it hard to recall a lot of the important parts of the book. I did enjoy Don's personality and liked how he and Rosie worked together. I predicted the answer to the Father Project and I wonder if it really is that easy for someone with Asperger's to change their habits.
---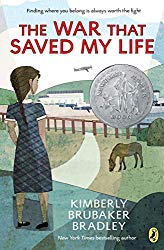 Title: The War That Saved My Life
Author: Kimberly Brubaker Bradley
Genre: Middle Grade Historical Fiction
Publisher: Dial Books, 1/8/15
Source: The library audio app, my to-be-read list
My Rating: 5 Stars
I actually got the CD of this book from the library and brought it on our road trip, but the narration was very slow and I'm not sure if its possible to speed up a CD. When I listen to audio books, I keep them at 1.5 speed! So I ended up listening to this on my own, even though I had wanted to share it with my kids. It was well done and worth listening to for me as well.
"Ten-year-old Ada has never left her one-room apartment. Her mother is too humiliated by Ada's twisted foot to let her outside. So when her little brother Jamie is shipped out of London to escape the war, Ada doesn't waste a minute—she sneaks out to join him. So begins a new adventure for Ada, and for Susan Smith, the woman who is forced to take the two kids in. As Ada teaches herself to ride a pony, learns to read, and watches for German spies, she begins to trust Susan—and Susan begins to love Ada and Jamie. But in the end, will their bond be enough to hold them together through wartime? Or will Ada and her brother fall back into the cruel hands of their mother?"
I seem to have established a pattern of listening to books about abusive and neglectful mothers! There are a lot of mature themes in this book that would bring up a lot of discussion with younger children. I loved seeing Ada discover a world in which she was loved and could live, even with the war going on around her.
---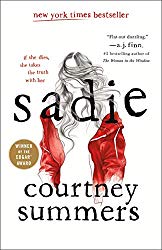 Title: Sadie
Author: Courtney Summers
Genre: Young Adult
Publisher: Wednesday Books, 9/4/18
Source: The library audio app, my to-be-read list
My Rating: 4 Stars
I added this book to my to-be-read list after it was listed as one of the best YA books of 2018 and I recently read that it was a great book on audio due to the full cast ensemble. My library had it available, so I started it right away. I didn't love the actor who voiced Sadie (although she did a good job portraying Sadie's stutter), but I did love the ensemble cast and the way the alternating chapters were read as if they were part of a podcast. (I actually just found out that an actual podcast was made to go along with this book too!)
"Sadie hasn't had an easy life. Growing up on her own, she's been raising her sister Mattie in an isolated small town, trying her best to provide a normal life and keep their heads above water. But when Mattie is found dead, Sadie's entire world crumbles. After a somewhat botched police investigation, Sadie is determined to bring her sister's killer to justice and hits the road following a few meager clues to find him. When West McCray―a radio personality working on a segment about small, forgotten towns in America―overhears Sadie's story at a local gas station, he becomes obsessed with finding the missing girl. He starts his own podcast as he tracks Sadie's journey, trying to figure out what happened, hoping to find her before it's too late."
Once again, I found myself listening to a book about neglectful parents. Sadie and Mattie's mom is addicted to drugs and they mostly raised themselves. They are abused by one of their mother's boyfriends and Sadie believes that he killed Mattie, so she sets out to find him. In Sadie's chapters, we see the route she follows and how she gets the information she needs to find him. In the alternating chapters, West McCray follows Sadie and tries to retrace her steps. The ending is both sad and frustrating, but I certainly found myself cheering for Sadie.
---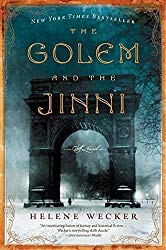 Title: The Golem and The Jinni
Author: Helene Wecker
Genre: Fantasy, Historical Fiction
Publisher: Harper, 4/23/13
Source: Handed to me by a friend, used for Book Challenge By Erin topic "a book about a human with supernatural powers."
My Rating: 3 Stars
Everyone who read this book said they loved it, but it was a bit slow for me. The historical and cultural aspects were interesting and seemed well researched, but I can't say I was in love with the story.
"Chava is a golem, a creature made of clay, brought to life to by a disgraced rabbi who dabbles in dark Kabbalistic magic and dies at sea on the voyage from Poland. Chava is unmoored and adrift as the ship arrives in New York harbor in 1899. Ahmad is a jinni, a being of fire born in the ancient Syrian desert, trapped in an old copper flask, and released in New York City, though still not entirely free. Ahmad and Chava become unlikely friends and soul mates with a mystical connection."
There was a bit of a plot to this as the Golem and the Jinni had to come together against a common enemy. My main complaint is really the slowness of the story. The Golem didn't even meet the Jinni until after page 200! I liked a lot of the side characters and the way some of the ends tied together, but wished the plot was faster paced.
---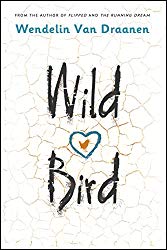 Title: Wild Bird
Author: Wendelin Van Draanen
Genre: Young Adult
Publisher: Alfred A. Knopf, 9/5/17
Source: Audiobook Sync
My Rating: 4 Stars
This was another book about the difficulties and the recovery of a troubled teen, but luckily this one did not involve an abusive parent! Wren's parents did force her to get help and sent her away in the night, but they weren't the cause of her problems to begin with and were there for her as she worked through them.
"3:47 a.m. That's when they come for Wren Clemmens. She's hustled out of her house and into a waiting car, then a plane, and then taken on a forced march into the desert. This is what happens to kids who've gone so far off the rails, their parents don't know what to do with them anymore. This is wilderness therapy camp. Eight weeks of survivalist camping in the desert. Eight weeks to turn your life around. Yeah, right. The Wren who arrives in the Utah desert is angry and bitter, and blaming everyone but herself. But angry can't put up a tent. And bitter won't start a fire. Wren's going to have to admit she needs help if she's going to survive."
I loved the concept of this book. It felt real and believable, both in the descriptions of the desert and the camping program and in Wren's feelings and reactions to being there. I really enjoyed listening to her story, both in what led her to be in the program and in how the program helped her heal and move forward.
---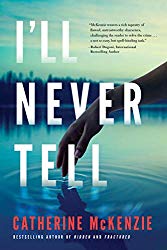 Title: I'll Never Tell
Author: Catherine McKenzie
Genre: Thriler
Publisher: Lake Union Publishing, 6/1/19
Source: Library hold list
My Rating: 4 Stars
When I heard that Catherine McKenzie had a new book coming out, I added it to my library request list and was able to have it in my hands pretty quickly after it was published. I have really enjoyed her books in the past and I liked this one too. The book centers around a family who runs a sleep away camp and has been keeping a lot of secrets surrounding what may have happened one night many years ago.
"What happened to Amanda Holmes? Twenty years ago, she was found bludgeoned in a rowboat at the MacAllister family's Camp Macaw. No one was ever charged with the crime. Now, after their parents' sudden deaths, the MacAllister siblings return to camp to read the will and decide what to do with the prime real estate the camp occupies. Ryan needs to sell. Margaux hasn't made up her mind. Mary believes in leaving well enough alone. Kate and Liddie—the twins—have opposing views. And Sean Booth, the groundskeeper, just hopes he still has a home when all is said and done. But it's more complicated than a simple vote. The will stipulates that until they unravel the mystery of what happened to Amanda, they can't settle the estate. Any one of them could have done it, and each one is holding a piece of the puzzle. Will they work together to finally discover the truth, or will their secrets finally tear the family apart?"
The family secrets that come out as the group works to discover what happened that night are compelling and while not entirely surprising, the siblings learn a lot about each other over the course of the book. By the end, I guessed who had been responsible for what happened to Amanda, but I felt like it was revealed in the right way, making this a readable and likeable thriller.
---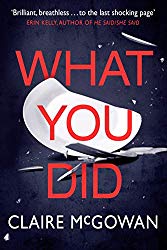 Title: What You Did
Author: Claire McGowan
Genre: Thriler
Publisher: Thomas & Mercer, 8/1/19
Source: Amazon Kindle First Books
My Rating: 4 Stars
I don't have a Kindle and I don't love reading books on my phone, but this one was good enough to keep me reading. Instead of bringing a book with me when I was out of the house, I read this one on my phone. It makes me wonder if I need a Kindle! This was another fast paced thriller, which had me wondering but that I was able to figure out in the end.
"It was supposed to be the perfect reunion: six university friends together again after twenty years. Host Ali finally has the life she always wanted, a career she can be proud of and a wonderful family with her college boyfriend, now husband. But that night her best friend makes an accusation so shocking that nothing will ever be the same again. When Karen staggers in from the garden, bleeding and traumatised, she claims that she has been assaulted—by Ali's husband, Mike. Ali must make a split-second decision: who should she believe? Her horrified husband, or her best friend? With Mike offering a very different version of events, Ali knows one of them is lying—but which? And why? When the ensuing chaos forces her to re-examine the golden era the group shared at university, Ali realises there are darker memories too. Memories that have lain dormant for decades. Memories someone would kill to protect."
I enjoyed reading about this group of friends and their families. The book is mainly in Ali's viewpoint, but there are sections from other characters as well. It takes place in England and the writing was quite British in many ways! None of the characters were truly likeable, although I could empathize the most with Ali. I thought it was a smart addition that Ali works with assault victims and trains others against victim blaming, but finds herself treating Karen in much the way she cautions others not to do. This is definitely the type of book that makes you wonder how you would react if you were in such an awful situation.
---
This month's total – 13 books. 8 hard copies, 1 Kindle edition, and 4 on audio.
And now for the giveaway! I have extra copies of The Things We Cannot Say by Kelly Rimmer (my review) and One Summer In Paris by Sarah Morgan (my review) to send to the winner. As this is a joint giveaway in honor of Lauren's 12 year blogiversary, she is contributing a $10 book of choice for the winner, either from Amazon or The Book Depository! Lauren and I agree that you have to love blogging to keep at it for so long and blog friends are one of the best parts of having a blog!
Enter our giveaway here!
Have you read any of these books? What have you been reading lately?