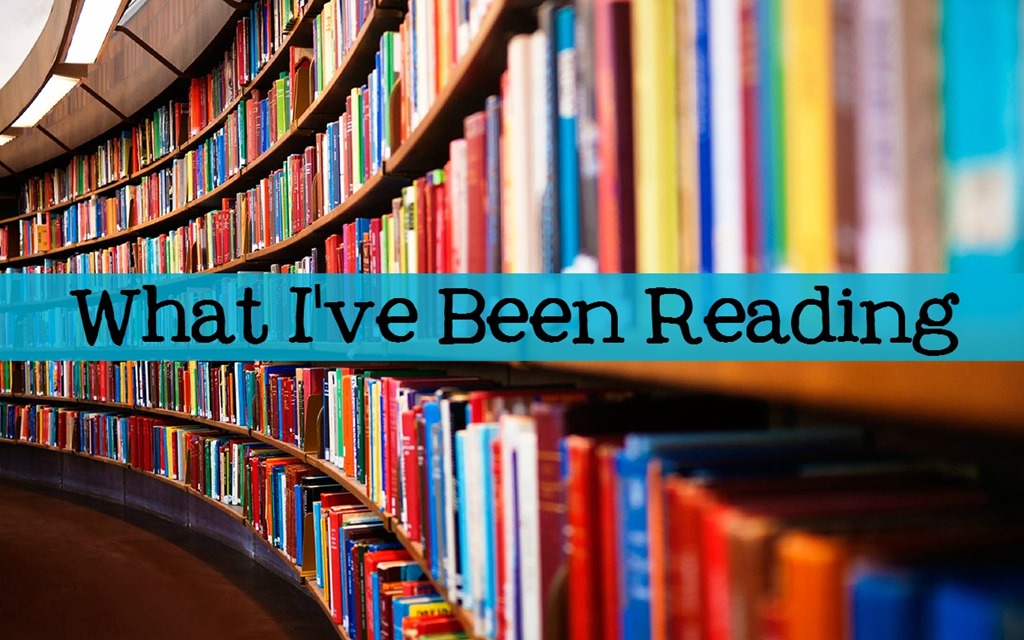 I have an epic list of recent reads to share with you today! This is partially because I last updated what I've been reading more than a month ago, and partially because I started a few new reading habits in the past few weeks. One new habit is that I have not only been reading at night before I fall asleep, but also during the day. And the other is that I started listening to audio books.
Title: Stroke of Luck
Author: B.J. Daniels
Genre: Romance / Romantic Suspense
Publisher: HQN, 2/19/19
Source: Harlequin Publicity Team
My Rating: 3 Stars
The first book I finished was the last book I had remaining from the bunch that Harlequin sent me back in February. I got backlogged on my reading for a bit there! I'm not sure I love this type of romance anymore, but I do like that this was more than just a romance, containing a hint of mystery as well.
"The Sterling Ranch's season opening isn't going so smoothly. With the ranch's lodge full of guests and a Montana blizzard threatening, Will Sterling needs help—and he needs it fast. So when his childhood friend Poppy Carmichael agrees to lend a hand, he's grateful for a second chance…and more enticed by the woman she's become than he cares to admit. For Poppy, it was supposed to be a retreat full of horse rides and hoedowns—with a side of showing Will what he's been missing all these years. But as the snow deepens outside, the guests' suspicion and mistrust turn sinister inside, catching Will and Poppy in the crosshairs. Weathering the storm in each other's arms is all too easy for Will and Poppy, but will a confrontation with a killer mean their reunion is short-lived?"
The second chance love story is a familiar trope, and it was sweet how Will and Poppy tried to resist their feelings for each other. The Montana setting was enjoyable and the mystery kept me guessing. Overall, it wasn't a bad read, but not currently my favorite type of book.
---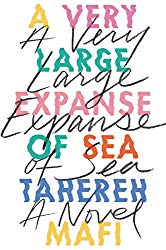 Title: A Very Large Expanse of Sea
Author: Tahereh Mafi
Genre: Young Adult
Publisher: HarperTeen, 10/16/18
Source: Recommended by the librarian
My Rating: 4 Stars
One day when we were hanging out at the library, I got into a conversation with the librarian in the youth department and she recommended A Very Large Expanse of Sea for both Gabbie and me to read. I read it first and Gabbie finished it more recently. This is the kind of young adult novel that I enjoy and I think Gabbie will like it too.
"It's 2002, a year after 9/11. It's an extremely turbulent time politically, but especially so for someone like Shirin, a sixteen-year-old Muslim girl who's tired of being stereotyped. Shirin is never surprised by how horrible people can be. She's tired of the rude stares, the degrading comments—even the physical violence—she endures as a result of her race, her religion, and the hijab she wears every day. So she's built up protective walls and refuses to let anyone close enough to hurt her. Instead, she drowns her frustrations in music and spends her afternoons break-dancing with her brother. But then she meets Ocean James. He's the first person in forever who really seems to want to get to know Shirin. It terrifies her—they seem to come from two irreconcilable worlds—and Shirin has had her guard up for so long that she's not sure she'll ever be able to let it down."
I liked the way this book was written. I enjoyed learning about Shirin and her culture, as well as the way she dealt with the stereotyping and bullying she had to deal with solely because of her culture. I liked that Shirin had an outlet in music and break dancing and I liked her relationships with her brothers and with Ocean. I think this book gives a good insight into what it is like to be different in America today.
---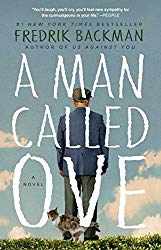 Title: A Man Called Ove
Author: Fredrik Backman
Genre: Fiction
Publisher: Atria Books, 7/15/14
Source: My library's audio app
My Rating: 4 Stars
A Man Called Ove was my first successful audio book listen! I heard on a podcast that this is a good one to listen to on audio and I'm really glad I decided to try it out. Although I've always heard it was good, I don't know when I would have gotten around to reading it. And this way I learned that Ove is pronounced Ooh-vuh, not Ohve! Also, the narrator is George Newbern. He did a great job with it!
"Meet Ove. He's a curmudgeon—the kind of man who points at people he dislikes as if they were burglars caught outside his bedroom window. He has staunch principles, strict routines, and a short fuse. People call him 'the bitter neighbor from hell.' But must Ove be bitter just because he doesn't walk around with a smile plastered to his face all the time? Behind the cranky exterior there is a story and a sadness. So when one November morning a chatty young couple with two chatty young daughters move in next door and accidentally flatten Ove's mailbox, it is the lead-in to a comical and heartwarming tale of unkempt cats, unexpected friendship, and the ancient art of backing up a U-Haul. All of which will change one cranky old man and a local residents' association to their very foundations."
Ove is hilarious, stubborn, sad, and a good person all in one. I loved listening to his story, both of his past and of his new relationships with his neighbors who somehow bring out the best in him. I definitely recommend this one and if you're thinking of getting into audio book listening, this is a great one to start with.
---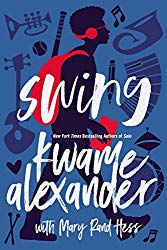 Title: Swing
Author: Kwame Alexander
Genre: Young Adult, Verse
Publisher: Blink, 10/2/18
Source: Audiobook Sync – Audio books for teens (or adults who want) throughout the summer, for free!
My Rating: 4 Stars
My second audio book was Swing, which is a book fully written in verse, or a series of poems. The audio book is read by the author, which I thought was a nice touch. The way this book is written in verse is really interesting and adds to the story.
"When America is not so beautiful, or right, or just, it can be hard to know what to do. Best friends Walt and Noah decide to use their voices to grow more good in the world, but first they've got to find cool. Walt is convinced junior year is their year, and he has a plan to help them woo the girls of their dreams and become amazing athletes. Never mind that he and Noah failed to make the high school baseball team yet again, and Noah's love interest since third grade, Sam, has him firmly in the friend zone. Noah soon finds himself navigating the worlds of jazz, batting cages, the strange advice of Walt's Dairy Queen-employed cousin, as well as Walt's 'Hug Life' mentality. Status quo seems inevitable until Noah stumbles on a stash of old love letters. Each page contains the words he's always wanted to say to Sam, and he begins secretly creating artwork using the lines that speak his heart. But when his private artwork becomes public, Noah has a decision to make: continue his life in the dugout and possibly lose the girl forever, or take a swing and finally speak out? At the same time, numerous American flags are being left around town. While some think it's a harmless prank and others see it as a form of peaceful protest, Noah can't shake the feeling something bigger is happening to his community. Especially after he witnesses events that hint divides and prejudices run deeper than he realized. As the personal and social tensions increase around them, Noah and Walt must decide what is really true when it comes to love, friendship, sacrifice, and fate."
Both Walt (Swing) and Noah were characters that I liked. This was another young adult book that I felt good about reading. I liked that it was about a friendship as well as life as a teenager, plus about America today.
---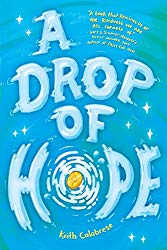 Title: A Drop of Hope
Author: Keith Calabrese
Genre: Middle Grade
Publisher: Scholastic Press, 2/26/19
Source: Moms Meet
My Rating: 4 Stars
You may remember my post about A Drop of Hope when I had just started reading it to my kids. Reading out loud takes longer than reading to myself, so we just finished it recently. All three kids ended up enjoying the story, as did I.
"Times are tough. Jobs are scarce and miracles are in short supply. But something strange is happening in Cliffs Donnelly, Ohio. An old well has suddenly, impossibly, begun to grant wishes. And three sixth graders are the only ones who know why. Ernest Wilmette believes a good deed makes magic happen. Ryan Hardy thinks they should just mind their own business. Lizzy MacComber believes in facts, not fairy tales. Of course, you don't have to believe in wishes to make one. As more wishes are made, the well's true secret gets harder and harder to keep. Ernest, Ryan, and Lizzy know they can't fix the world. But in their own little corner of it, they can give everyone a little hope… one wish at a time."
There were a lot of little coincidences in this book that lead to something that seemed like magic. I love the unlikely friendships and the hope that is obvious throughout the story. My kids had a bit of trouble following the narrator changes, as there are small sections and the viewpoints changed, but in the end they seemed to like listening to this book, finding it funny and a good story.
---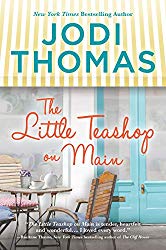 Title: The Little Teashop on Main
Author: Jodi Thomas
Genre: Fiction
Publisher: HQN, 5/7/19
Source: Harlequin Publicity Team in exchange for a photo on Instagram
My Rating: 4 Stars
The next book I read was The Little Teashop on Main by Jodi Thomas. This a book about a long friendship, told from the viewpoints of each of the friends. I was slightly surprised that not all of the sections are told in the viewpoint of the three main characters and other minor characters have parts too. I have never read a book by Jodi Thomas before, but this is definitely not her first!
"Redheaded, curly-haired Zoe is openhearted, kind and free-spirited, and dreams of becoming a famous actor in New York City. Shy Emily struggles with mental health but has the heart and soul of a writer. And Shannon—tall, athletic, strong—has a deep sense of loyalty that will serve her well when she heads off to military college. As Zoe, Emily and Shannon grow into women—forging careers, following dreams and finding love—they'll learn that life doesn't always unfold the way they want it to, but through it all, the one constant is each other, and their regular tea parties. And when the unthinkable happens, the girls must come together to face the greatest test of all."
It is obvious from the beginning that one of the friends passes away, but you don't find out until later which one it is. The book slowly reveals the many things each woman has been through in her life, as well as in her friendships with the other women. For an easy to read novel about long-lasting friends, this one is worth the read.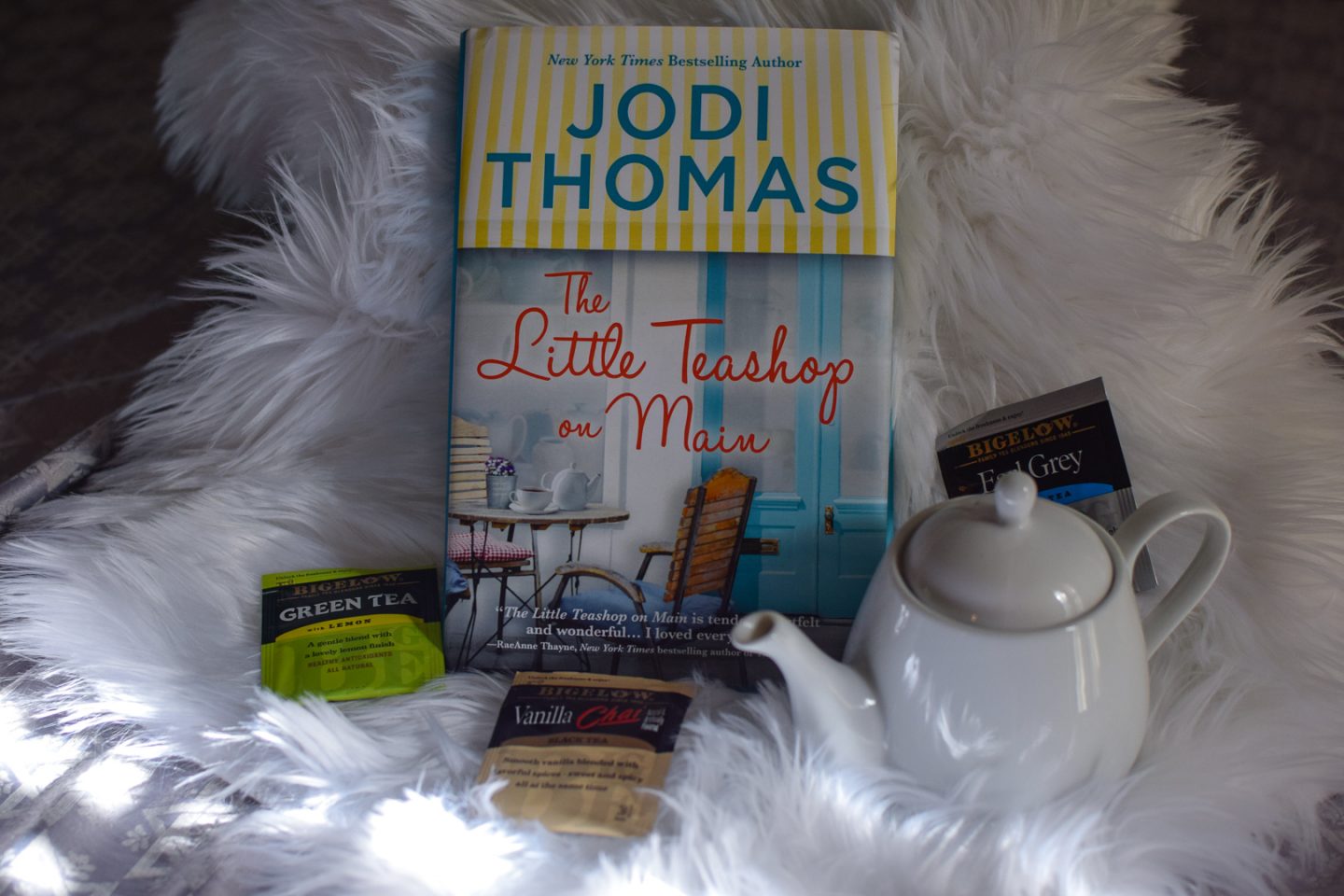 ---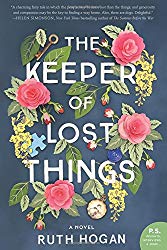 Title: The Keeper of Lost Things
Author: Ruth Hogan
Genre: Fiction
Publisher: William Morrow, 2/21/17
Source: Book group pick, as well as on my TBR list, from the library
My Rating: 5 Stars
My friend always sends out a list of books to vote on ahead of our book group meetings and when I saw that one of the ones she chose was already on my TBR list, I made sure to vote for it! I don't know if it's ever happened before that a book I found a little hard to get into turned into a book that I loved, but it happened with this one!
"Anthony Peardew is the keeper of lost things. Forty years ago, he carelessly lost a keepsake from his beloved fiancée, Therese. That very same day, she died unexpectedly. Brokenhearted, Anthony sought consolation in rescuing lost objects—the things others have dropped, misplaced, or accidentally left behind—and writing stories about them. Now, in the twilight of his life, Anthony worries that he has not fully discharged his duty to reconcile all the lost things with their owners. As the end nears, he bequeaths his secret life's mission to his unsuspecting assistant, Laura, leaving her his house and and all its lost treasures, including an irritable ghost. Recovering from a bad divorce, Laura, in some ways, is one of Anthony's lost things. But when the lonely woman moves into his mansion, her life begins to change. She finds a new friend in the neighbor's quirky daughter, Sunshine, and a welcome distraction in Freddy, the rugged gardener. As the dark cloud engulfing her lifts, Laura, accompanied by her new companions, sets out to realize Anthony's last wish: reuniting his cherished lost objects with their owners. Long ago, Eunice found a trinket on the London pavement and kept it through the years. Now, with her own end drawing near, she has lost something precious—a tragic twist of fate that forces her to break a promise she once made. As the Keeper of Lost Objects, Laura holds the key to Anthony and Eunice's redemption. But can she unlock the past and make the connections that will lay their spirits to rest?"
This book is told both in the present and in the past beginning 40 years ago, on the day Therese died, but from Eunice's point of view. The story from the past works its way to the present and eventually intersects with Laura's story, as she works on cataloging all of the lost objects that Anthony has found and kept. Throughout the book, there are also stories about many of the lost objects and about the people who lost them. I love when seemingly random stories intersect with each other and I think that is one of the reasons I loved this one. There is a supernatural element to this book, with a ghost and with Sunshine, who knows things about the objects that she probably shouldn't know. But guess what? Out of 9 of us at my book group meeting, I was the only one who liked it!
---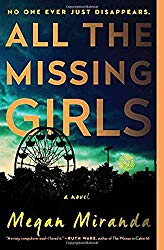 Title: All The Missing Girls
Author: Megan Miranda
Genre: Thriller
Publisher: Simon & Schuster, 6/28/16
Source: My library's audio app
My Rating: 3 Stars
For my next audio listen, I chose a book that had been on my TBR list for a long time, and was also available through my library app. All The Missing Girls is about a woman who went missing many years ago and another woman who goes missing in the present. The book tells both stories and the present story is told in the reverse, which made it a little hard for me to follow what happened on each day, without the ability to flip back in the book and look.
"It's been ten years since Nicolette Farrell left her rural hometown after her best friend, Corinne, disappeared from Cooley Ridge without a trace. Back again to tie up loose ends and care for her ailing father, Nic is soon plunged into a shocking drama that reawakens Corinne's case and breaks open old wounds long since stitched. The decade-old investigation focused on Nic, her brother Daniel, boyfriend Tyler, and Corinne's boyfriend Jackson. Since then, only Nic has left Cooley Ridge. Daniel and his wife, Laura, are expecting a baby; Jackson works at the town bar; and Tyler is dating Annaleise Carter, Nic's younger neighbor and the group's alibi the night Corinne disappeared. Then, within days of Nic's return, Annaleise goes missing. Told backwards—Day 15 to Day 1—from the time Annaleise goes missing, Nic works to unravel the truth about her younger neighbor's disappearance, revealing shocking truths about her friends, her family, and what really happened to Corinne that night ten years ago."
This book has been compared to Gone Girl, as must thrillers seem to be, but it's not really comparable. It was interesting and it kept me listening, but it also wasn't all that shocking and it was a little confusing. Definitely not my favorite of the genre.
---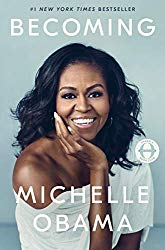 Title: Becoming
Author: Michelle Obama
Genre: Memoir
Publisher: Crown, 11/13/18
Source: Library
My Rating: 4 Stars
As a rule, I don't like memoirs. But Michelle Obama. If anyone has a right to write a memoir, it's Michelle Obama. Her story is definitely worth reading and I also enjoyed the way she overlapped her own life story with the story of her husband becoming the president.
"In a life filled with meaning and accomplishment, Michelle Obama has emerged as one of the most iconic and compelling women of our era. As First Lady of the United States of America—the first African American to serve in that role—she helped create the most welcoming and inclusive White House in history, while also establishing herself as a powerful advocate for women and girls in the U.S. and around the world, dramatically changing the ways that families pursue healthier and more active lives, and standing with her husband as he led America through some of its most harrowing moments. Along the way, she showed us a few dance moves, crushed Carpool Karaoke, and raised two down-to-earth daughters under an unforgiving media glare. In her memoir, a work of deep reflection and mesmerizing storytelling, Michelle Obama invites readers into her world, chronicling the experiences that have shaped her—from her childhood on the South Side of Chicago to her years as an executive balancing the demands of motherhood and work, to her time spent at the world's most famous address. With unerring honesty and lively wit, she describes her triumphs and her disappointments, both public and private, telling her full story as she has lived it—in her own words and on her own terms. Warm, wise, and revelatory, Becoming is the deeply personal reckoning of a woman of soul and substance who has steadily defied expectations—and whose story inspires us to do the same."
My favorite aspect of this book was the way she wrote about being a mother and the difficulty she had balancing her work life and her home life. Also, she wrote about how she worked around her husband's schedule, where she used to wait for him for dinner every night but ended up making a schedule and if he was there for dinner it was great, but if not, that was ok too. As a new mom, I used to feel that much of my kids' days were spent waiting for Daddy to get home and I love how Michelle dealt with that issue. Overall, Michelle Obama's memoir proved to be relatable and well-worth reading.
---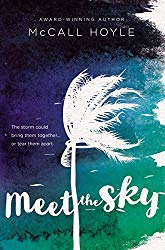 Title: Meet The Sky
Author: McCall Hoyle
Genre: Young Adult
Publisher: Blink, 9/4/18
Source: Audiobook Sync
My Rating: 4 Stars
I listened to Meet The Sky on audio and found it to be another good Young Adult book. Sophie is a young woman who feels that her family depends on her. She is always worried about her mom and her sister, who is in a wheelchair after a car accident. When she gets stranded on an island in the Outer Banks of NC during a hurricane, she has to concentrate on herself and what she needs.
"It all started with the accident. The one that caused Sophie's dad to walk out of her life. The one that left Sophie's older sister, Meredith, barely able to walk at all. With nothing but pain in her past, all Sophie wants is to plan for the future—keep the family business running, get accepted to veterinary school, and protect her mom and sister from another disaster. But when a hurricane forms off the coast of North Carolina's Outer Banks and heads right toward their island, Sophie realizes nature is one thing she can't control. After she gets separated from her family during the evacuation, Sophie finds herself trapped on the island with the last person she'd have chosen—the reckless and wild Finn Sanders, who broke her heart freshman year. As they struggle to find safety, Sophie learns that Finn has suffered his own heartbreak; but instead of playing it safe, Finn's become the kind of guy who goes surfing in the eye of the hurricane. He may be the perfect person to remind Sophie how to embrace life again, but only if their newfound friendship can survive the storm."
I loved the setting of this book. I have always wanted to go to the Outer Banks. The wild horses that live there even play a part in the book. The storm is scary and described in a way that makes you feel as if you are there too. The way that Finn and Sophie work together to help one another is really enjoyable, and the ending of the book was lovely too. This is definitely the type of book I would recommend to the young adult reader in my life.
---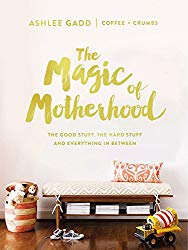 Title: The Magic of Motherhood
Author: Ashley Gadd
Genre: Non-Fiction
Publisher: Zondervan, 4/4/17
Source: Library
My Rating: 3 Stars
Another new way of reading that I started this past month was to read a bit of non-fiction in the mornings. I picked up this one after hearing about it on the Coffee and Crumbs podcast. It is a collection of essays about motherhood, and they were all enjoyable and some were even very meaningful, but they were probably better suited to a newer mom than myself.
"In this book, you'll find heartwarming essays about identity, adoption, body image, miscarriage, friendship, faith, infertility, and more. This curated collection of honest stories weaves together the love, joy, and magnificent heartache of motherhood. Instead of offering advice, the writers offer something even better: their hearts. Essays from Ashlee Gadd of Coffee + Crumbs and its contributors will reassure you that you're not alone. This book is a love letter to mothers everywhere; it's a story about the magic that happens between calm and chaos, the joy that can be found in both beauty and mess, and the valuable lessons we learn about ourselves in between cups of reheated coffee and kitchen tables covered in crumbs."
I would recommend this book as a gift for a new mom. It is a lovely piece with photographs and enlarged quotations, as well as an attached fabric bookmark. I would have enjoyed pieces about mothering older children, but the essays inside are all really great!
---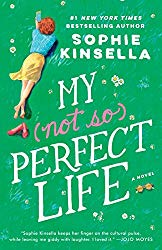 Title: My Not So Perfect Life
Author: Sophie Kinsella
Genre: Chick Lit
Publisher: The Dial Press, 2/7/17
Source: My library's audio app
My Rating: 4 Stars
Another book that had been on my to be read list for awhile and was available on my library's audio app was My Not So Perfect Life. I loved the Shopaholic series and was excited to listen to this stand along book. Listening to the narrator's English accent was pretty fun for me! Although maybe not as hilarious as the Shopaholic series, this one was still funny and fun to listen to.
"Everywhere Katie Brenner looks, someone else is living the life she longs for, particularly her boss, Demeter Farlowe. Demeter is brilliant and creative, lives with her perfect family in a posh townhouse, and wears the coolest clothes. Katie's life, meanwhile, is a daily struggle—from her dismal rental to her oddball flatmates to the tense office politics she's trying to negotiate. No wonder Katie takes refuge in not-quite-true Instagram posts, especially as she's desperate to make her dad proud. Then, just as she's finding her feet—not to mention a possible new romance—the worst happens. Demeter fires Katie. Shattered but determined to stay positive, Katie retreats to her family's farm in Somerset to help them set up a vacation business. London has never seemed so far away—until Demeter unexpectedly turns up as a guest. Secrets are spilled and relationships rejiggered, and as the stakes for Katie's future get higher, she must question her own assumptions about what makes for a truly meaningful life."
I really enjoyed the setting of the glamping business that Katie helped her family begin on their farm. I liked that Katie did a wonderful job on the farm, but didn't necessarily have to give up her dream life to stay there – but to say more would be spoilers! I definitely recommend this one for a fun read, although the audio did take me longer to listen to than the previous young adult books mentioned above!
---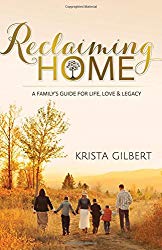 Title: Reclaiming Home
Author: Krista Gilbert
Genre: Non-Fiction
Publisher: Morgan James Publishing, 7/7/15
Source: Library
My Rating: 4 Stars
The second non-fiction book that I read this month was Reclaiming Home. I heard the author interviewed on a podcast and liked her ideas about creating family traditions.
"Are you watching as your family spins out of control? Are you pulled in so many directions that you aren't doing anything well? We live in an era when children often know more about their electronic devices than their own family history, parents invest more time in the carpool line than at the dinner table, and marriages teeter on the cliff of neglect. 'Reclaiming Home' offers families creative, life-changing solutions to these modern day dilemmas. Learn how to throw small pebbles of intentional actions into daily life to create a mountain on which your family can stand for generations."
I saved some of the ideas I found in the book for possible new family traditions and activities to use here. The chapters end with "dares" that are ideas you can use to foster love, acceptance, communication, etc. This was a worthwhile read for parents of growing children.
---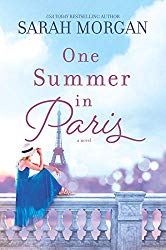 Title: One Summer In Paris
Author: Sarah Morgan
Genre: Women's Fiction
Publisher: HQN, 4/9/19
Source: Sent to me by the publicist
My Rating: 4 Stars
I have really enjoyed Sarah Morgan's books in the past, both her romances and her women's fiction novels. I had been holding onto this one for awhile, although I wasn't sure why, and once I started reading it I realized it was the perfect summer read for entertaining me while my kids are in the pool!
"To celebrate their twenty-fifth wedding anniversary, Grace has planned the surprise of a lifetime for her husband—a romantic getaway to Paris. But she never expected he'd have a surprise of his own: he wants a divorce. Reeling from the shock but refusing to be broken, a devastated Grace makes the bold decision to go to Paris alone. Audrey, a young woman from London, has left behind a heartache of her own when she arrives in Paris. A job in a bookshop is her ticket to freedom, but with no money and no knowledge of the French language, suddenly a summer spent wandering the cobbled streets alone seems much more likely…until she meets Grace, and everything changes. Grace can't believe how daring Audrey is. Audrey can't believe how cautious newly single Grace is. Living in neighboring apartments above the bookshop, this unlikely pair offer each other just what they've both been missing. They came to Paris to find themselves, but finding this unbreakable friendship might be the best thing that's ever happened to them…"
I loved the friendship that develops between Grace and Audrey. They truly need each other and their meeting was perfect for both of them. Their conversations made me laugh out loud at times and I loved their discovery of how much they actually had in common with one another. There is also a side story about Grace's grandmother and her history with the bookshop, which I enjoyed a lot. There is a romantic aspect to the book as both Grace and Audrey explore relationships, but my favorite part is their friendship. Stay tuned because this is one of the books I'll be giving away soon!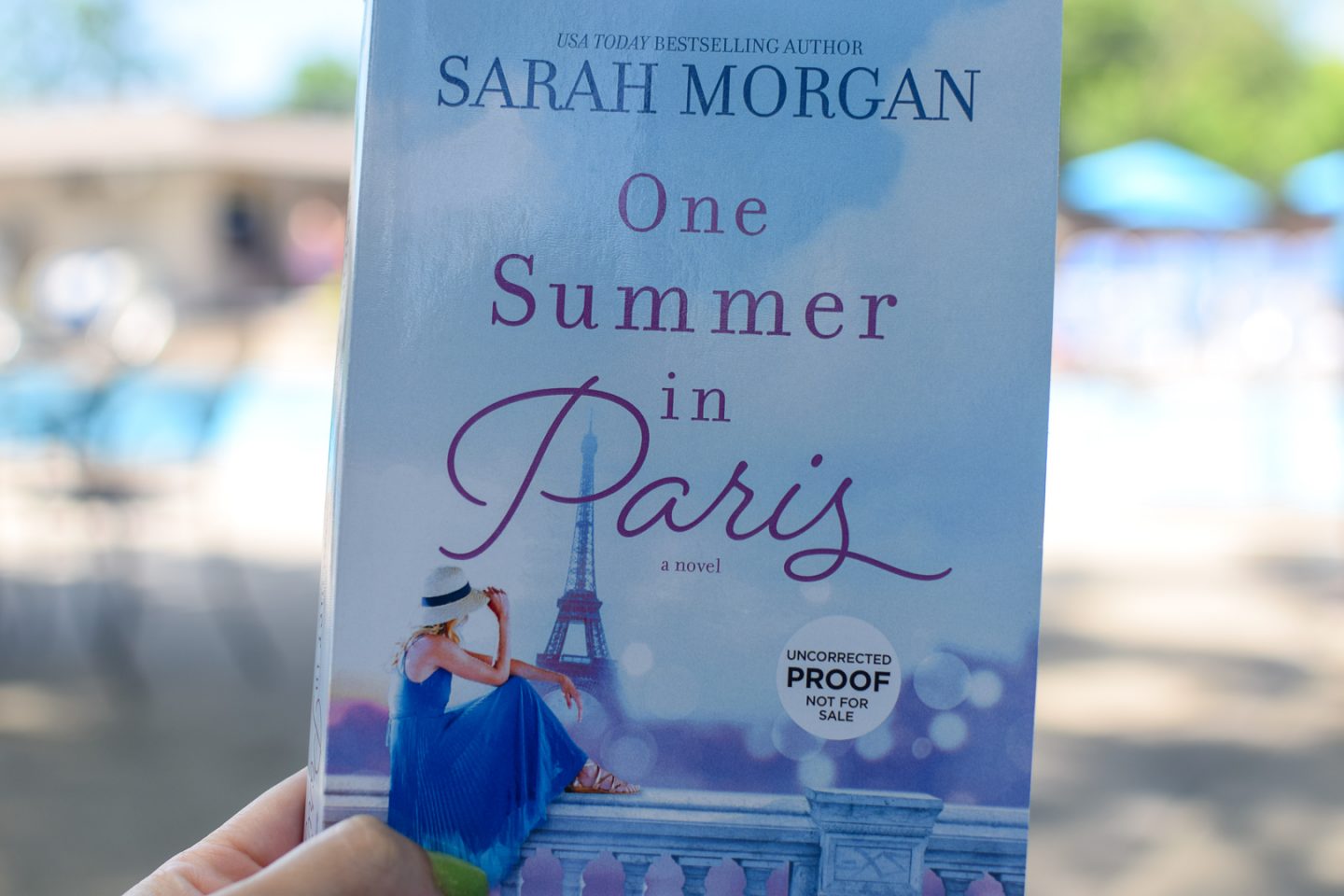 ---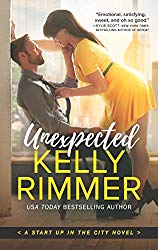 Title: Unexpected
Author: Kelly Rimmer
Genre: Romance
Publisher: HQN, 5/28/19
Source: Harlequin Publicity Team in exchange for a photo on Instagram
My Rating: 4 Stars
Next up, I read Unexpected by Kelly Rimmer. I was surprised and impressed that the writer of a historical fiction book (The Things We Cannot Say) also wrote a romance, and I did enjoy this one!
"The next three decades of Abby Herbert's life are as carefully planned out as the last three were. Best career ever? Check. Great friends, one of whom she lives with in a stunning Tribeca apartment? Check. Perfect man to share her dream family? Surely just a matter of time. But then she gets devastating news from her doctor—if she wants to get pregnant, she needs to get started on that by…well, yesterday. On the bright side, she has the perfect person in mind to be the father. Tech entrepreneur Marcus Ross has been harboring decidedly not-friends feelings toward Abby. He doesn't want to lose her and, knowing his feelings are one-sided, he's been trying to move on. When he learns about the curveball Abby's just been hit with, he promises to be there for her however she wants him to be, even if the idea of fatherhood is a little complicated for him right now. But it isn't long until boundaries start to blur, and a deal struck between friends starts to turn into something perilously close to feelings that could change everything…"
It's the best friends turn into more trope and it's a good one! I enjoyed the characters and getting to know their stories. I enjoyed both Marcus and Abby and I was happy that it didn't take them too long to discover that they are meant to be together! This is definitely a sweet romance which would be a great summer read!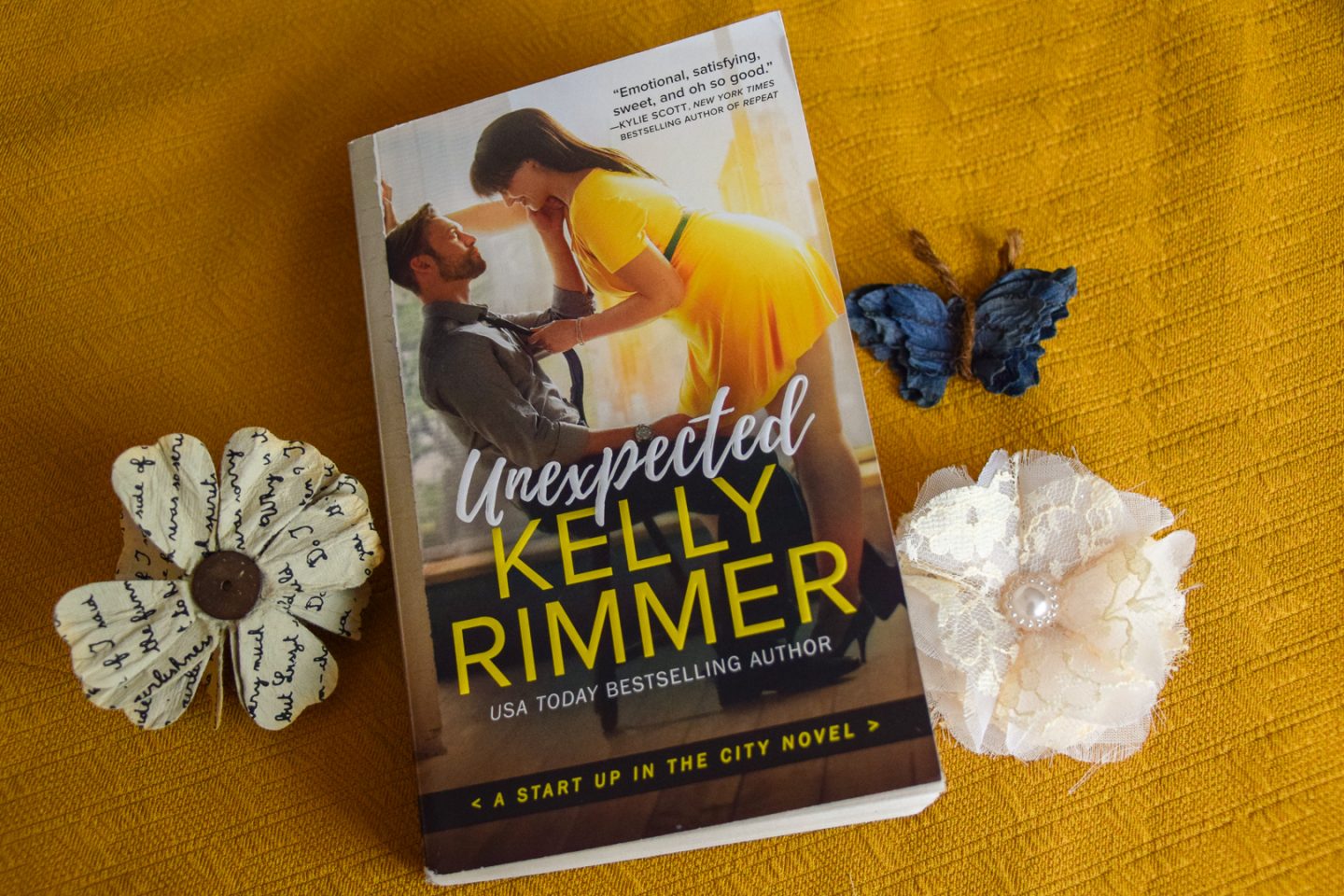 ---
Title: The Edifice
Author: R.K. Holliday
Genre: Middle Grade Sci-Fi
Publisher: R.K. Holliday Books
Source: The author requested my review
My Rating: 3 Stars
When R.K. Holliday contacted me and asked if I would review his book, I agreed, thinking that a middle grade book would be something I could share with my boys. Zachary can be reluctant to read books he doesn't know about, but this one must have appealed to him because he asked me to read it soon after I finished! While for me it was a simple read, he seemed to really be enjoying it from the start!
"Connor Laurel was always small, normal, and routine. He lived in a tiny, tight neighborhood where nothing ever happened. This was his life until he found out he had a rare disease. Connor wasn't just frightened, he was also getting taken away from his home by strange men. He soon finds out that these men, and the place they're taking him is anything but small, normal, and routine. Finding out who he really is, what he really has changes everything and raises the stakes. If Connor wants to find understanding, he has to be patient and learn everything he can from his new home. There's only one problem — Connor isn't sick, he has an unseen super power."
In much of this book, Connor is trying to discover the special skill he has been told that he has. He is sent away from home and he meets new adults and friends, as well as a boy who isn't very nice to him. There is much in the book that young readers will be able to relate to. It didn't take Zachary long to realize that it is set in the future, and I think he will enjoy the futuristic parts of the story. For me, I would have liked to understand a bit more about why the children are taken away from their homes and what the purpose of the Edifice is, but maybe that is revealed in future books in the series!
---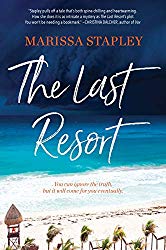 Title: The Last Resort
Author: Marissa Stapley
Genre: Suspense
Publisher: Graydon House, 6/18/19
Source: Harlequin Publicity Team in exchange for a photo on Instagram
My Rating: 4 Stars
Finally, I recently finished The Last Resort by Marissa Stapley. This one only took me about a day to read! Suspenseful and with many interesting characters, this one kept me turning pages and excited to find out what would happen next.
"The Harmony Resort promises hope for struggling marriages. Run by celebrity power couple Drs. Miles and Grace Markell, the 'last resort' offers a chance for partners to repair their relationships in a luxurious setting on the gorgeous Mayan Riviera. Johanna and Ben have a marriage that looks perfect on the surface, but in reality, they don't know each other at all. Shell and Colin fight constantly: after all, Colin is a workaholic, and Shell always comes second to his job as an executive at a powerful mining company. But what has really torn them apart is too devastating to talk about. When both couples begin Harmony's intensive therapy program, it becomes clear that Harmony is not all it seems—and neither are Miles and Grace themselves. What are they hiding, and what price will these couples pay for finding out? As a deadly tropical storm descends on the coast, trapping the hosts and the guests on the resort, secrets are revealed, loyalties are tested and not one single person—or their marriage—will remain unchanged by what follows."
This book does address some difficult topics such as domestic abuse. Everyone seemed to have something to hide and the revealed secrets were unexpected for me. I found myself wondering about the other people at the resort who were only mentioned in passing – I bet they had their share of secrets too! I liked the setting and the descriptions of the resort, which definitely added to the story. This was another great read for summer time!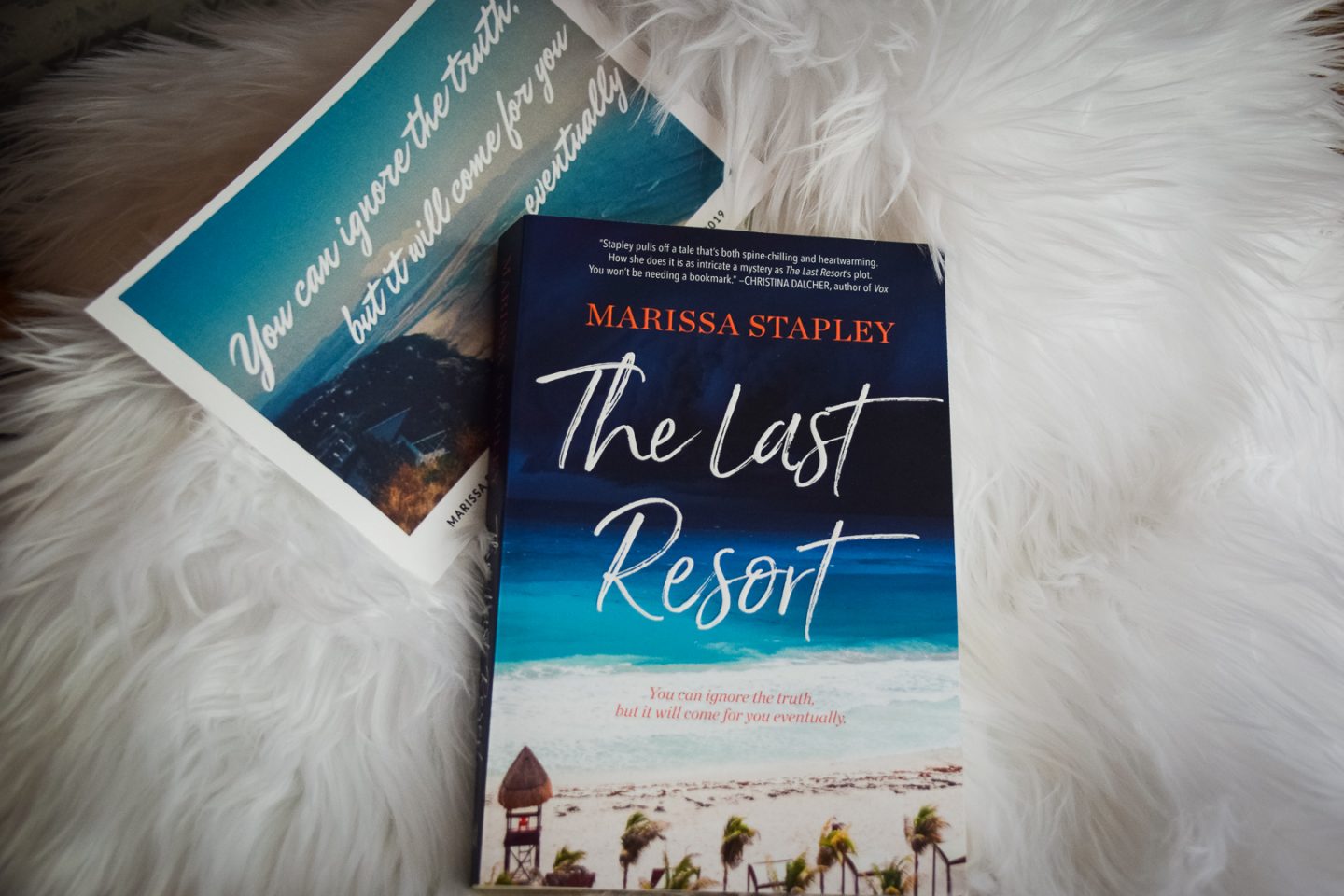 ---
Phew. Still with me? I felt like maybe I should have split this into more than one post, but then I just powered through and got these all out into this post. Have you read any of these books?
What have you been reading lately?