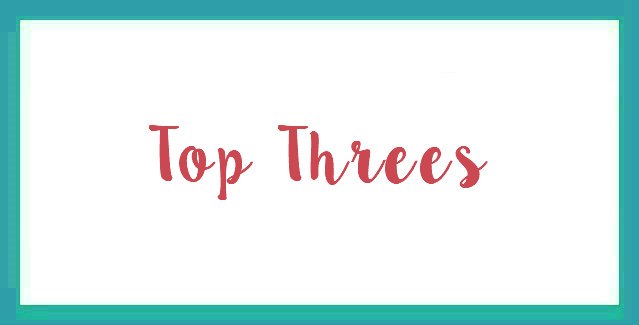 Normally on Wednesdays I blog about things we've been up to lately. However, there just hasn't been all that much happening. So today I decided to steal an idea from Shay at Mix and Match Mama and post a list of my top 3 things in a variety of topics.
Top Three…
Current TV Shows
This Is Us
The Good Doctor
9-1-1
Past TV Shows
Lost
Gilmore Girls
Friends
Recent Family Trips
Disney
Yellowstone
Israel
Favorite Cities in the USA
New York City
Washington, DC
Chicago
Favorite Holidays
Sukkot
Purim
July 4th
Places I Still Want To Visit
Iceland
New Mexico
Yosemite
Things I Buy At Trader Joe's
Feta Cheese
Riced Cauliflower
Flowers – and Spices!
Dinners To Make For The Kids
Pasta
Tacos
Pizza
Apps I Waste Time On
Instagram
Candy Crush
Cross Stitch World
Colors In My Wardrobe
Black
Gray
Teal
Favorite Disney Rides
7 Dwarves Mine Train
Soarin'
Test Track
Hobbies
Blogging
Photography
Reading
Names I Considered But Didn't Name My Kids
Jacob
Liana
Sabrina
Memories From My Childhood
Summer at my day camp
Going to Wildwood
My dog
Movies To Re-Watch With The Kids
Sing
The Greatest Showman
Finding Nemo
Things I Look Forward To Daily
My kids leaving for school
My kids getting home from school
Coffee
Now, if you want me to list any more top threes, name them in the comments!