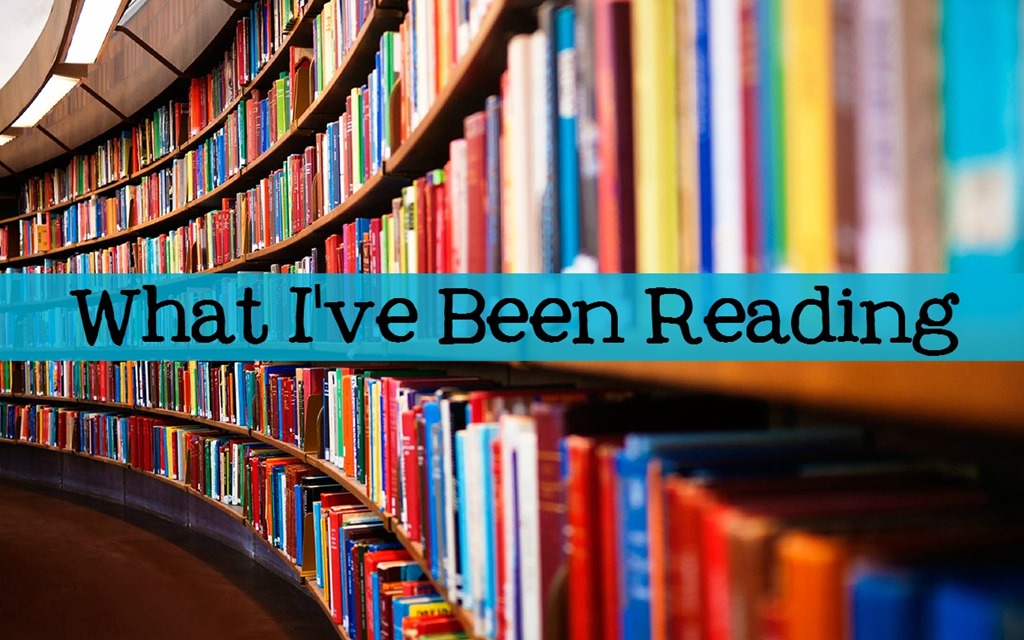 These books are the last three I read in 2018 and the first I read in 2019!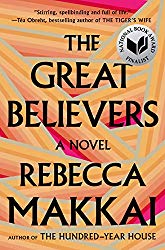 The Great Believers by Rebecca Makkai was the first book I picked off of my new To Be Read list that I made based off of the GoodReads and NPR best books of 2018 lists. I really liked it and it was eye-opening regarding a time I really did not know much about, although I lived during that time myself.
"In 1985, Yale Tishman, the development director for an art gallery in Chicago, is about to pull off an amazing coup, bringing in an extraordinary collection of 1920s paintings as a gift to the gallery. Yet as his career begins to flourish, the carnage of the AIDS epidemic grows around him. One by one, his friends are dying and after his friend Nico's funeral, the virus circles closer and closer to Yale himself. Soon the only person he has left is Fiona, Nico's little sister. Thirty years later, Fiona is in Paris tracking down her estranged daughter who disappeared into a cult. While staying with an old friend, a famous photographer who documented the Chicago crisis, she finds herself finally grappling with the devastating ways AIDS affected her life and her relationship with her daughter. The two intertwining stories take us through the heartbreak of the eighties and the chaos of the modern world, as both Yale and Fiona struggle to find goodness in the midst of disaster."
There were many themes running through this book including family, friendships, art, and illness. The book alternates between the 80s in Chicago and the present day in France. The more interesting sections to me were the ones taking place in the 80s. I did not know how fast growing and scary the AIDS epidemic was in that community. It was heartbreaking that even though the main characters new how AIDS was spread, they still made a lot of mistakes when it came to protecting themselves from it. When a novel makes me want to research its subject matter further, I know it has done a great job drawing me in, and this one definitely did.
---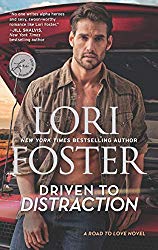 After the above,I felt like I needed a much lighter read, and Driven to Distraction by Lori Foster fit the bill. I received this book from Harlequin Publishing in exchange for a photo I posted on instagram. A romance at its heart, this book also contained a bit of a mystery and some suspense, which made it an overall fun read.
"Mary Daniels doesn't let anything get in the way of her job acquiring rare artifacts for her wealthy boss. But this particular obstacle—huge, hard-muscled, unashamedly masculine—is impossible to ignore. Stuck in a cramped car with Brodie Crews for hours en route to their new assignment, Mary feels her carefully crafted persona—and her trademark self-control—is slipping, and she won't allow it. Brodie can't imagine what secret in Mary's past has left her so buttoned-up, though he'd dearly love to find out. Maybe then she'd trust him enough to explore their explosive chemistry. But he needs this job, so he'll play by her rules and bide his time…until an enemy determined to outwit them strikes and he needs to get close—in every way—to protect her. Otherwise they could lose much more than a precious collectible. They could lose it all."
I thought Brodie's attraction to Mary was very cute. Having a difficult childhood effected Mary's personality and she wasn't sure about letting Brodie in, but as they deal with a difficult work situation, she realizes how much she cares for him. Throughout the time Brodie and Mary spend dealing with the situation, Mary realizes how her other co-workers care about her and that she may just have created a family completely different from the one she grew up in.
---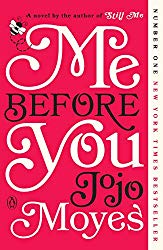 I thought the above would be the last book I finished in 2018, but I started this one and I couldn't put it down. As you all know, since I'm the last to read this book, Me Before You by Jojo Moyes is an amazing novel!
"Louisa Clark is an ordinary girl living an exceedingly ordinary life—steady boyfriend, close family—who has barely been farther afield than their tiny village. She takes a badly needed job working for ex–Master of the Universe Will Traynor, who is wheelchair bound after an accident. Will has always lived a huge life—big deals, extreme sports, worldwide travel—and now he's pretty sure he cannot live the way he is. Will is acerbic, moody, bossy—but Lou refuses to treat him with kid gloves, and soon his happiness means more to her than she expected. When she learns that Will has shocking plans of his own, she sets out to show him that life is still worth living."
What can I say about this book? It was sweet, heartbreaking, and uplifting. Louisa obviously has much more in front of her to follow in the other two books in this series, so I had better catch up with everyone and read those too! The only thing I found strange about the book was the random chapters told from a different perspective. It seemed to me that once you had most of the story told from one character's view point, it didn't make sense to suddenly add in another. However, this did little to change my opinion of the book – it's a must read for sure.
---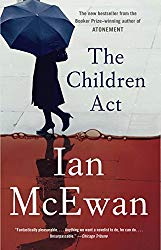 The first book I finished in 2019 is my book group's latest pick, The Children Act by Ian McEwan. I thought it sounded like a good choice and I recalled reading Atonement by the same author and that I liked it, but it was long. The Children Act is much shorter. And I was wrong that I liked Atonement, as I looked at my rating of it on GoodReads and I'd only given it two starts!
"Fiona Maye is a leading High Court judge who presides over cases in the family division. She is renowned for her fierce intelligence, exactitude, and sensitivity. But her professional success belies private sorrow and domestic strife. There is the lingering regret of her childlessness, and now her marriage of thirty years is in crisis. At the same time, she is called on to try an urgent case: Adam, a beautiful seventeen-year-old boy, is refusing for religious reasons the medical treatment that could save his life, and his devout parents echo his wishes. Time is running out. Should the secular court overrule sincerely expressed faith? In the course of reaching a decision, Fiona visits Adam in the hospital—an encounter that stirs long-buried feelings in her and powerful new emotions in the boy. Her judgment has momentous consequences for them both."
I'm not really sure what the point of this book is – that decisions have consequences? I felt like there were so many different ways the book could have concluded but I didn't find the ending uplifting and instead when I finished I was quite ready to move on. It will be interesting to see how my book group feels about this one!
What have you been reading lately?