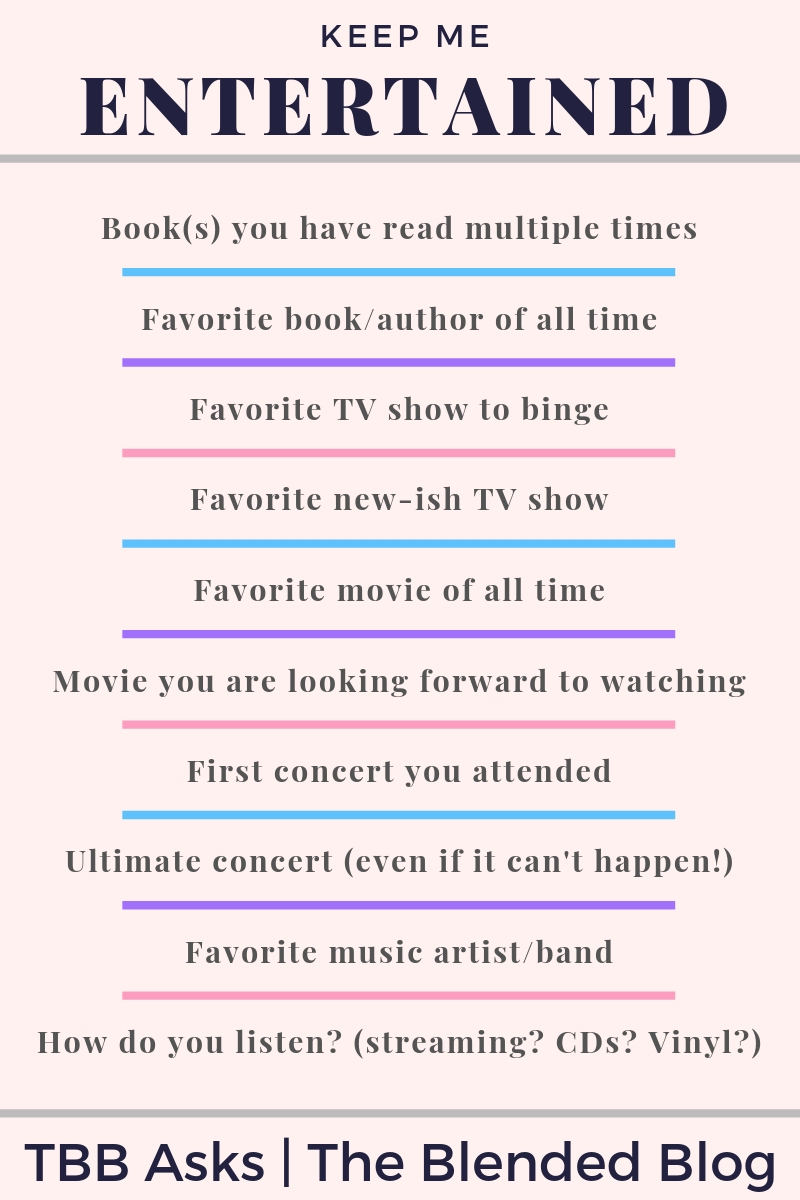 The first Monday of the month means it's time to answer questions from The Blended Blog! This month's questions are all about Entertainment – fun topic!
1. Books you have read multiple times:
The Time-Traveler's Wife, A Widow For One Year by John Irving, and the Harry Potter series.
2. Favorite book / author of all time:
Jodi Picoult is my favorite author. My favorite books are the ones I mentioned above!
3. Favorite TV show to binge:
I normally only binge a TV show once, but some of my favorites that I binge watched included Criminal Minds and a rewatch of Friends.
4. Favorite new-ish TV show:
My new this season favorites are Manifest, A Million Little Things, and New Amsterdam. I also love 9-11, The Good Doctor, and This Is Us.
5. Favorite movie of all time:
Rain Man and When Harry Met Sally
6. Movie you are looking forward to watching:
Mary Poppins Returns.
7. First concert you attended:
Debbie Gibson in 1989.
8. Ultimate concert:
I have seen these artists in concert and would love to see them again. Together? That would be fun! Billy Joel, Elton John, James Taylor, Simon and Garfunkel, and Chicago. Artists I haven't seen but want to include Bruce Sprinsteen and Bon Jovi.
9. Favorite music artist / band:
Billy Joel.
10. How do you listen?
CDs, satellite radio, regular radio, iTunes collection!
Now tell me about some of your favorite entertainment!