A few weeks ago, I shared that I signed up for Dealspotr, but I also shared that I wasn't quite sure what it was all about. After a bit of exploring, I think I have it figured out, and I wanted to share how to use Dealspotr – both to find deals and to earn cash back.
What is Dealspotr?
Dealspotr is a crowdsourced coupon and deal site, which means that their 30,000 members add, edit, and police all the deals on Dealspotr to ensure the deals are accurate and complete. Dealspotr employs modern social networking and search technology and is completely driven by real people. Members earn rewards based on their success at helping other people save, so deal are comprehensive and accurate. Also, Dealspotr does not have duplicate discount codes to comb through, therefore taking you less time to find the code you need. Dealspotr coupons and codes were found to have a higher accuracy than other top couponing sites as shown here:
How To Use Dealspotr:
1. Sign up for Dealspotr. This link includes my referral code. If you join using my code, I will get a bonus. This will also earn you 5000 points, as opposed to 1000 if you join without a code.
2. Go to your feed. When you first log in to Dealspotr, you will see the main deals page. You will see the trending deals of the day, the navigation bar at the top, and ways to jump to different types of deals along the side. You can also click on My Feed at the top, which you can modify to show you deals tailored to your own interests.
This is what you will see when you first click My Feed:
I chose Fashion, Beauty and Cosmetics, Travel, Gifts and Gift Ideas, and Kids Clothing to get my feed started. Next, I was asked to choose which stores I liked. I chose Starbucks, Target, and Amazon.
3. Find Deals. Now, my feed shows me deals I might be looking for. Of course, I can also search for the store I am shopping at!
By clicking on the Stores link, you will see popular stores, a way to browse the stores alphabetically or by category, and a search box. You can also browse through deals on the Interests page, or use the Deals menus to search for deals such as those with free shipping, online versus in-store, or Freebies!
4. Share Deals. Now that you know how to find deals, here's how you can give back to the community and earn yourself some rewards. On the front page of Dealspotr, you will see a blue box that you can click on in order to add a deal. Or you can go directly to the Post A Deal page.
You will need to go through the steps in order to share your deal. I am going to share a deal for Fliptomania Art Flipbooks which I just received in my email in order to show you how it is done. Please note that this deal is valid through March 25, so if you are reading this post later, this deal may not be accurate! You will need to enter the store that is offering the deal and choose whether it is a promo code, a coupon, sale announcement, or in-store promo, or a deal on a specific product at a noteworthy price. I chose that I am sharing a sale announcement.
Next, you describe the deal, choose whether it is a site-wide deal or not, provide a link to the deal, specify whether the deal is printable or in-store deals, and mention if your deal is a personal referral code. You can't use affiliate links but you can use referral codes for apps like Groupon and Uber if you disclose that you are doing so. You also need to specify if your deal is on a specific brand or manufacturer, if the deal comes with other goodies such as a freebie or free shipping, and the expiration date of the sale. Now you have to validate your deal, which to me is the most annoying part.
You will need to upload a screenshot of the deal, either of the deal working at checkout or of the promotion, ad, or email about the deal itself. On my computer, I use the Snipping Tool program to easily take screenshots.
Adding this deal earned me 40 points at Dealspotr.
I am a pretty new member so I am only allowed to share or validate 10 deals per day. With time, you are able to share and earn more. You also get more points based on your accuracy – mine is only at 2% right now, but if it was higher I would earn more points.
5. Other ways to Earn Points. If you try to share a deal and it is already on the site, you can validate the deal that someone else shared and earn points for that as well. Each day there is a daily checklist, which by completing you can earn bonus points. If you are a blogger, you can become an influencer and earn more points. (if you need an influencer access code, let me know!) If you find codes on requested stores, you can get 3x the points! If your deal is "liked" by a lot of people, you get more points. At 10,000 points, you can redeem for a $10 Amazon gift card, or if you reach gold level, you can redeem your points for paypal cash.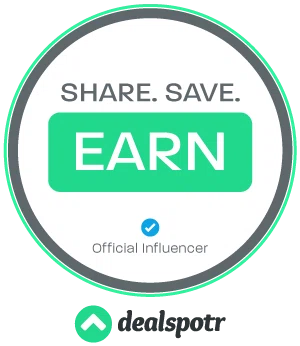 Have I inspired you to try Dealspotr? I hope so!