With that title and the propping of the episode based on the fact that Lena Dunham was guest starring, I should have known that it wouldn't be great. Maybe Scandal and Olivia need to hit rock bottom before things can get better??
Basically, what happened was that Lena Dunham's character Sue wrote a tell-all book about 17 men in government roles that she slept with and detailed all of their crazy actions in bed. Leo, Abby's current boyfriend, was one of the men, and Abby realized that if it came out that he was in the book, her job as press secretary would be in jeopardy. Olivia went and threatened Sue to shut down the publication of her book, but Sue turned around and told Olivia she was no longer powerful and that she should live her life on her own terms like Sue herself does. She said she would not publish the book if she is paid 3 million dollars. So Olivia's team figured out who all the men were and brought them together, telling them they each needed to pay $175,000 to contribute towards the payment. This plan was foiled by David Rosen, who was also in the book and who as Attorney General decided he couldn't go along with the plan. Olivia and the team found out that Sue was writing her book out of anger, because as it turned out, she was fired from her job when she wouldn't sleep with her boss, and now she couldn't get any interviews. Sue agreed not to publish the book and instead reported her former boss's actions and Olivia got her an interview with the Washington Post. All sounds well and good right?
Things aren't that easy in the Scandal world. Because David is moving forward with his investigation of B613, Huck negotiated for immunity on all of his past crimes. However, he realized that Sue would eventually tell her story even though she agreed not to, and if her story came out and implicated David, he would no longer be Attorney General and would not be able to grant Huck immunity. Therefore, Huck slit Sue's throat. It seems that Olivia no longer has Huck on a leash and he's back to killing people – and Quinn protects him by convincing Olivia not to go after the person who killed Sue because that would in the end hurt Abby.
So Olivia protects everyone because she is the protector, but in the mean time, Fitz somehow has Jake working for him again, spying on Olivia and reporting how she is coping. Obviously Fitz cares about Olivia, but how he is friends with Jake again makes no sense to me. Olivia is still suffering greatly from her experience being kidnapped, and because she won't let anyone protect her, she takes some of Sue's advice and goes out to a bar to meet a man. Because obviously, a man will cure her. At first, she is unable to proceed with her plan to bring the man home because she has a flashback of her kidnapping. At the end of the episode though, she meets the same man again and does bring him home. She doesn't tell him her real name, but she does show him where she lives and she has no idea who he is. After just being kidnapped straight out of that same location. Makes sense to me, how about you?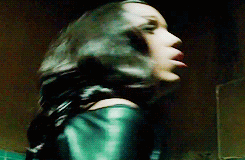 [source]
I mean, Olivia has always used sex to escape her problems. In the past, when having doubts about her relationship with Fitz, she has slept with Edison, and more recently and more obviously, she has used Jake to try to get over Fitz. Now she appears to be trying to get over both Fitz and Jake, and when Cyrus talks to her about the fact that the two men have been meeting for drinks, Olivia says she doesn't care and that she's moving forward. Moving forward to what, Cyrus asks. Exactly.
I don't think Olivia is going to be allowed to heal from the trauma she went through. Instead, the show seems to be implying that sex will heal her – using such songs as Sexual Healing by Marvin Gaye and Dr. Feelgood by Aretha Franklin. However, the actor playing the man from the bar hinted on twitter that his character will return, which makes me think he was sent to sleep with Olivia for a reason – just like Jake was sent for that same thing in the past. Which will of course, further ruin Olivia. Because she hasn't been through enough already.
The decimation of Olivia's character is absolutely crazy. She used to be smart and use her brain to get what she wanted, now she uses her sexuality. She used to be fine being single although in love with Fitz (in season 1), now she needs a man. Abby spoke to Leo about how as Press Secretary, she is evaluated by her looks and who she is dating, but Olivia acts in complete opposition to that fact – as if what she does will not effect her at all. In the end, she is still traumatized and choosing to bring a strange man to her home (who can very well end up being even worse than her men of the past) is not going to help that.
I do not believe the show will improve until Olivia is allowed to recover or something major happens to turn everything around. Again.