I am once again co-hosting This Momma's Meandering Mondays! If you are a blogger, please join in, and if you're visiting for the first time, please say hello in the comments!
---
Welcome to our final week of This Momma's Meandering Mondays for the month of January! We will say goodbye to our amazing January co-hosts, and we offer them our gracious thanks for all that they have done this month. Now it is time to join in on the fun and make some new friends, find a new yummy treat to make, or find a wonderful new craft idea to make. This is a great way to grow in your friendships! But before we start this party…Grab a badge!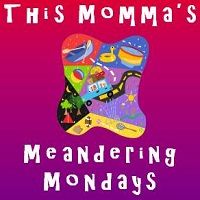 Say howdy to my linky party co-horts… The wonderful Jessica from The Wondering Brain and Natasha from Epic Mommy Adventures.

Now join me in welcoming our amazing January co-hosts! The very amazing Vashti from from Vashti Q Vegas Blog! "Writer of Fiction, adventurer, lover of animals, nature and chocolate covered strawberries."

The very wonderful Lisa from Chronically Content! "I enjoy writing about my journey with Chronic Illness and how I have a desire to be content. It's a challenge and I fail often, but turn to God's Word for strength and encouragement. My life, like yours, is very busy. I'm a stay-at-home-mom who is homeschooling and trying to live a frugal lifestyle. Because of my health problems, this is very difficult. I'm sure I could learn many tips from you, so feel free to share."

The very fabulous Dara from Not In Jersey! "Dara is a mom of 3 kids who loves blogging about their adventures. She also loves reading, Disney, the show Scandal, traveling, and more!"

Grab a badge and join the party!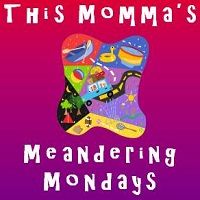 Now it is time to introduce our favorite This Momma's Meanderer's from last week, and boy oh boy it was a difficult choice! Don't forget to grab your "I Was Featured" badge of honor! Congratulations to you all!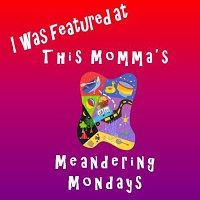 Jessica's favorite post came from The Mad Mommy with the post "Focusing On What Counts"! Saying, "As parents we tend to forget what's important – all the advice from everyone else or what or who actually counts. Thanks for sharing the story and reminding us on who counts – our children!"
Natasha's favorite post came from Joy's Jots, Shots and Whatnots with the post "How to Make Your Digital TV Smart"! Saying, "I've been considering cancelling my cable subscription and trying some alternatives for quite a while now. The trouble is that no one has Nick Jr and my son loves Nick Jr. I've been eyeing Chromecast because it's so cheap – now I'm convinced, I'm going to buy it. Great post!"

Lisa's favorite post came from Let It Shine with the post "20 Inspiring Valentine Mantels"! Saying, "It has wonderful pictures. They are big and beautiful and the post is very descriptive, but gets my creative juices flowing and inspires me to try, too!"

Dara's favorite post came from Lou Lou Girls with the post "Family Activities to Survive January"! Saying, "January is a long and cold month. These ideas for family activities will help us make January more exciting!"

My favorite post came from Darlene Nemeth with the post "How Gratitude Changed My Life"! Through years of struggling with depression, I have learned that even the struggles that I must face are blessings in disguise. I am blessed in ways that I never dreamt I would be and am so thankful for it all!

Congratulations to all of you amazing and wonderful linkers! Don't forget to grab and display our "Featured" badge!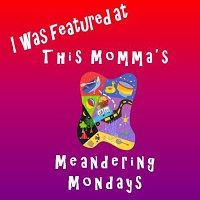 Thank you to all of you who joined us last week!
I am looking for February co-hosts for This Momma's Meandering Mondays? If interested, please drop me a line at ssgannett@gmail.com. I would love to have you along for the ride! You can also check out my sponsor page for more info.
Now let's get this party started!


Remember everyone enjoys a little comment love! Feel free to "meander" by some fellow bloggers and find a new recipe to make for the family, a helpful blogging tip, a funny story to read, and best of all a new friend to make! There are really no rules to follow, only some suggestions to keep in mind…because we are all to enjoy the friendships that come along by doing these few simple and wonderful things… 1. Link up your favorite post…a story, a recipe, a photo, or a helpful tip…As many as you want, that's right as many as you want!!!! 2. Please follow our Host's and Co-host's 3. Find some new friends to follow, friendships are what it's all about! 4. Be sure to leave some comment love, to get it in return. 5. Grab our badge and display on your blog, sharing the love is what it's all about. Meander through the links and make some new friends, find some amazing and useful tips, and maybe even a new treat to try!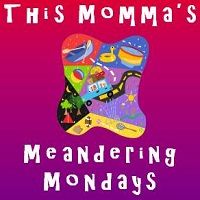 This Momma's Meandering Mondays welcomes you to link up all of your favorite sites, so that we have more opportunity to Meander around and share the love! So happy Linking everyone! Blog Link Up: Facebook Link Up: Twitter Link Up: