Welcome back to Scandal Sunday! Did you all catch this week's new episode (#309 YOLO)? This week was my first official Scandal Thursday because the last new episode was on just after I finished catching up with the show, so I didn't have to wait at all for a new episode to come on. This time I was so excited for it to be time to watch! Now there is only one new episode before the show goes on hiatus until February 27. I'm not quite sure what I'll do with myself while waiting over two months for a new episode! It might involve watching the series from the beginning again! Beware: This post will probably contain spoilers if you aren't all caught up with the show.
Today I wanted to discuss families. If you watch Scandal, I'm sure you've noticed that none of the main characters have families, or at least good family dynamics. Take Huck for example. We don't know if he has parents, but we do know that he was married and had a son. They were taken away from him by B613, and I believe this was because he couldn't have a family while doing his job.
Huck was watching a family outside their house, but Becky killed them to get at him. Then there's Quinn – her mother died and her father gave up on her after she was framed for the Cytron explosion. So Huck found her a new family.

[source]
Huck also called Quinn part of his family in this week's episode. And being that we don't know anything about Abby's or Harrison's families, I think we can assume that Olivia Pope and Associates are each other's families.
Which of course leads us to Olivia's family. Talk about messed up! Olivia was 12 when her mother left for London and the plane she was on crashed. Twenty-two years later, her mother has reappeared and Olivia finds out she was not on that plane at all. Olivia did not live at home after her mother left and later discovered that her father is the head of the government's top secret spy organization (B613). I thought that possibly Olivia's father had to get rid of his wife and daughter just like he had to get rid of Huck's wife and child – to do his job, he couldn't have a family. At the same time, he is shown to continue visiting his wife in the prison she remained in for the twenty-two years she was missing, and to keep up with his daughter by bribing her into having dinners with him. Right now, we don't know what Olivia's mother did to land her in prison, or whether her father was protecting his family or is just evil, as Olivia originally believed.
Next, there's Fitz. His mother died and his father was emotionally abusive to him (as well as a womanizer, rapist, and all-around jerk). However, Fitz cried when his father died. The person who understood his pain was Olivia.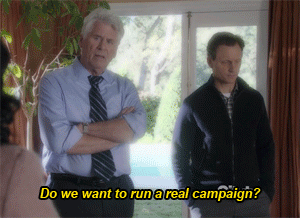 [source]
The relationships these two had with their fathers is just another component in their undying love for one another. It has been pointed out on the show that Olivia tends to get involved with older men, and Fitz does fit that profile, being 50 to her 34. He's not quite old enough to be her father, but he's a loving, older male figure who can take care of her. And while it may be dysfunctional in some ways, it works for them.

Doesn't everyone want to be held sometimes?
What do you think of the family dynamics on the show? Is it ok to take dysfunction and turn it into love? Do you think Olivia's father got rid of her mother (and sent Olivia to boarding school) for their protection? Who do you think is more evil, Olivia's mother or father?