Ah, potty training. It's the best and worst part of parenting. You so desperately want to be done with diapers, but it can be so frustrating getting your child to understand that wish! Now I know some people have the luck where their child potty trains themselves below the age of 2 and it's all smooth sailing with no yelling or crying on the part of either of you. I was not that person.
Simon is my 3rd child and although I'd successfully potty trained two older kids, I still had no idea how to potty train him! I guess I'd blocked out how I did it with the other 2. Here's what I remember. Gabbie was very hard to potty train. I don't know what I tried though – did I put her in underwear or pull ups? Did I just hope for the best without knowing what I was doing? What I remember is her hiding behind a large toy and pooping in her pants after we'd tried sitting on the potty and she had done nothing. I remember calling my friend in frustration and begging her to help me. I remember being at a Moms' Club event and Gabbie being in a bathing suit and her finally pooping on the potty at the host's house. Gabbie was 3 years and 4 months by the time she was completely potty trained. She turned 3 in April and had to be trained by September for preschool – and she was. Mostly.

Ha.
Now I know they say girls are easier, but Gabbie was so difficult that I didn't know what would happen when it came time to train Zachary. Sure enough, he was harder. His birthday is in June and he was not potty trained by the time he started 3 year old preschool. In December, when he was 3.5, we switched him to underwear and he was able to pick up pee training quickly. Pooping was another story. For awhile, Zachary had announced when he needed to go poop, but refused to do so in the potty. And I didn't know how to make him! So I continued to hand over a diaper whenever he had to go. He desperately wanted Toy Story 3 on DVD and when I placed it in the bathroom, telling him he could have it when he pooped in the potty, he said he didn't want it anymore. Finally, when we were in Israel and Zachary was 3 years and 10 months old, Dave got him to poop on the potty. Once he saw he could do it, he wasn't scared anymore and he was fully potty trained. (This accomplishment also called for a celebration party with his cousins and chocolate cake!)

Zachary in Israel at the time of becoming fully potty trained.
Simon is currently 3 years and 2 months old. Two weeks ago, it was raining on a Saturday and we decided it would be a good time to stay home and work on potty training him. Dave seriously did the whole thing and I am so grateful. He is much calmer than I am and dealt with the accidents that Simon had by having him not wear pants at all. This resulted in us seeing that Simon actually could hold in his pee. We brought him to the potty often and he was successful. At first, he received a plane toy (like Matchbox Cars but planes) each time he peed. He also would eat an M&M. He eventually earned all of his planes, but he continued to cheer for himself and eat M&M's each time he used the potty. He had one accident the first day he went to school in underwear, but since then he has stayed dry. He even says when he needs to use the bathroom. Poop training is much harder, since it doesn't happen as often! Simon actually has pooped in the potty, unlike Zachary at the same age, but he has also had many poop accidents. We are hoping he will catch on soon!

Simon the big boy.
Some of the issues that we have with Simon are that since he stands to pee, when he sits to poop he inevitably pees all over the room. He also misses the potty sometimes when he's standing! He has woken up a few times in the night to use the bathroom, and since he needs help, that means we wake up too. Other than that, I'm quite thrilled by how this is going so far! He is at a great age to feel proud of himself, to tell everyone that he's not a baby anymore, and to learn that using the potty is lots of fun! And by the way, potty training Simon was on my list of 35 Things To Do This Year – and I'm counting it as done.
Was potty training your kids easy or hard for you? Wait, if it was easy, don't tell me!
---
Here is someone who I'm sure had an easy time potty training her toddler Reagan.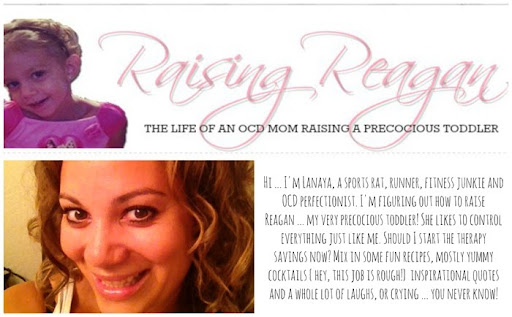 blog | twitter | facebook | pinterest | instagram
I truly admire Lanaya and the success she has had in blogging. She is great at leaving comments and getting to know other bloggers. If you are ever thinking of sponsoring a blogger, Lanaya is your girl! I love reading about Lanaya's successes at the gym as well. She is one strong mama who is also working on letting go!
This month I asked my sponsors 3 travel related questions. Lanaya says:
If you could travel anywhere, where would you go? Bora Bora!!
Where have you previously traveled that you loved and would return to? I would love to go back to Europe. I spent a summer there after high school and Italy and Greece were amazing. I can't wait to go back and experience it more now that I'm older.
Do you have any upcoming travel plans? I'm moving! Does that count as travel? I'm moving to sunny Phoenix, Arizona!
Go visit Lanaya and tell her I sent you!
Want to be featured here? Email me at dara00 @ gmail.com.