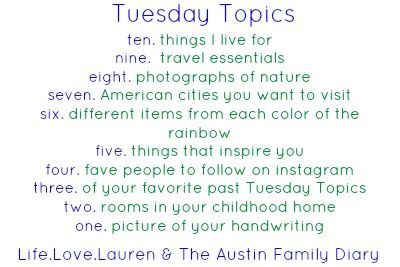 Aside from following my friends, which I love to do, there are some instagram users that I love to follow that I don't know personally (or via their blog).
1. Target Does It Again. This features photos of the cool things you might find at Target. For example:

"MAD for plaid. This sheer blouse by xhilaration is perfect for the summer to fall transition. $22.99 // #targetdoesitagain #indiansummer"
2. Becky Higgins LLC. The creator of Project Life posts photos of new Project Life products, etc.

"Something fun to look forward to next week: Lots & LOTS of sharing of the new #ProjectLife edition (with a twist!) that's coming to HSN on Sept. 17th!"
3. Disneyland. This is the official Disneyland Instagram, where favorite guest photos are shown.

"5,4,3,2,1… #CaliforniaScreamin (Photo: @dirka)"
4. Meg Duerksen. Ok, I do follow this girl's blog, so maybe I "know" her, but her pictures are so amazing! I love the colors and the style she uses.

"If you had to guess… what song do you think she was singing?"