Before I get to today's regularly scheduled post, I wanted to share this movie trailer:
This movie, THE SHORT GAME follows the lives of eight of the best 7-year old golfers in the world as they train for and compete in the World Championships of Junior Golf. The annual tournament held at golfing mecca Pinehurst, North Carolina, brings in 1500 young golfers from 54 different countries and determines who will be crowned golfs next phenom. In its course, the eight stories entwine to form a fascinating and often funny portrait of a group of very young athletes and their families, in which the narrow-focused, peculiar and highly competitive junior golf subculture becomes both a window into contemporary global society and an inspiring reflection of the human condition. The Short Game is opening in theaters on September 20th, so be sure to check it out!
---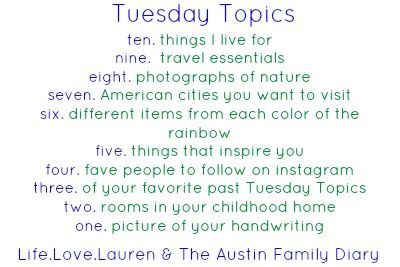 As you know I've been doing Tuesday Topics posts for months now, so I have a lot to choose from for my top 3 past topics! Here are my favorites:
9 Things I Won't Change My Mind On – A little bit controversial, a lot about my opinions.
4 Things About Me – Just a bit about me to get to know me better!
1 Guilty Pleasure – My all time favorite post that came about via Tuesday Topics. It's about Mommy Guilt.
---
I usually include my Literary Junkies questions in my What I've Been Reading posts which go up on Fridays, but I will be offline for the next two Fridays, so I'm linking up today!
1. What are you currently reading? Tell us about it.

I am currently reading Painted Hands by Jennifer Zobair. Stay tuned for my review on October 4th, but so far I'm loving it!
2. Autumn is coming! What's your go-to drink when curling up with a book at night?
I normally don't drink while I'm reading, but hot chocolate sounds great for that!
3. Printed books vs. e-books: What are the pros and cons of each?
I pretty much only read printed books. There is a big reason for that too and that is Shabbat. I read the most on Shabbat and I don't use electronics on Shabbat, so I need my books in print! Plus, there is that lovely feeling of a real book in my hand that I would miss if I gave it up.
4. Buying books vs. library books: Which do you prefer and why?
I most often use the library, mostly because I don't like to spend money on a book if I don't know if I will love it. I tend to buy used books or get them through swaps if I do have my own copy. I like having books that I can lend to my friends, but overall I prefer to get my books at the library.
How about you? Printed vs. ebooks? Buying vs. library? Let me know!