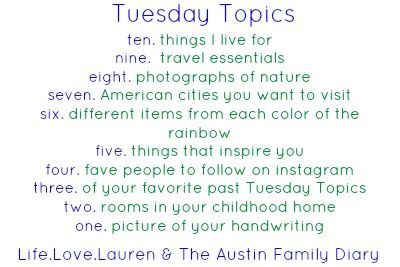 Yay! Lauren and Tiffany started up a new round of Tuesday Topics and today is week 1. Don't the topics look interesting? I know I'm excited! So today's topic is 10 things I live for. For some reason I'm having a hard time thinking of things I live for! Besides the obvious –
1. My husband and kids!
2. The good days.
3. Bedtime after a long day.
4. The times we all go out as a family – and the times I get to stay home.
5. Getting a good price or a bargain.
6. Happy memories.
7. The days Dave gets home after he's been away for work.
8. Yummy food.
9. Good times with friends.
10. Me. If I don't live for myself, what else should I live for?

(But mostly this).
By the way, if you want to see more pictures like the ones above, come back tomorrow!