Something that has happened since I started reading blogs – I have gotten into painting my nails. I like doing it and I like how it looks. Certainly I'm always looking for fun styles and colors, plus for the best nail polish on the cheap – I can't spend $8 on every new color I want! So I was very excited to try out Sinful Shine Nail Polish with Gel Tech, which I found in my Influenster Sun Vox Box.
Firstly, I have to admit I was not thrilled with the color I received – Man Hunt, which is a dark green. I was expecting to find a summery color! However, I tried it out for the purposes of this review, and I was pleased with how the color looks – for winter time. I will definitely be using it again then!
The polish goes on easily and smoothly and has a lovely shine to it.

Right after applying

A week later
My nails were looking great with no chips after a week of this polish. I removed it because I wanted to wear another color polish (which by the way has already chipped after 3 days of wear), but other than that, there was no reason to remove the polish. I also noted that although this is called "gel tech," it was easily removable with regular nail polish remover.
Sinful Shine Gel Tech is available exclusively at Walgreens – and oh yeah! Remember I mentioned not wanting to spend $8 every time I want a new nail color? Well, this only costs $2.99! This morning I went to Walgreens to check out what was available and I picked out a more summery color to try – Come Hither, which is a bright pink and can be seen under the yellow on the right side of this picture.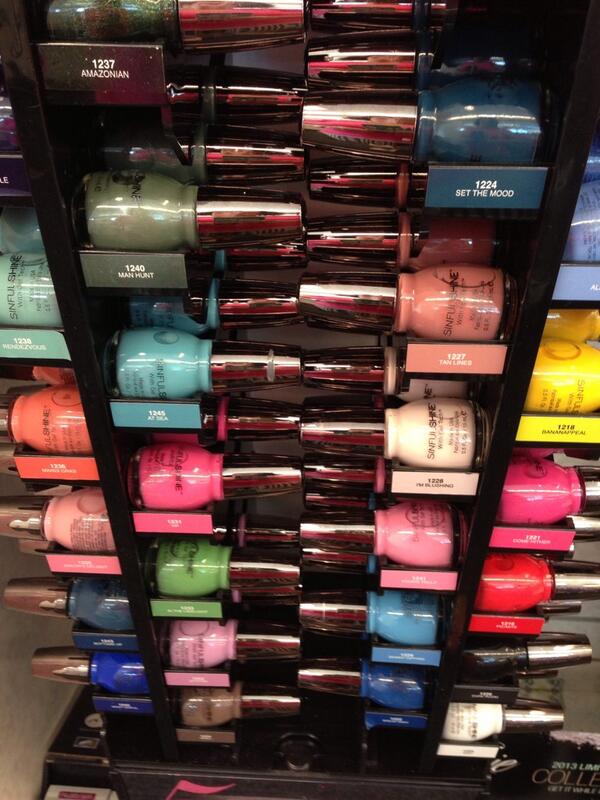 Do you see any colors you would like to try?
I received this product to review from influenster. I did not receive any other compensation for writing this post. All opinions in this post are my own.