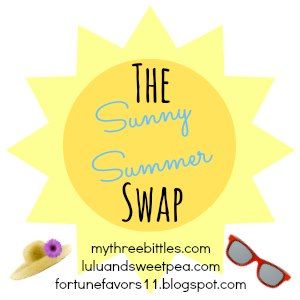 Amber, Melissa, and Sarah hosted this exciting swap – exciting because summer is my favorite season and what better way to get ready for summer than through a swap! I was paired up with Liz, who sent me an awesome email all about her. I replied and told Liz about myself. We swapped addresses and patiently awaited our swap boxes.
Look what I got!

My first reaction – wow!

My 2nd reaction – I sure hope I sent enough to Liz! Her card mentioned there was something else on its way too!

Aww! She thought of the kids!

I decided this notebook will be Gabbie's new journal, since she lost hers. I put it and the coloring books into the bird bag you see in the 2nd photo and put them aside for the kids.

This gorgeous necklace went on straightaway. The nail polish is amazing – I will have to figure out how to do an ombre nail design since the nail polish says it's an ombre nail kit! I also got aloe lip balm!

And these bracelets, which just scream summer to me, with these colors and also the fact that I used to make and wear tons of friendship bracelets every summer.

This artsy piece reminds me of the Animal Kingdom! I believe it will be joining my entry hall wall soon.
The next day I received the other thing Liz mentioned in her card – a copy of Speak by Laurie Halse Anderson. I can't wait to read it!
Liz, thank you again so much!!