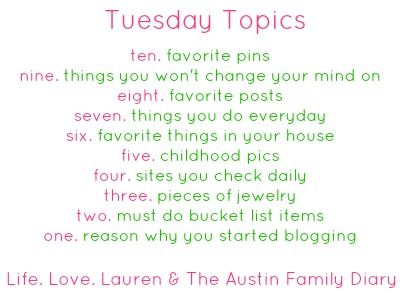 Four sites I visit daily…probably the same sites everyone visits daily! I'd have to say my four sites are predictable!
Firstly, bloglovin. I have been using bloglovin to read blogs since the Google Reader debacle. I start at the bloglovin homepage and then use the Newer and Older navigation buttons to read the blogs on my reading list. So if a blog is updated daily, I most likely read it daily, but it would be difficult to name all the blogs I read daily, so I'll just leave it with bloglovin!
2nd of course would be facebook. If I don't read facebook, I'm behind on all the news, both personal and political. I always say I get all of my news from facebook.
Lately I've been visiting twitter daily as well. I didn't used to be very involved with twitter, but I'm trying to interact there more often. I still don't find many people replying to my tweets, but it is definitely another source of news for me, especially involving other bloggers.
And fourthly, pinterest. See, I told you my four sites are predictable! I like to scroll through pinterest if I'm bored or just want to check out some great ideas that my friends have been pinning!
Oh yeah, I check my email too, haha!
---
One of the blogs I read daily is Holly's blog. And she nominated me for a Liebster Award! This is an award for bloggers who are "up and coming." I do have to apologize because I know I was nominated for this award before and in the past I let it slide without acknowledging it on my blog. This time though, I want to answer the questions that Holly left for me.
1. If you could learn another language, what would it be? I kind of sort of know Hebrew. I'd like to be able to speak it fluently though. I can understand it much better than I can speak it, but if I could speak it, I'd be happy.
2. What is your idea of a perfect date? For me, I tend to worry about my kids a lot when I'm out. I would love to be perfectly sure that the kids are just fine at home and also not have to worry about finding a babysitter. The times that we go out and I have the most fun are times when friends have get togethers at their houses. I'd love to do that more often.
3. If you could move anywhere, where would it be and why? I am never moving again! Moving half way across the country was enough moving for me. In a dream world though, where I wouldn't have to do any of the stressful things involved with moving, I guess I'd want to live in Florida. You know, so I could go to Disney World every day. Although I'm sure it's better not to be local in order to appreciate it more when I do get to go!
4. What is your dream vacation? I would like to go to a time share at the Beach Club in Disney World for like 3 weeks and just come and go from the parks as I please, basically experiencing all of Disney without being rushed at all.
5. Gold or Silver? I prefer silver. White gold is ok too. But I don't much like yellow gold, even though it seems to be coming into fashion.
6. Favorite store? Old Navy, usually, but also Target.
7. Where did you go on your honeymoon? Hawaii! We took our honeymoon 6 months after our wedding – and one week after Dave had to have his appendix out. We're lucky we got to go at all! But we had a great time. We visited Oahu, Maui, and the Big Island.
8. If you could live in another decade, would you and if so, which one? I find the 60s and 70s interesting, but no, I don't think I'd want to live in another decade. I'm pretty accustomed to the things we have available to us now, you know?
9. What is your favorite season? I've always loved spring, with the warm weather and flowers. I also like summer.
10. What can't you leave the house without? Well, I guess my phone, of course.
11. How do you motivate yourself to exercise? My exercise time is the time I get to myself each day when my husband gets home from work. If I stay home, I don't get my much needed break from the witching hour! So that's pretty much it. Well, also I have formed relationships with people at the gym, including my instructors, and I know they will notice if I'm not there. So that motivates me too.
Thanks again Holly!
---
Mother's Day is quickly approaching and now is the time to find that stylish and unique gift that shows how much your mom means to you! This year, Layla Grayce has posted a Mother's Day blog post suggesting the top ten gift ideas and essentials for mom and is offering 15% off these gifts with code 4URMOM valid through 5/1. Below are a few of my favorite gift ideas.