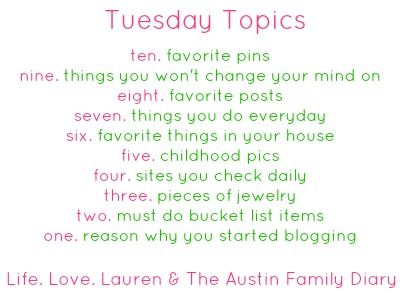 Four sites I vis­it daily…probably the same sites every­one vis­its dai­ly! I'd have to say my four sites are pre­dictable!
First­ly, bloglovin. I have been using bloglovin to read blogs since the Google Read­er deba­cle. I start at the bloglovin home­page and then use the New­er and Old­er nav­i­ga­tion but­tons to read the blogs on my read­ing list. So if a blog is updat­ed dai­ly, I most like­ly read it dai­ly, but it would be dif­fi­cult to name all the blogs I read dai­ly, so I'll just leave it with bloglovin!
2nd of course would be face­book. If I don't read face­book, I'm behind on all the news, both per­son­al and polit­i­cal. I always say I get all of my news from face­book.
Late­ly I've been vis­it­ing twit­ter dai­ly as well. I didn't used to be very involved with twit­ter, but I'm try­ing to inter­act there more often. I still don't find many peo­ple reply­ing to my tweets, but it is def­i­nite­ly anoth­er source of news for me, espe­cial­ly involv­ing oth­er blog­gers.
And fourth­ly, pin­ter­est. See, I told you my four sites are pre­dictable! I like to scroll through pin­ter­est if I'm bored or just want to check out some great ideas that my friends have been pin­ning!
Oh yeah, I check my email too, haha!
---
One of the blogs I read dai­ly is Holly's blog. And she nom­i­nat­ed me for a Lieb­ster Award! This is an award for blog­gers who are "up and com­ing." I do have to apol­o­gize because I know I was nom­i­nat­ed for this award before and in the past I let it slide with­out acknowl­edg­ing it on my blog. This time though, I want to answer the ques­tions that Hol­ly left for me.
1. If you could learn anoth­er lan­guage, what would it be? I kind of sort of know Hebrew. I'd like to be able to speak it flu­ent­ly though. I can under­stand it much bet­ter than I can speak it, but if I could speak it, I'd be hap­py.
2. What is your idea of a per­fect date? For me, I tend to wor­ry about my kids a lot when I'm out. I would love to be per­fect­ly sure that the kids are just fine at home and also not have to wor­ry about find­ing a babysit­ter. The times that we go out and I have the most fun are times when friends have get togeth­ers at their hous­es. I'd love to do that more often.
3. If you could move any­where, where would it be and why? I am nev­er mov­ing again! Mov­ing half way across the coun­try was enough mov­ing for me. In a dream world though, where I wouldn't have to do any of the stress­ful things involved with mov­ing, I guess I'd want to live in Flori­da. You know, so I could go to Dis­ney World every day. Although I'm sure it's bet­ter not to be local in order to appre­ci­ate it more when I do get to go!
4. What is your dream vaca­tion? I would like to go to a time share at the Beach Club in Dis­ney World for like 3 weeks and just come and go from the parks as I please, basi­cal­ly expe­ri­enc­ing all of Dis­ney with­out being rushed at all.
5. Gold or Sil­ver? I pre­fer sil­ver. White gold is ok too. But I don't much like yel­low gold, even though it seems to be com­ing into fash­ion.
6. Favorite store? Old Navy, usu­al­ly, but also Tar­get.
7. Where did you go on your hon­ey­moon? Hawaii! We took our hon­ey­moon 6 months after our wed­ding – and one week after Dave had to have his appen­dix out. We're lucky we got to go at all! But we had a great time. We vis­it­ed Oahu, Maui, and the Big Island.
8. If you could live in anoth­er decade, would you and if so, which one? I find the 60s and 70s inter­est­ing, but no, I don't think I'd want to live in anoth­er decade. I'm pret­ty accus­tomed to the things we have avail­able to us now, you know?
9. What is your favorite sea­son? I've always loved spring, with the warm weath­er and flow­ers. I also like sum­mer.
10. What can't you leave the house with­out? Well, I guess my phone, of course.
11. How do you moti­vate your­self to exer­cise? My exer­cise time is the time I get to myself each day when my hus­band gets home from work. If I stay home, I don't get my much need­ed break from the witch­ing hour! So that's pret­ty much it. Well, also I have formed rela­tion­ships with peo­ple at the gym, includ­ing my instruc­tors, and I know they will notice if I'm not there. So that moti­vates me too.
Thanks again Hol­ly!
---
Mother's Day is quick­ly approach­ing and now is the time to find that styl­ish and unique gift that shows how much your mom means to you! This year, Lay­la Grayce has post­ed a Mother's Day blog post sug­gest­ing the top ten gift ideas and essen­tials for mom and is offer­ing 15% off these gifts with code 4URMOM valid through 5/1. Below are a few of my favorite gift ideas.