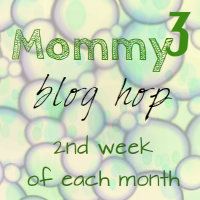 Very apro­pos for this week, the Mom­my Cubed Blog Hop theme of the month is Birth­day Par­ties. This week is all about plan­ning for Gabbie's 8th birth­day par­ty com­ing up on Sun­day! This is the sec­ond year we're doing a very small par­ty with only her very best (girl) friends. We decid­ed to do an art par­ty. Although the last two years have also focused around doing art projects, this year is specif­i­cal­ly an art theme, and we're also using a rain­bow theme. Pin­ter­est, of course, has been awe­some for find­ing and sav­ing ideas for the par­ty, some of which I've just found recent­ly – oth­ers I've been sav­ing all year.
First up – invi­ta­tions! I found this awe­some rain­bow print­able – click the link for the source – and with only 4 invi­ta­tions to make, it was com­plete­ly doable!
Our ver­sion:
They fold up into this lit­tle enve­lope.
Now that the invite have (almost) all gone out, it's time to shop for the par­ty sup­plies. I've start­ed with favors already by check­ing out Target's 75% off dol­lar bins! I just need a few more items and I'm hop­ing to do some­thing like this:
As far as activ­i­ties for the par­ty, we are first­ly going with this idea:
I need to buy: palettes, paint, brush­es, can­vas, easels…and pos­si­ble some­thing else to paint like wood­en box­es or fig­ures.
I am think­ing of hav­ing anoth­er activ­i­ty aside from paint­ing as well. I real­ly like this idea:
I am just not sure about the bak­ing idea. If I could fig­ure out a way to attach the rows to each oth­er with­out melt­ing the beads, I would total­ly use this idea. Or…maybe I shouldn't be so wor­ried about bak­ing plas­tic beads?
I am total­ly mak­ing this cake:
Well, my friend and I are mak­ing it. I am not a great bak­er and she has already made the cake once so she will help me! I will let you know how it turns out.
I also love this set up:
I might just do it! I'm think­ing Twiz­zler pieces, baby car­rots, pineap­ple, green grapes, blue­ber­ries, and pur­ple grapes.
Fun­ni­ly enough, last year we did this:
Which total­ly would work this year too! I like the way the oth­er set up looks though!
Dec­o­ra­tions? Well, I don't real­ly want to buy 7 rolls of crepe paper, so I guess I'll see what I see at the store! I'll cer­tain­ly share the results and the par­ty itself after it hap­pens!
Don't for­get to vis­it Mom­my Cubed for the blog hop and Mom­my Blog Hop­pers for some great Mom­my posts! My most recent post there was about music!