I'm excited to tell everyone that I'm a new contributor on the
Mommy Blog Hoppers
blog with my friends
Dawn
,
Leslie
, and
Kera
(and now
Janine
, who is new like me)! I was very excited when they asked me to be a part of their blog and jumped on the opportunity to post over there about two times per month. I will let everyone know over here when to check me out there!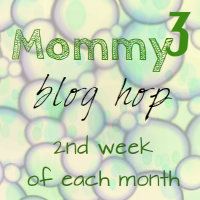 The Mommy Blog Hoppers also sponsor a once per month link up called Mommy Cubed. I have been linking up there each month with my posts about bedtimes and first foods. This month's topic is "The Most Useless Baby Items." Even though it's been awhile since I've had a little baby, I can still think of a few.
Warm Glow Wipe Warmer
"Make sure your baby has a warm, moist wipe every time with our top-warming system. The flip-top lid activates a soothing 10-minute light so you can easily change your baby at night without waking them up. It holds up to 100 pop-up wipes and has a window so you can check the level at a glance. So no more startling cold wipes or nighttime lights to wake up a drowsy baby. Because a sleeping baby means a sleeping mom. Top down warmer prevents browning. On/off button controls light. Limited 1-year warranty. The item is white in color with bluish-purple accents."
My thoughts on this: I never saw the purpose of a wipes warmer. My babies really didn't care – until Simon that is! He did not like cold wipes. However, he got used to it. I didn't buy a wipes warmer. I also don't think a wipes warmer needs to glow. If a baby needs to be changed at night, he's probably already awake. If he's asleep, don't change him. (Newborns sometimes poop at night and need to be changed, but they very quickly learn not to poop until morning!)
Cotton Mitts
"Organic cotton mitts help to cover newborn hands to avoid scratches from little fingernails."
My thoughts on this: These actually fall into the category of "things I had but really did not need." I actually put them on Gabbie when she was first born. Maybe once before they all got lost. If you're really worried, the infant t-shirts and some of their outfits come with fold over flaps on the sleeves which warm hands and protect from scratches just as well.
Newborn 3 Pack Terry Dribbler Bib
"Terry bibs help to keep messes to a minimum and baby's clothes drier, made of 80 percent cotton / 20 percent polyester terry for softness and absorbency, soft neck closure for a great fit, 3 pack assorted prints, machine wash and dry, great item for gift giving."
My thoughts on this: Babies don't eat the kind of food that would make a mess needing a bib until they are too big for a newborn size bib. If you have a spitter, this size bib is also unlikely to help. Simon and Zachary both spit up a lot and I used thicker burb cloths to mop it up. I don't know very much about formula feeding though – maybe newborn sized bibs are helpful for bottles?
Bottle Holder
"This is the bottle propper you've been searching for. Originally designed for mothers of multiples and now it's every mothers dream. The fabric is a soft, cushy fabric that lays comfortably on your babys chest. It's tight enough to avoid tipping of the bottle yet, loose enough giving the baby a choice of stopping to drink the bottle for whichever reason. This makes it a safe and secure bottle propper. It also helps develop the hand eye coordination and teaches them to hold a bottle on their own. It accomodates any size or shaped bottle."
My thoughts on this: All the typos above are direct from the Amazon description. Bottle propping is dangerous and a choking hazard. I guess using something designed to prop a bottle would be better than using a blanket, but I'm not sure how much better it would be!
Pee-pee Teepee
"Changing a baby girl is not all glitz and glory. Changing a baby boy is even a bigger horror story. You hold his feet with one hand and change the diaper with the other, the whole time praying 'please don't pee on your mother'." This adorable Pee-pee Teepee, decorated with cute little monkeys, will protect you from the danger that comes with changing a baby boy's diaper. Shaped like a cone, it is placed on top of the wee wee during the diaper change."
My thoughts on this: First of all, girls can pee on you too. In fact, Gabbie once pooped on the wall next to her changing table. True story. But seriously, this has to be the stupidest invention ever. People actually would spend $10 on this? I think our solution was much easier – just put a washcloth on top of the baby. It covers more and actually stays on – I imagine the teepee wouldn't! Or…you could use a not warmed up wipe!
I just told the kids about Pee pee Teepees and Simon thought it was hilarious. Or maybe he just liked the way it sounded.
What would make your list of useless baby items? Don't forget to visit the link up to add your post, or to just read other blog posts written on the topic!