This post is going to be a bit of a mish mash, starting with Tuesday Topics and ending with a giveaway from Premama Vitamin Drink Mix! First I will tell you about my 3 favorite stores.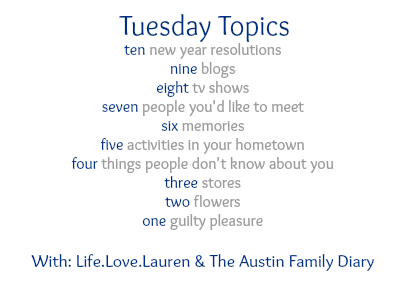 I remember when Old Navy wasn't everywhere and a friend of mine told me how awesome it was. Now something like 17 years later I still agree with her! I love their sale racks and when they have 50% off the sale racks and their t-shirts and normally every day I'm wearing at least one item from Old Navy.


Obviously! Target it a given. I try to limit my visits to once a week. I love their clearance too, especially on the home stuff.


For my kids, I love to shop Gymboree. The trick to shopping at Gymboree is to hit the sales. Plus, bring a coupon. You can find 20% off coupons in most parenting magazines. Just yesterday I bought the following:


The shirts are for Simon. The airplane shirt was originally $18.95. The tag was marked down to $5.49, minus $1.37 for a 25% off previously reduced sale and minus $.82 for my coupon = $3.30. The Lil' Brother shirt was also originally $18.95. The tag was marked down to $6.99, minus $1.75 for the in store sale and minus $1.05 for my coupon = $4.19. The pants are for Zachary because he needs them for school. They were originally $24.95. The tag was marked down to $11.99 minus $3.00 for the in store sale and minus $1.80 for my coupon = $7.19. So not bad!
---
Next order of business! Today I'm guest posting at Kera's site – check it out! Kera is awesome, so read more than just my post. But don't forget to enter to win a Rapunzel hat knit by me!
---
And speaking of giveaways, if you or someone you know is pregnant, trying to become pregnant, recently had a baby, or is breastfeeding, I have a giveaway from Premama for a 30 day supply of their Prenatal Drink Mix with DHA. From their website: Premama is a prenatal vitamin drink complete with key nutrients including DHA, Folic Acid, and Iron. Packed with Ginger, Vitamin B6 and Magnesium to help moms with nausea and digestive relief.
Premama is easy to take! Simply add it to your favorite beverage – milk, juice, iced tea – or even sprinkle it in your morning cereal. It's completely flavorless, so you'll be getting all the benefits of a prenatal vitamin with none of the daily dread of swallowing a horse pill. The site says that they are certified kosher and I have emailed the OU to confirm this!
You can enter using the Rafflecopter form below. The prize will come from Premama directly and it is only available for residents of the USA. You can also get 15% off when you order from Premama using the promotion code Sweepstakes2013.