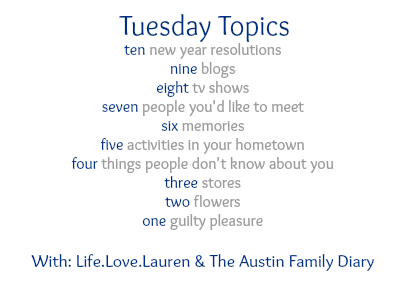 Okay, on Tuesdays I have been posting my Flashback Feature posts and I posted this week's this morning. But this evening I came across this – Tuesday Topics – and I kind of want in. I remember the last time this idea was being posted and I liked reading all the answers, but I had found out too late to join in. Since I'm not too late, I figured I better write this first post before I run out of time. Which means that for the next bunch of Tuesdays there will be two posts from me – one in the morning and one later in the day. And it also means I have to rehash my New Year's Resolutions. Of which I didn't make any.
I've been mentioning here and there that my resolutions this year are really my list of 35 things to do before I turn 35. I've even completed 5 of them so far! So for this resolution post, I'm going to share the 10 things I'm working on right now, related to the list (mostly) or otherwise.
Be more organized about my blog posts. I've started a calendar and I'm keeping notes!
Keep up with keeping things clutter free. (see tomorrow's post for more on this).
Join up with a blog challenge and keep up with it (that'd be this).
Finish the sleeve on the coat I'm knitting.
Finish the Rapunzel hat I'm making for Violet and send it over.
Watch more of Once Upon a Time. 🙂
Print my December pictures so I can continue with Project Life.
Run 6 minutes at a 6 mph pace on the treadmill. Yesterday I thought I was doing the wrong day on my plan when it told me to run for 6 minutes, so I only did 4. But it was supposed to be 6. So tomorrow I try again.
Comment on more blogs.
Do another swap – and I just signed up for this one!
So there you go!