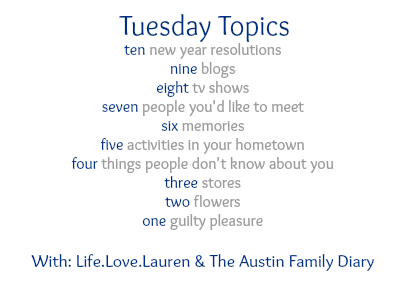 Today I'm going to share 9 blogs that I love to read. The hard part will be choosing which ones NOT to share, since I love all the blogs I read! These are in no particular order.
The Random Writings of Rachel. This girl is so cute and funny. She writes about her life with her hilarious husband, Angel. I love the post where she shared how they dated. (They courted).

HappyPrettyBlog. Kim is expecting her first child (a boy) in February. She recently wrote about her favorite and least favorite parts of pregnancy. She also guest posted on my blog here!

Violet Imperfection. Leslie is a truly great blog friend - she will comment on all of your posts! Because of this I have gotten to know her and love chatting with her via email. Her daughter Violet is truly adorable – check out her monthly photos of Violet here! Leslie started a to do list of 31 things to do before she turns 31 – like my 35 things to do this year list. She loves Disney just like me and she guest posted about it on my blog here!

Lovingly Thrown Together. Esther is a Jersey girl whose husband happens to have grown up in the same small town I did! We didn't know each other, but it's still cool. Also, her baby was born on my birthday!

Nugget on a Budget. I just met Kera recently and I think she is super sweet. She wrote about her "nugget" here, and I just found out the Nugget's real name! I totally love that she refers to her dog as the Nugget's big brother. I'm looking forward to getting to know Kera better!

That's What She Read. Jen is someone else I met recently. She lives 2 hours north of me and I hope we get to meet up one day! She posts about books and she has two adorable kids!

Bouffe e bambini. Yet another blogger I started reading recently. Hanna is a runner, but she is pregnant now and soon will have 3 kids under 3! I just love this post she wrote about what her family believes. She sounds like such an awesome mom and believes in many things I myself believe in!

Life As Chani. This is my real life friend Chani! She blogs about her two super cute kids and all the hilarious things they do. She too made a list of things she wants to accomplish before her next birthday and just started a 30 day shred challenge.

Pretty Living. Last but not least! Myranda is a sweet girl whose family is currently in the process of moving. And guess what? I'm guest posting for her today! Check out my post where I'm showing our house when we moved in and some of the changes we've made since then!